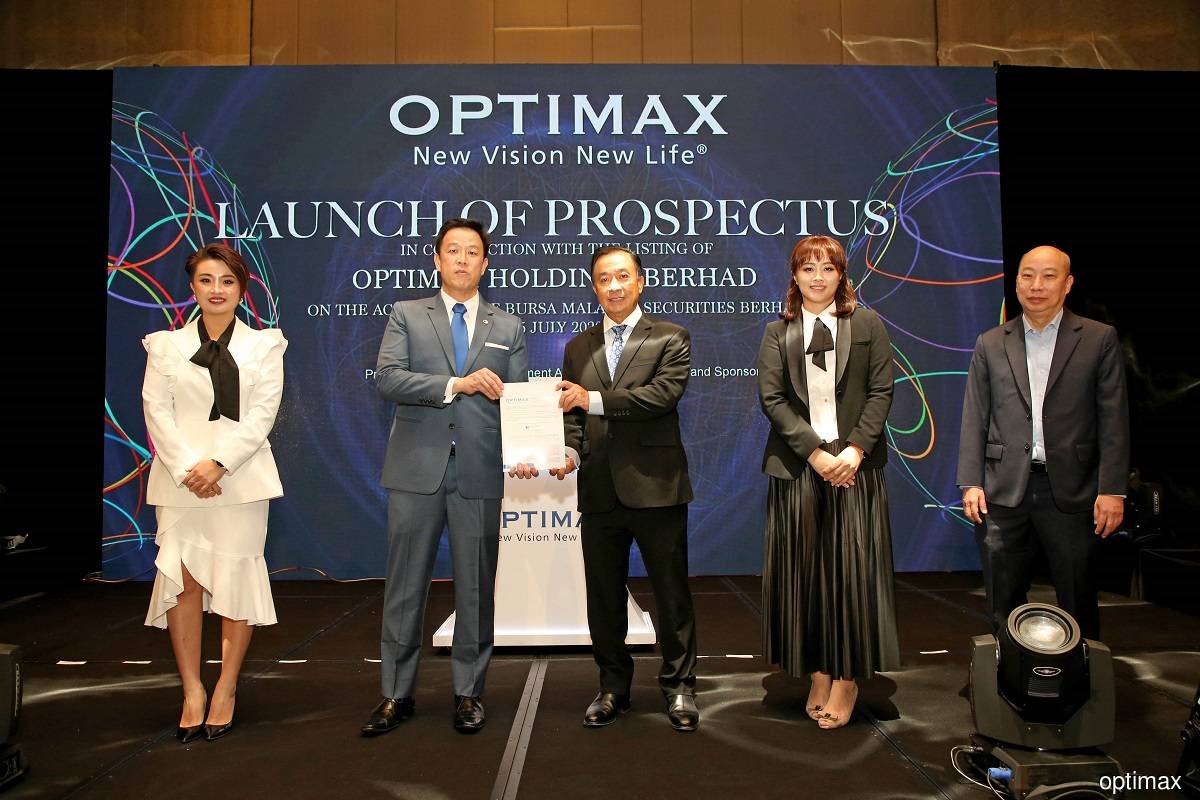 KUALA LUMPUR (July 15): Eye specialist service provider Optimax Holdings Bhd, en route to list on the ACE Market of Bursa Malaysia on Aug 18, is planning to raise RM21 million from its initial public offering (IPO) at 30 sen per share mainly to fund its expansion plan.
With some 70 million shares to be issued, this means the company would be valued at RM81 million upon listing.
Optimax said the proceeds will be mainly utilised for capital expenditure (capex) (49.3%), repay borrowings (16.8%), working capital (16.8%) and expected listing expenses (17.1%).
Speaking at its virtual press conference for the launch of its prospectus today, its chief executive officer Sandy Tan said the capex entails the acquisition of two units of three-storey terraced shops or offices in Seremban and the purchase of equipment to equip the buildings as an ambulatory care centre, as well as for the company's existing specialist centres.
"We are expanding it from a smaller centre previously following larger demand for eye healthcare services in Seremban.
"We also plan to increase our manpower by getting three more ophthalmologists for the Seremban centre," Tan said, adding that the company is planning to bring more of the latest technology in terms of eye check-up machineries and equipment to expand its capacity.
Optimax said it has allocated RM5 million from its IPO proceeds to purchase new operation equipment and tools for its existing specialist centres for the provision of its eye specialist services.
Some of the equipment and tools include phaco machine, pentacam, angio optical coherence tomography and fundus camera.
Asked about the timing for Optimax's listing amid the current Covid-19 pandemic, Tan said: "We have started it (listing plan) from two years ago, and we finally got the approval during this period of time. We believe that even with this pandemic, because of the nature of our business, there will not be much impact."
"Once the movement control order (MCO) was lifted, the number of patients [has] gradually increased and patients are coming back for their eye check-up and surgeries. And we believe that we can hit management's internal target for 2020," said Tan, without disclosing any figures.
For the financial year ended Dec 31, 2019 (FY19), its net profit grew 75.84% to RM8.74 million, from RM4.97 million in FY18, while revenue was up 27.19% to RM62.62 million from RM49.23 million.
Tan noted that the pandemic has affected many businesses around the globe, including Optimax's. But part of its operations remained open during the MCO period as the nature of its business is deemed as essential services.
Now that the MCO has been relaxed, Tan said patients have been increasing and business has been recovering.
Affin Hwang Investment Bank Bhd's head of equity capital markets Arvin Chia expressed his confidence on Optimax's listing given the level of interest shown by institutional investors towards the company.
"Even prior to the prospectus launch, we have overwhelming interest coming in from potential investors.
"We are confident as Optimax is in the healthcare services industry and if you look at the healthcare stocks on Bursa, they are trading at a healthy multiple and have held up even during the pandemic," said Chia.
Affin Hwang is the sole principal adviser, placement agent, underwriter and sponsor for the IPO.
Optimax, through its group of subsidiaries, is principally involved in the provision of eye specialist services and offers a range of services with in-house expertise in medical ophthalmology at its specialist centres.  
It provides treatments relating to eye and vision difficulties or impairment covering refractive error, cataract, glaucoma, macular degeneration, diabetic retinopathy, and other eye diseases and disorders.  
Read also:
Optimax targets IPO prospectus launch on July 15
Eye specialist service provider Optimax gets Bursa greenlight for listing plan