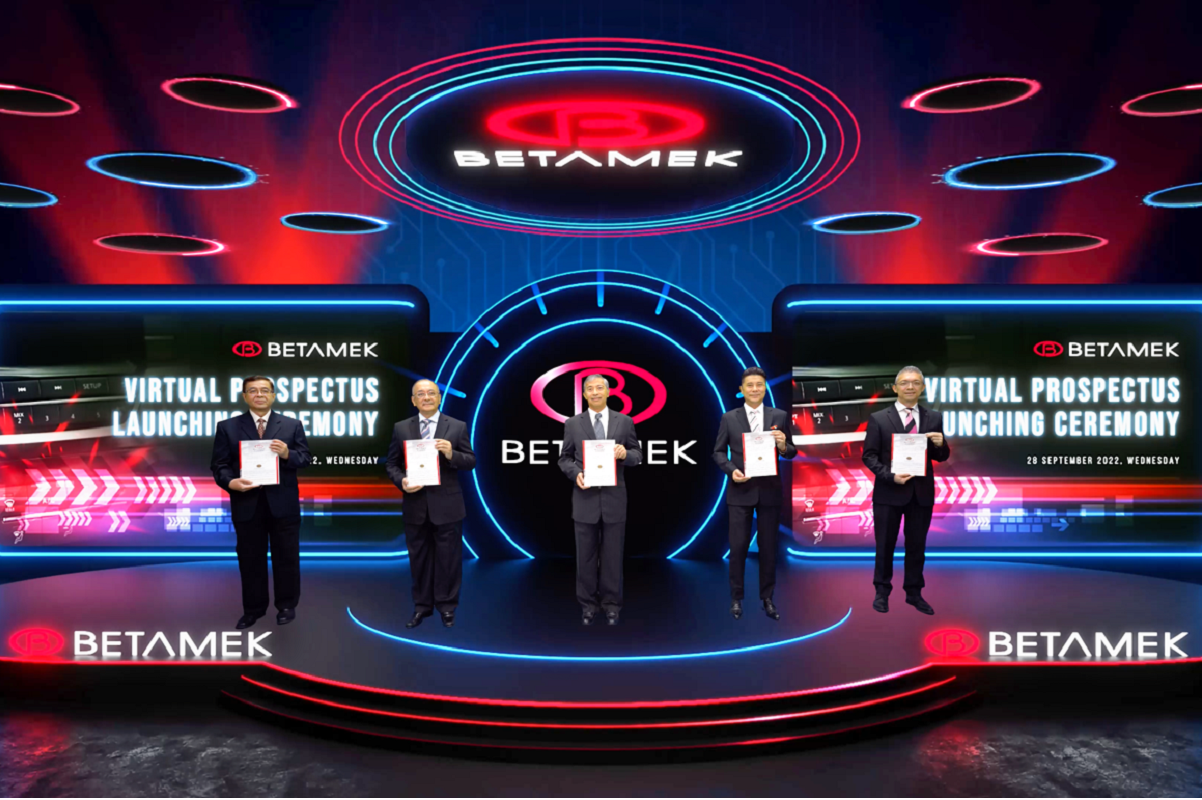 KUALA LUMPUR (Sept 28): Betamek Bhd, which is slated to be listed on the Bursa Malaysia's ACE Market on Oct 26, aims to raise RM33.8 million from its initial public offering (IPO) exercise.
Under the listing exercise, Betamek is issuing 67.5 million new shares, representing 15% of the enlarged share capital at an issue price of 50 sen per share.
Based on the enlarged share capital of 450 million shares, Betamek is expected to have a market capitalisation of RM225 million upon listing.
Betamek is an electronic manufacturing services (EMS) provider specialising in design and development, procurement and manufacturing of customised electronics and components for the automotive industry.
In a statement in conjunction with the company's prospectus launch on Wednesday (Sept 28), the group said the bulk of the IPO proceeds, amounting to RM10 million, will be used for the repayment of bank borrowings.
A total of RM7 million will be allocated to fund Betamek's research and development (R&D) activities for new product development and RM6.5 million to further expand its R&D office space, raw material storage and ancillary facilities to cater for its future growth, as well as for future R&D activities.
According to the company, RM3.9 million of the proceeds will be utilised for its general working capital, RM3.4 million to defray the estimated listing expenses, while the remaining RM3 million will be used to acquire machinery and equipment for its existing factory in Rawang to enhance its manufacturing efficiency.
Betamek managing director Mirzan Mahathir said the company is in discussion with its technology partners to develop and introduce more innovative technologies and new product solutions that have market potential.
"Over the years, we have been expanding our product portfolio by including new automotive electronic solutions and technologies required to complement the features of our products. As hybrid, electric and autonomous vehicles gain global market share, Betamek is in a unique position to leverage this growing market trend and expand and diversify our product offerings with competitive solutions that incorporate the innovative Malaysian DNA.
"Today's vehicle infotainment system entails evolution of the vehicle-stereo technology alongside elements of audio and video, Internet of Things (IoT), GPS and navigation capabilities as well as vehicle safety and security.
"We consider that there are still many untapped opportunities for product segments in relation to advanced driver assistance systems, entertainment and connectivity, IoT and accessories of vehicles. This IPO exercise will be a great boost to our future R&D activities," he explained.
Minimal impact from supply chain issue, weakening ringgit against US dollar
According to Betamek, the company sees minimal impact from the supply chain issue as well as the weakening ringgit against the US dollar.
"Even during the global shortage of raw material supply, we have managed to handle the situation with close collaboration with our customers and the agility of our R&D team to look for alternative components to replace those in short supply. We have a 100% track record on delivery to our customers during this shortage without disruption," Betamek chief operating officer Megat Iskandar Hashim Ismail told reporters at a virtual press conference on Wednesday.
"We have congregated several local suppliers that continue to be on the list of approval with our buyers and as well as with our suppliers from overseas in Hong Kong, Taiwan, Japan, and China," he added.
Betamek chief financial officer Nor' Azrin Nusi said the group is also optimistic about delivering strong earnings in the upcoming financial quarters as most of its revenues are derived from its major customer Perusahaan Otomobil Kedua Sdn Bhd (Perodua).
"We are optimistic and our revenues are derived from our major customer, Perodua, which is delivering more units to the market. As long as Perodua delivers, we will deliver. We have consistently performed as Perodua's best suppliers on cost, quality and delivery," he added.
According to the group's fact sheet, its profit after tax (PAT) has been rising from RM10.9 million in the financial year ended March 31, 2020 (FY20) to RM12.2 million in FY21, and RM13.5 million in FY22.
Revenue stood at RM130.7 million in FY20, RM129.9 million in FY21, and RM133.1 million in FY22.
M&A Securities Sdn Bhd is the adviser, sponsor, underwriter and placement agent for the IPO exercise.