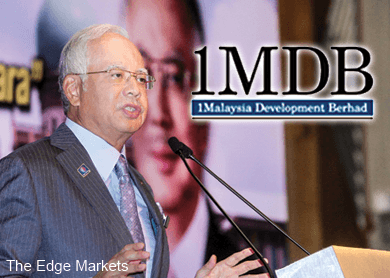 KUALA LUMPUR (July 8): The accounts frozen by the special task force investigating the alleged US$700 million (RM2.67 billion) money trail from 1Malaysia Development Berhad (1MDB) into Datuk Seri Najib Razak's personal accounts are not the same accounts that the Wall Street Journal (WSJ) had reported on in its exclusive report.
The WSJ in reporting on the freeze of six accounts yesterday, cited a source close to the investigations that the accounts affected "were different from those described in the Journal report last week".
In addition to the six accounts frozen, documents linked to 17 bank accounts in two banks were also seized by the task force, which comprises the Attorney-General's Chambers, Bank Negara, police and the Malaysian Anti-Corruption Commission (MACC).
The task force's statement yesterday, however, did not name the banks where the frozen accounts were, nor did it say whether any of them belonged to Najib.
However, sources later yesterday confirmed with The Malaysian Insider that three of the frozen accounts were Najib's, and were with AmBank and Affin Bank.
The move by the investigating task force follows WSJ's report last Friday that US$700 million had moved through different companies linked to 1MDB before they money was deposited in two accounts belonging to Najib at AmPrivate Bank in Kuala Lumpur.
The largest sum of US$681 million had allegedly been transferred to Najib's accounts in March 2013, two months before the general election was held.
Yesterday, the WSJ also released redacted documents that showed the purported transfer of funds to Najib's accounts to support its report.
These documents included instructions for telegraphic transfers, charts that showed the alleged flow of money, remittance form and cash deposit authorisation letter by Nik Faisal Ariff Kamil, director of Finance Ministry-owned company SRC International Sdn Bhd, to the branch manager of AmIslamic Bank Bhd.
SRC was also one of the companies involved in the flow of money outlined by the WSJ, which had reported based on documents obtained from the Malaysian government's investigation.
Najib is also finance minister and chairman of 1MDB's advisory board, and is now facing his toughest challenge as prime minister over 1MDB which has been criticised for its opaque dealings and massive RM42 billion debt incurred in just six years of operations.
He has denied taking any funds for personal gain but has otherwise not shed any light on the alleged transfers.