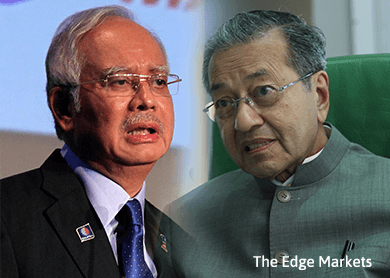 (June 19): Prime Minister Datuk Seri Najib Razak should take up his predecessor Tun Dr Mahathir Mohamad's challenge to a live debate as it will be an "excellent opportunity" to address his allegations against 1Malaysia Development Berhad (1MDB), DAP said today.
DAP parliamentary leader Lim Kit Siang said Najib could also seek to prove his contention that Dr Mahathir had lied and distorted facts on 1MDB, if he debated with the former PM.
"Why hasn't Najib jumped on the opportunity to 'finish' (Dr) Mahathir off for good? Who has more to hide – Najib or Dr Mahathir?" the Gelang Patah MP said in a statement today.
"Since Mahathir had challenged Najib to a duel, this will be an excellent opportunity not only for Najb live up to his 'Nothing to Hide' claim on the RM42 billion 1MDB scandal, prove Dr Mahathir's dishonesty and mala fide on the 1MDB issue by exposing the 'lies and distortion of facts', but also expose Dr Mahathir's heinous series of RM100 billion financial scandals under his 22-year rule."
Dr Mahathir had challenged Najib to a live debate on television, saying he was prepared to answer questions about his 22 years as prime minister.
In a closed-door meeting with Umno-linked non-governmental organisations on Wednesday, Dr Mahathir was recorded in a video saying that Najib could ask him anything about his tenure as Malaysia's longest-serving prime minister, and that he could also ask Najib about anything.
"I want to ask Datuk Seri Najib, together with me to be on stage in front of television (cameras).
"Najib can ask what I have done in the past, (claims) that I, too, had lost some money, he can ask (me) and I can ask him, too," he said in a video that was uploaded on YouTube yesterday by a user "Minaq Jinggo".
His challenge to Najib to a live debate follows the botched "Nothing to Hide" dialogue on 1MDB on June 5, where the latter failed to show up after police shut down the event, citing a security threat.
Dr Mahathir, however, was present, and spoke for about 10 minutes before police stopped him.
The former PM has been a fierce critic of 1MDB and its architect, Najib, who is also finance minister and chairman of the debt-laden firm's advisory board.
He had also told The New York Times that what Najib was doing was verging on criminal, touching on the "lavish" lifestyle of Najib's wife Datin Seri Rosmah Mansor, the troubling questions about the murder of Mongolian woman Altantuya Shaariibuu and 1MDB.
However, Foreign Affairs Minister Datuk Seri Anifah Aman lashed out at Dr Mahathir for attacking the country's administration and political party in an open letter to the editor of the American daily.
He stated that he regretted Dr Mahathir's action to undermine his own country through the international media, as part of a personal political vendetta.
"It is irresponsible of any citizen, let alone a former prime minister, to spread lies and distort facts about state owned companies," he said.
Pertaining to Dr Mahathir's views that Umno "has become a repository of patronage-seeking politicians", Anifah said: "it is Dr Mahathir who had led the party for 22 years. It was he who, during his time, worked to cultivate the 'yes men' culture to entrench his position."
"Most Malaysians would rather see Dr Mahathir retire gracefully than continue to damage the standing of his own country for personal political gain."
Lim said Dr Mahathir was now being blamed by the present administration for what he had accused his former deputy, Datuk Seri Anwar Ibrahim of doing – using international forums to undermine their own country.
"Anifah is only half-right when he said in his open letter that most Malaysians would rather see Dr Mahathir retire gracefully than continue to 'damage the standing of his own country for personal political gain'.
"Yes, most Malaysians would rather see Dr Mahathir retire gracefully, but if he is prepared to put his shoulder to the wheel of a national campaign to end the rampant corruption, abuses of power, lack of accountability and good governance as illustrated by the 1MDB scandal." – The Malaysian Insider