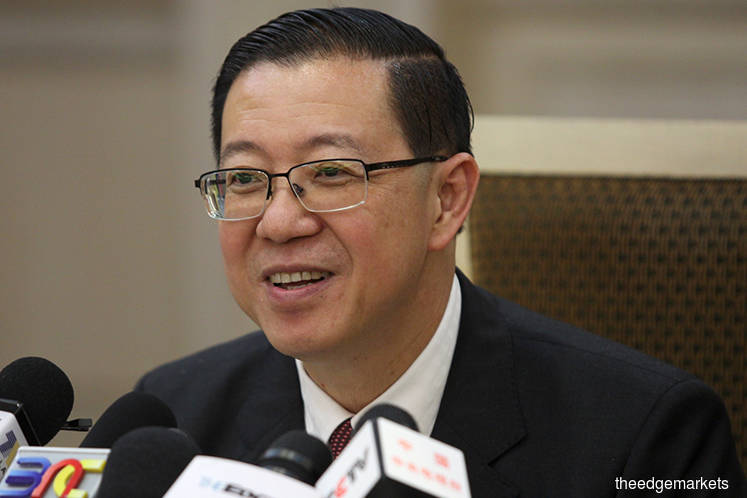 KUALA LUMPUR (Aug 8): About RM18 billion or 93% of the RM19.4 billion input tax credit under the goods and services tax (GST) system since 2015 have gone missing, alleges Finance Minister Lim Guan Eng.
"According to records of the Royal Malaysia Customs Department on the GST input tax, there was a total of RM19.4 billion input tax credit (to businesses) till May 31 this year since 2015 but only RM1.5 billion remained in the trust fund (where GST refunds were supposed to be deposited by the government)," he said when tabling the second reading of the GST (Repeal) Bill 2018 today.
Out of the total input tax credit, RM9.2 billion or 47% was recorded between Jan 1 and May 31 this year, RM6.8 billion or 35% in 2017, RM2.8 billion (15%) in 2016, and RM600 million (3%) in 2015 (from April 1 to Dec 31, 2015).
Under the GST regime, the input tax credit permits businesses to claim credit for taxes paid on purchases after submission of proper documents.
Lim said the RM19.4 billion unutilised input tax credit was not because the GST guidelines were unclear, but that it presented an "opportunity for the previous government to misappropriate the collection".
"The remainder RM1.48 billion in the trust fund was determined after internal investigations and verification by the Customs. It showed a shortfall of RM18 billion. The delay in the (input tax) refunds was due to weak federal government cashflow because of low fiscal discipline, widespread wastage and increasing debts (under the previous administration)," he added.
Lim urged businesses to be patient as it vows to refund the input tax credit beginning next year.
"This is an abuse of power by the previous government, but we endeavour to pay back businesses. We will look at various ways to raise funds to pay back because it is the people's money," he said.
Lim yesterday accused the previous Barisan Nasional government of stealing the GST's input tax credit that was to be returned to manufacturers two weeks after it was collected.
The trust fund that held the input tax was actually "empty", he alleged.
"According to the law, the money was supposed to be refunded to the companies within two weeks of them being collected as advance under the GST regime. But two years later, the former government has yet to refund it.
"The money was paid as advance by businesses. It was to be put in a trust fund but it was deposited into a consolidated fund and recorded as revenue. Since it was acknowledged as revenue, it was instead utilised first by the previous government," he added.