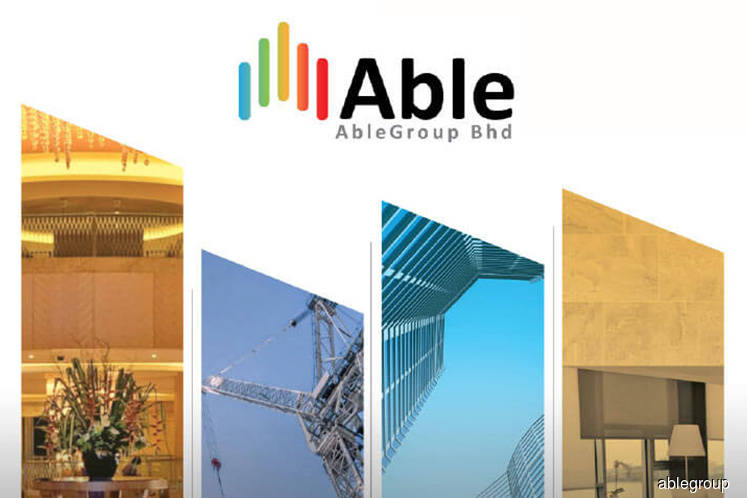 KUALA LUMPUR (Sept 14): AbleGroup Bhd has received a conditional mandatory takeover offer from Parallel Pinnacle Sdn Bhd, the private vehicle of its managing director Datuk Lim Kim Huat, after the latter bought 28.3 million AbleGroup shares or a 10.72% stake in the company.
According to a filing with the bourse, Parallel offered to buy the remaining shares at 13 sen per share, a 1 sen or 7% discount to the stock's closing price of 14 sen on Sept 13.
The offer for the shares shall remain open until 5pm for at least 21 days from the posting date.
Parallel, along with persons acting in concert with it, i.e. Lim, his wife Datin Chan Shiou Bin and Golden Century Overseas Ltd, hold a collective 43.97% of AbleGroup's equity, following the share sale agreement entered between Parallel and Loi Heng Sewn for the 28.3 million shares.
Lim himself holds 33.25% in AbleGroup.
Chan is a shareholder and director of Golden Century who was appointed as a director of Parallel on May 15. The British Virgin Islands-incorporated Golden Century — which is equally owned by Lim and Chan — is the holding company of Parallel, which was incorporated in Malaysia on April 12.
The offerors intend to maintain the listing status of AbleGroup on the Main Market of Bursa Malaysia. The parties will consider various options or proposals within three months of the closing date, to comply with the regulator's public spread requirement.
Trading in AbleGroup's shares has been suspended since 9am today.
Based on its last traded price of 14 sen a share, AbleGroup has a market capitalisation of RM36.95 million.