This article first appeared in The Edge Malaysia Weekly, on September 9, 2019 - September 15, 2019.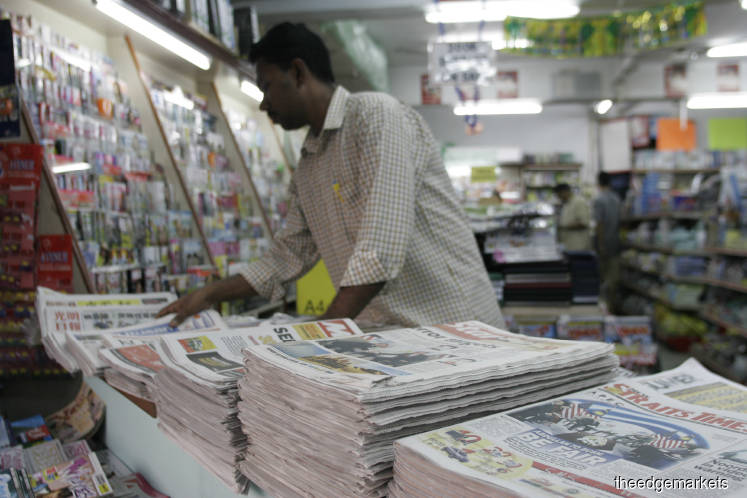 BATTERED by the sharp decline in print newspaper sales in the country, several major newspaper publishers want to end the decades-long independent audit of their sales numbers in a move that could deal a further blow to the flagging industry.
Industry sources say publishers of The Star, Sin Chew Daily and China Press had informed the Audit Bureau of Circulations (ABC) at a recent meeting that they would be withdrawing their membership, effectively saying they will stop having an independent audit of their sales numbers.
ABC is under the purview of the Malaysian Advertisers Association (MAA), the Association of Accredited Advertising Agents (4As) and the Media Specialists Association (MSA). It is, however, funded by newspaper publishers.
ABC-verified circulation numbers and Nielsen Readership figures are traditionally the two measurements used by the advertising fraternity to decide where to run their advertisements.
When contacted, a spokesperson for ABC declined comment. "ABC will issue a press release if there is any announcement," he said in an email reply.
Attempts to get comments from the various advertising associations also failed. It appears that no one wants to talk about the issue.
"ABC survives on subscription fees. As members withdraw, subscription fees drop and it is not enough to sustain operations. Subscription fees are based on circulation numbers, so if the big boys withdraw, ABC can no longer be funded and will have to cease operations," says an industry source.
Star Media Group Bhd notes in an email reply that "nothing has been decided and it is premature to comment".  Media Chinese International Bhd (MCIL), which publishes Sin Chew Daily and China Press, replied via email on the the notice of withdrawal: "Our media association MNPA (Malaysian Newspaper Publisher Association) is still discussing the matter to achieve a collective decision. Please refer the matter to MNPA." When contacted, MNPA said it was "still discussing the matter".
Should ABC shut down, advertisers will have one less tool to use but the bigger loser could be the publishers themselves, as without a trusted measure of circulation sales, more advertisers may be inclined to shift their advertising money to digital platforms.
"My view is that this is a self-defeating move as it is tantamount to surrendering ourselves to the digital onslaught by Facebook, Google and the standalone non-print news websites," says Datuk Ho Kay Tat, group CEO and publisher of The Edge Media Group. "It is very disappointing."
He adds: "Even if ABC folds, we will continue to have the circulation of The Edge and The Edge Financial Daily independently audited and I hope others will do the same."
ABC audits and verifies the circulation of both print and digital replicate copies.
The latest data is not pretty. Overall, total print circulation of English titles dropped 36% from 551,000 in 2013 to 353,000 in 2018.
From July to December 2018, The Star had 151,623 paid printed copies in circulation, a stark contrast with the 248,413 chalked up during the same period in 2015.
The Star's digital replica had 86,667 copies for the July to December 2018 period, lower than the 116,719 copies in the previous corresponding period.
As for The Edge, ABC data shows its print circulation rose to 26,074 in 2018 from 24,284 in 2013. Its digital replica rose to 15,236 in 2018 from 11,373 in 2016.
"The going is tough for print but we can hold our ground and, at the same time, increase our presence in digital. It can be done," says Ho, exhorting his fellow publishers to not give up.
Sin Chew Daily (day) had 277,644 paid printed copies in circulation from July to December 2018 compared with 340,584 copies in the same period in 2015. Its digital replica had 62,350 copies for the July to December 2018 period compared with 64,016 copies in the previous corresponding period.
The data for China Press (morning) for the period of July to December 2018 is still pending, according to ABC's website, which did not disclose the paper's paid print copies in circulation for that period. However, for July to December 2016, the daily had 140,586 paid printed copies and during the same period a year later, it had 129,224 copies.
In terms of digital replica, China Press had 6,921 copies in 2016 and 12,116 copies in 2017.
Total print for Chinese titles fell 48% to 456,000 in 2018 from 881,00 in 2013.
Malay language newspapers' print circulation posted the largest fall — dropping 55% from 2 million in 2013 to 905,000 in 2018.
Industry sources say publishers are not only losing readership to online platforms where sharing of free news is rampant but, more critically, they have in the last few years lost hundreds of million in advertising revenue to the two major digital platforms, Facebook and Google.