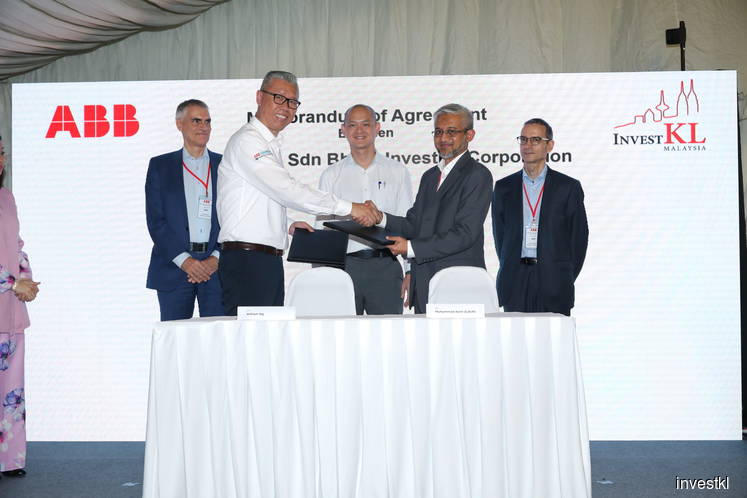 KUALA LUMPUR (July 16): Swiss multinational corporation ABB Group has opened its first robotics Digital Operations Centre in Malaysia, which aims to cater to needs for digital manufacturing and industrial robotics in the region.
The centre, located in Subang Jaya, Selangor, will offer all benefits of the ABB AbilityTM cross-industry digital platform, which enables customers to securely integrate and aggregate data, combined with wider industry data, and apply big data and predictive analytics to generate insights to improve performance, the group said in a statement.
"At the heart of the new centre is the ABB AbilityTM digital platform. Our connected services monitor the health and performance of single robots or entire fleets.
"Today, we monitor over 7,000 connected robots in more than 750 factories worldwide, to provide actionable intelligence that allows service experts to address issues that could lead to a costly unplanned stoppage before they occur," said ABB Malaysia Sdn Bhd vice president of robotics and discrete automation Laurent Maillefer.
"By combining our leading digital solutions with our proven experience and expertise in robotics, the team at the Digital Operations Centre will help both large and small manufacturers in the region tackle a wide range of challenges, to improve productivity and profitability today, and to help them transition to the new connected era of manufacturing tomorrow," Maillefer said.
ABB Malaysia country managing director William Ng said the group's decision to host the centre in Malaysia, reaffirms its commitment to support the country's growing digital ecosystem.
"Strategically located in the heart of Southeast Asia, Malaysia offers easy accessibility, economic diversity, excellent infrastructure and a growing pool of talent to support our needs. Our main priority is to develop local engineering capabilities to deliver the right level of response to drive ABB's leadership in digital technologies for industries in the region," Ng Said.
To enable a supportive ecocsystem to accelerate Malaysia's adoption of Industry 4.0, ABB Malaysia and InvestKL inked a memorandum of agreement (MoA) for collaboration in areas of mutual interest.
"With this MoA, we will work together in strengthening ABB's supply chain by shaping a stronger collaboration with local SMEs. We will also support ABB on their regional growth journey in building their high-skilled talent pipeline, through our Malaysia Global Talent (MGT) programme and other industry-academia facilitation," said InvestKL acting CEO Muhammad Azmi Zulkifli.