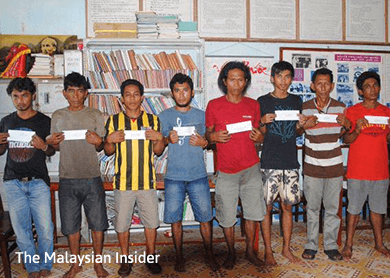 (June 19): Vietnamese authorities have picked up eight Indonesians believed to be the hijackers of Malaysian vessel MT Orkim Harmony, off Tho Chu island in the Gulf of Thailand this morning.
Malaysian navy chief Admiral Tan Sri Abdul Aziz Jaafar who confirmed the arrests said the suspects were arrested at 6.30am and claimed that their fishing boat had sank.
He said the Malaysian authorities are still liaising with their Vietnamese counterpart to ascertain if they were the hijackers, who reportedly fled the oil tanker using a rescue boat at 8.30pm last night.
"We suspect that they are the perpetrators. If so, we will get extradition orders for them," said Aziz.
Meanwhile, Malaysian Maritime Enforcement Agency (MMEA) director-general (Operations), Chief Vice-Admiral Datuk Mohd Fuzi Ab Kahar said the authorities will need some time to investigate the case as the suspected "hijackers" are currently under the Vietnamese authorities' custody.
"We will take all the necessary measures to confirm their identities. We have contacted our counterpart in Vietnam and also requested assistance from the Foreign Affairs Ministry on this matter," said Fuzi.
He denied claims that the hijackers were allowed to escape following how easy the perpetrators were able to slip away.
Fuzi said checks showed that the hijackers were mere runners for a syndicate.
"We believe there were kingpins behind this act. We cannot say much at the moment as it is still being investigated," said Fuzi.
It was reported earlier that the hijackers of the Malaysian vessel MT Orkim Harmony had threatened to harm the crew's family members if they alerted the Malaysian navy of the gang's escape plan.
Aziz had said the tanker's captain only notified navy vessel KD Terengganu at 12.55am, some five hours after all the hijackers had left the tanker.
All the crew members were safe including one who was shot on the leg when the tanker was hijacked on June 11.
The RM21 million worth of RON95 cargo also left untouched.
It is now being escorted by KD Handalan, on its way to Kuantan port and is scheduled to arrive at 2am tomorrow. – The Malaysian Insider