This article first appeared in The Edge Financial Daily, on November 20, 2019.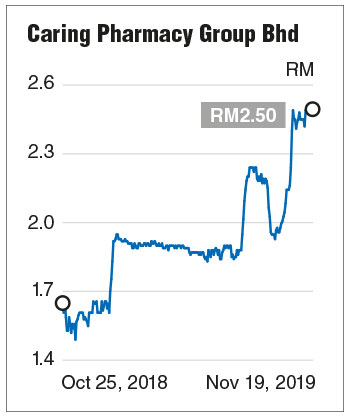 KUALA LUMPUR: Convenience store operator 7-Eleven Malaysia Holdings Bhd is raising its stake in the pharmacy chain Caring Pharmacy Group Bhd. Both of which tycoon Tan Sri Vincent Tan holds equity stakes.
In a filing with Bursa Malaysia yesterday, 7-Eleven said its wholly-owned subsidiary Convenience Shopping (Sabah) Sdn Bhd acquired an additional 3.41 million shares, representing approximately 1.57% equity interest, in Caring between Oct 29 and Nov 19 for RM8.2 million in cash.
This has bumped up the convenience store operator's stake in Caring to 4.22% from about 2.65% previously.
In the announcement, 7-Eleven said 410,000 Caring shares were acquired on the open market for approximately RM1 million, while another block of three million shares were bought through a direct business transaction at RM7.20 million, or RM2.40 per share.
"The acquisitions enabled the SEM Group (7-Eleven Group) to increase its investment in Caring, a retail chain pharmacy with strong distribution network and growing profitability," it said in the filing.
It added that the share acquisitions were funded from the group's internal funds.
Caring's share price has fared well. Over the past year, the counter has surged some 52.4% from RM1.65 to close at RM2.50 yesterday.
It is interesting to note that Berjaya group boss Tan, who is a major shareholder of 7-Eleven, holds direct interest in the company of 0.55% and an indirect 11.27% including a 5.29% stake held through Jitumaju Sdn Bhd and 4.22% via Convenience Shopping (Sabah).
Tan holds a 25.11% stake in 7-Eleven.
Caring's largest shareholder is Motivasi Optima Sdn Bhd with a 50.35% stake in the pharmacy chain. Its shareholders are Chong Yeow Siang, Soo Chan Chiew, Tan Lee Boon and Ang Khoon Lim. Chong is the managing director of the group while Soo, Tan and Ang are directors.
The second largest shareholder is Permodalan Nasional Bhd holding a 7.7% stake in the pharmacy chain.
Caring ended its financial year ended May 31, 2019 with a 12% year-on-year (y-o-y) increase in net profit to RM20.73 million on the back of an 18% rise in revenue to RM599.23 million. The group attributed its higher revenue to sales generated from the establishment of 15 new outlets, as well as higher sales from its existing outlets.
For the first financial quarter ended Aug 31, 2019, Caring's net profit grew 2.27% y-o-y to RM4.18 million, in line with its revenue increasing 8.86% y-o-y to RM163.26 million, mainly contributed by the sales generated from the establishment of 16 new outlets.
As of Aug 31, the company had a total of 129 community pharmacies.