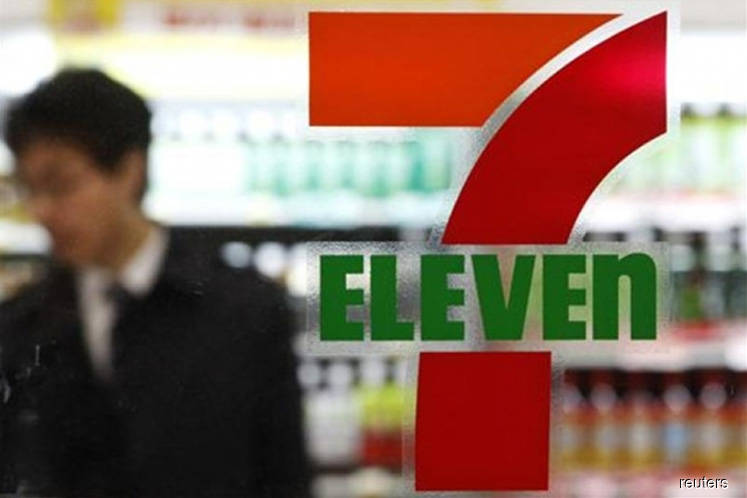 KUALA LUMPUR (Sept 7): 7-Eleven Malaysia Holdings Bhd has lowered this year's target to open its convenience stores to 100, from a previous forecast of 200, and its earnings are likely to be impacted as a result of the government introducing a new minimum wage scheme, according to an analyst with Maybank Investment Bank Bhd. 
"On store openings however, we believe 7-Eleven has turned more cautious," Maybank's analyst Liew Wei Han said in a note to clients today.
"Having only opened 16 (net) stores in the first half of 2018 (1H18), it has since revised its targeted store openings to 100, from 200 in financial year ended Dec 31, 2018 (FY18)," Liew added.
According to CIMB Investment Bank Bhd, 7-Eleven's slower store expansion was on the back of its current emphasis on improving existing stores, in which it had managed to refurbish 99 stores in 1H18. 
"7-Eleven also shared that it will now focus on refurbishing its stores for a more refreshed store front outlook and is on track to meet its goal of 150 refurbished stores a year," CIMB analyst Kristine Wong and Walter Aw said in a note to clients today.
At the same time, both Maybank and CIMB expressed their concern on 7-Eleven's earnings in FY19, which will see the bottomline by between 8.5% to 9.5% over the next two financial years.
"Minimum wage will raise overheads, while the decision to maintain prices post sales tax implementation may dampen margins," Maybank added.
Currently, Maybank said between 80% to 90% of 7-Eleven's employees, which is equivalent to a staff force of between 13,000 and 14,000, are on the minimum wage scheme.
Meanwhile, CIMB said the government's plan to roll-out a new minimum wage scheme of RM1,050 per month starting from Jan 1, 2019, could potentially increase 7-Eleven's staff cost by between RM600,000 per month to RM700,000 per month, equivalent to an annual personnel cost of between RM7.2 million and RM8.4 million.
"Assuming an average RM50 per month increase in minimum wage, personnel expenses could rise by about RM7 million per annum," Maybank added, noting this is equivalent to 5% of 7-Eleven's earnings before interest, tax, depreciation and amortisation in FY18.
On Wednesday (Sept 5), the Prime Minister's Office announced that the government had decided to raise the national monthly minimum wage rate to RM1,050 beginning next year, which is a RM50 more from the current RM1,000 in Peninsular Malaysia; and RM920 in Sabah, Sarawak and Labuan.
Despite the government rolling-out the Sales and Services Tax (SST) early this month, Maybank said 7-Eleven will leverage on its buyer power and intends to maintain prices at its convenience stores in the near term. 
"With the implementation of the SST from Sept 1, 2019, we understand that some suppliers have proposed to increase prices by an average of 5% to 6%," Maybank said.
However, 7-Eleven has made an exception to the price of the cigarettes, which currently contributes 36% of sales in 1H18, Maybank said, adding any "cost increase will be passed on to consumers."
Going forward, CIMB said 7-Eleven will focus on increasing its product offerings, particularly in the ready-to-eat segment, which generates around 10% of its total annual revenue.
"Moving forward, it intends to introduce RTE [ready-to-eat] products in limited stores (5-10 outlets) by end-2018, to gauge consumer response," CIMB added.
Given its large network of stores across the country, CIMB said 7-Eleven did not discount the possibility of setting up its own centralised kitchen, or working with a partner having  existing facilities.
As for the stock recommendation, Maybank is retaining its "Sell" call, while CIMB is keeping to its "Reduce" call on cautious earnings outlook.
Citing headwinds ahead, Maybank said it has lowered 7-Eleven's fair value, with the 12-month target price reduced by 12 sen to RM1.12, from a previous forecast of RM1.24.
At current price tag that is "costing an arm and a leg", CIMB said it is keeping 7-Eleven's fair value at RM1.05, a 25.2% downside to yesterday's closing price of RM1.40.
"We advise investors to stay away from the stock, pending effective execution of its long-term cost-saving initiatives," CIMB added.
At noon-break, 7-Eleven shares paused at RM1.29, valuing the convenience store at a market capitalisation of RM1.59 billion.