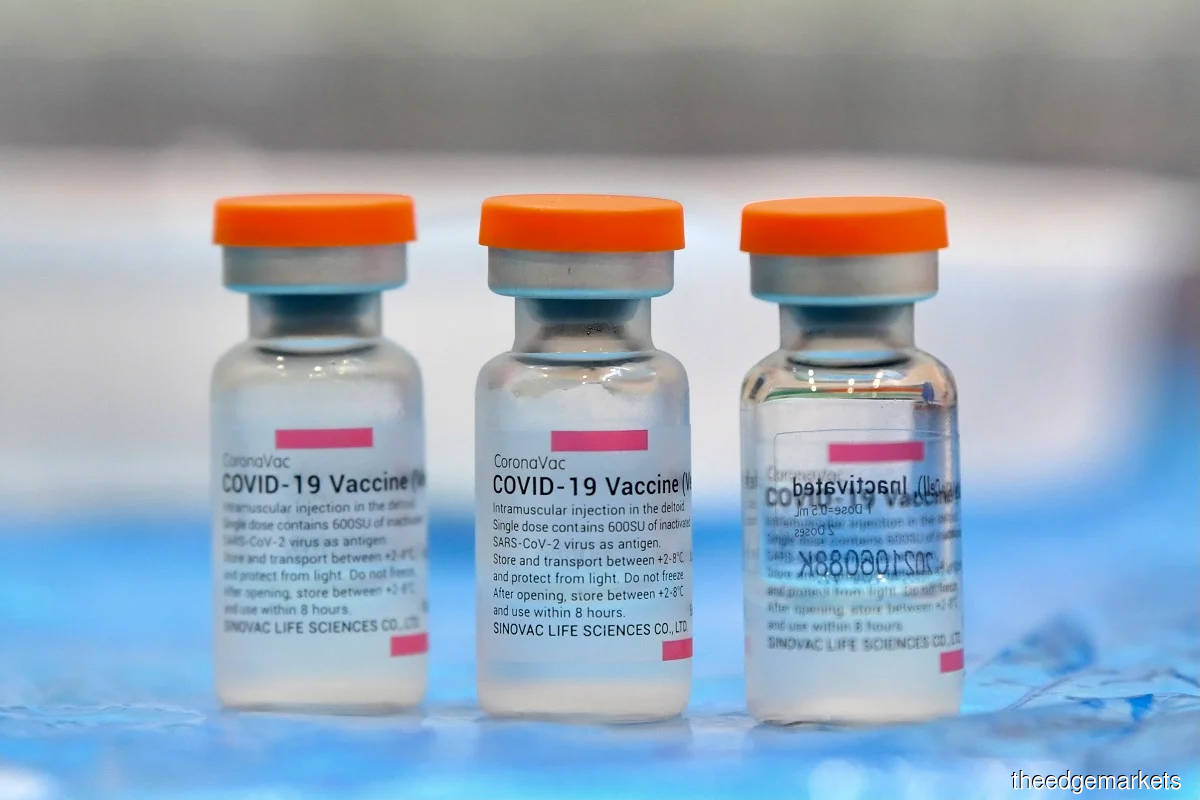 KUALA LUMPUR (Jan 14): Nearly half of 10 million people fully vaccinated with Sinovac's Covid-19 vaccine in Malaysia have yet to get their booster shots, less than two months before their fully vaccinated status lapses on Feb 28.
Citing the official government website for data and insights on Covid-19 (CovidNow), health news portal CodeBlue on Thursday (Jan 13) said that as of Jan 11, there were 5.2 million boosted Sinovac recipients nationwide in Malaysia, while the remaining unboosted 48% – or 4.8 million of 9.995 million people double-vaccinated with the Chinese inactivated vaccine — have about 46 days left to get a third jab.
It said the most popular coronavirus vaccine combination in Malaysia is two doses of Sinovac followed by a booster with Pfizer's mRNA vaccine.
This Sinovac-Sinovac-Pfizer vaccine regimen accounts for about 4.4 million recipients, comprising 53% of 8.3 million boosted individuals in Malaysia as of Jan 11, followed by three Pfizer doses for 2.1 million adults (26%).
Three months after Malaysia rolled out boosters last Oct 13, only 36.5% of adults aged 18 and above have received additional Covid-19 vaccine doses, amid more widespread hesitancy towards boosters than initial inoculation.
Follow our Covid-19 vaccination tracker to see where we are in the race to herd immunity.  
According to CovidNow, 80% of the adult population in Malaysia were fully vaccinated by last Sept 18, which means that all of these individuals should already be eligible for boosters regardless of the type of vaccine they took.
Yet, less than half have gotten boosted.
CodeBlue said that although Malaysia has fully vaccinated a bigger share of its population than the United Kingdom (UK), the UK's booster vaccine coverage is more than twice that of Malaysia.
The news portal said Pfizer was the most common booster vaccine for those who previously received two Sinovac doses, comprising 85% of 5.2 million boosted Sinovac recipients, or some 4.4 million individuals inoculated with a Sinovac-Sinovac-Pfizer regimen.
The second most common booster for Sinovac recipients was a third jab of the same vaccine for 655,916 people, or 13%, as of Jan 11.
More than half of these 655,916 individuals triple-vaccinated with Sinovac reside in Sarawak (132,696), Penang (105,079), and Selangor (100,818).
There are currently about two million people in Malaysia double-vaccinated with AstraZeneca-Oxford's coronavirus vaccine.
However, just about 509,000 of them were boosted as of Jan 11, which accounts for only 25% of the AstraZeneca recipient population.
Pfizer recipients, on the other hand, are most commonly administered with a third Pfizer dose as a booster.
There were 2.1 million fully vaccinated Pfizer recipients taking a third dose of the same mRNA vaccine, about 96.6%, as of Jan 11.
The remaining boosters given to double-vaccinated Pfizer recipients, in decreasing popularity, are AstraZeneca, Sinovac, Sinopharm, and CanSino.
Read also:
Repeating booster doses not a viable strategy – experts
Current Covid-19 vaccines missing two key elements, says Bill Gates
Surveillance, reliable rapid testing, isolation remain critical to control Covid-19, says WHO expert
Cyprus discovers Covid-19 variant that combines Omicron and Delta — report
'Deltacron' likely due to lab contamination, say experts