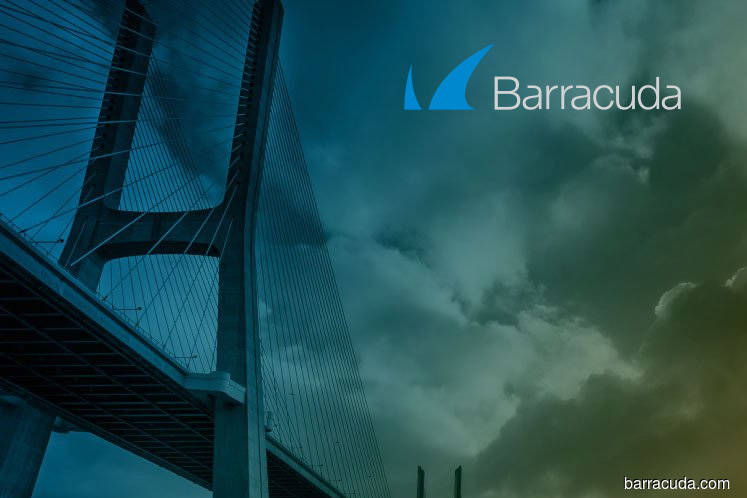 KUALA LUMPUR (Aug 1): Cloud-connected security and storage solutions provider Barracuda Networks, Inc says some 44% of Malaysians in a survey felt confident that their organisations' move to public cloud was secure.
In a statement today, Barracuda said the findings were part of a survey on public cloud commissioned by the company and conducted by Vanson Bourne amongst 450 people in 6 countries in Asia Pacific (APAC), including Malaysia.
It said respondents came from different sectors and industries, including manufacturing, technology, financial services and more.
Barracuda vice president of Asia Pacific, James Forbes-May, said 58% of the Malaysians surveyed told they have more trust on public cloud today, as compared with five years ago.
"Yet only 36.10% of Malaysian respondents said their organisations were using public cloud," he said.
Barracuda said Malaysian respondents also chose Google as their preferred public cloud provider, with 70% of respondents organisations using the service.
It said Amazon Web Services was next at 48%, while Microsoft Azure followed close with 40% and IBM Bluemix at 34%.
Respondents also stated their organisations used more than one cloud provider, Barracuda said.
69% of APAC responders stated this was due to different providers having different strengths, while 35% said no one provider was able to provide everything they needed on one platform, Barracuda said.
This however creates a complex IT environment and higher costs, it added.
"Public cloud accounted for 22.71% of IT budget spending for these Malaysian respondents' organisations," Barracuda said.
The survey also revealed security was still a concern, with 66% of respondents in Malaysia sharing that their organisations had added additional security measures to secure their public cloud access and use.
This leaves 1/3 open to security breaches, when they leave the security responsibilities solely on their Infrastructure as a service (IAAS) provider, Barracuda said.
Forbes-May explained only 60% of the Malaysians surveyed were aware of their organisations and public cloud providers responsibility in terms of security.
"This was much lower than the APAC average of 78%. It is essential that organisations understand that they need to take necessary precautions when storing data on public cloud," he said.
"68 percent of Malaysian surveyed said their organisations have been targeted by cyber security attacks in the past.
"These attacks hinder business operations and worst business loss. 1/3 of the APAC respondents (37 percent) said customers or employees lost faith in the organisations security measures.
"While 30 percent reported a temporary closure of business, while 22 percent of those surveyed entirely lost their customers," Forbes-May added.
Barracuda said despite security concerns, 65% of the Malaysian respondents' organisations store customer bank details in public cloud, while 48% admitted to storing personal employee data on public cloud.