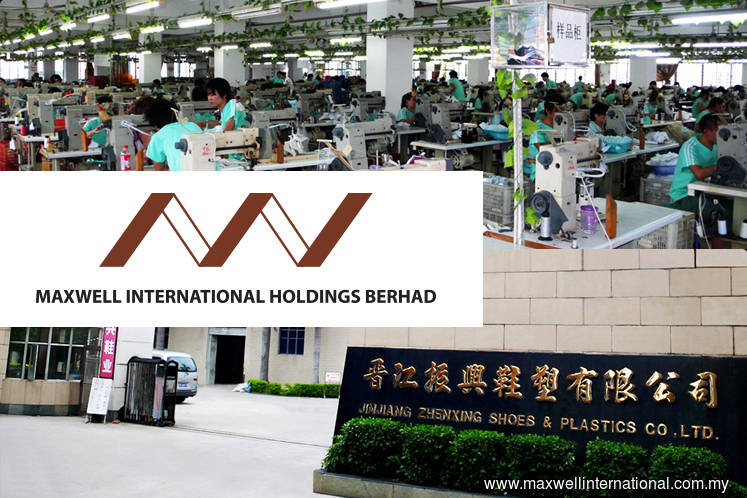 KUALA LUMPUR (Dec 12): Loss-making China-based shoes and garments manufacturer Maxwell International Holdings Bhd saw some 17 million shares, representing a 4.26% stake, traded off market today. 
Bloomberg data showed the shares were crossed in a single trade at two sen apiece — equivalent to its last closing price in the open market today — for a transaction value of RM340,000. 
On Nov 27, there were also 20 million shares crossed off market for RM400,000 at two sen per share. Later on Dec 6, another block of 10 million shares exchanged hands through off market trade at the same price.  
It is not known as to who the parties involved in the transactions were at press time.
Meanwhile, Bursa Malaysia filings by Maxwell showed its director Li Kwai Chun disposed of some 16.33 million shares, representing a 4.10% stake at two sen apiece, in two trades done on Dec 6 and Dec 7 on the open market. 
Maxwell has been a Practice Note (PN17) company since Aug 2, 2016, after external auditors expressed a disclaimer opinion in its audited financial statements for the financial year ended Dec 31, 2015 (FY15).  
It has until Jan 31, 2018 to submit its regularisation plan. 
Today, one of its two legal firms appointed to conduct due diligence on 14 court litigation cases involving the group's subsidiaries has resigned, citing difficulties faced when conducting its work, including allegedly uncooperative courts. 
At market close today, the Main Market-listed company closed unchanged at two sen with 33,100 shares traded, giving it a market capitalisation of RM8 million.