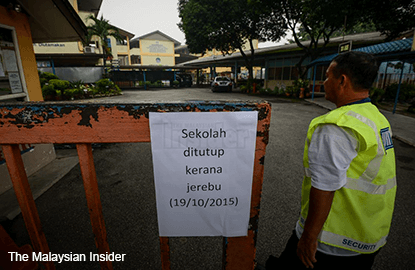 (Oct 19): The Education Ministry has ordered schools in seven states to remain closed tomorrow after the air quality showed only minor improvements.
Yesterday, schools in Malacca, Negri Sembilan, Putrajaya, Selangor, Kuala Lumpur, Tawau, Samarahan and Kuching were ordered to be closed due to unhealthy air recorded in those areas.
The ministry said in a statement today that apart from the schools mentioned, those in Lahad Datu, Semporna and Kunak in Sabah, Muar, Ledang and Segamat in Johor, have also been instructed to close tomorrow.
"Based on observation at 1pm today, the API (Air Pollution Index) level at the affected areas remained 'Unhealthy'," the ministry said.
It added that the closure would affect 1.9 million students in 3,029 schools.
"The state education departments, district education offices and the school management should monitor the air pollutant index (API) in their areas and if the air quality reaches the 'unhealthy' and 'very unhealthy' level, should take necessary action."
The smoke had worsened since this morning with 17 areas nationwide recording unhealthy air quality.
An API reading of between 101 and 200 is considered unhealthy while a reading under 50 is good, and moderate between 51 and 100. An API reading from 201 to 300 is very unhealthy, and hazardous above 300.
Schools in smoke-choked areas had been ordered to close several times last month and earlier this month, following forest fires and the burning of plantation land in Indonesia.
Earlier this month, some 7,000 schools were closed on October 5 and 6 after the API showed hazardous air in Shah Alam and unhealthy air in other parts of the country. – The Malaysian Insider