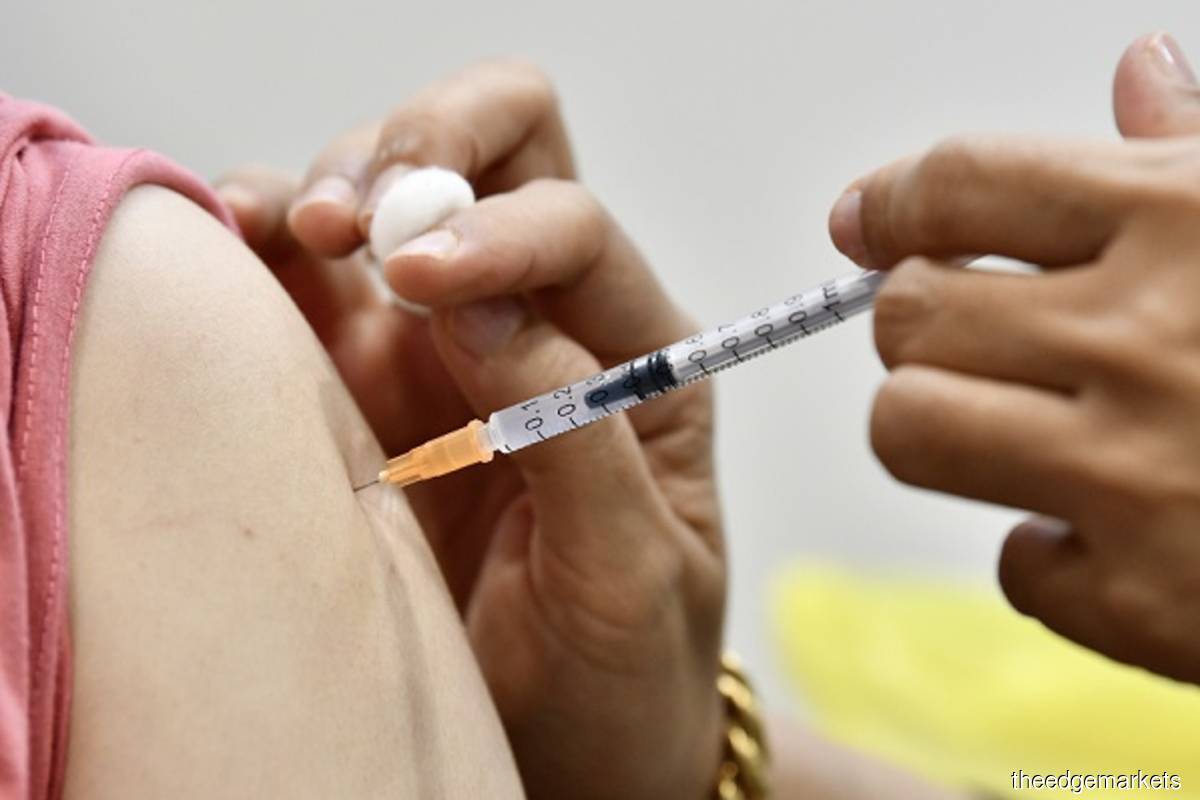 Follow our Covid-19 vaccination tracker to see where we are in the race to herd immunity.
KUALA LUMPUR (July 28): The government has projected that the percentage of adults in Kuala Lumpur and Selangor that is fully vaccinated against Covid-19, which stood at 29.7% as of July 27, will reach 100% by the end of August.
Under the projection, 40% of the 6.09 million adult population in Kuala Lumpur and Selangor is expected to be fully inoculated by the end of July.
The new vaccination timeline was contained in a National Recovery Plan (NPR) update released on July 26. The NPR is the government's roadmap to control the pandemic and enable progressive reopening of society.
According to the timeline, all adults in the country are expected to be fully inoculated by October.
Labuan with an adult population of 68,500, Sarawak (2.04 million) and Putrajaya (67,700) are also expected to achieve 100% inoculation by the end of  August. 
As of July 27, 77% of Labuan's adult population was fully vaccinated, while for Sarawak, it was 58.6%, according to the Covid-19 Immunisation Task Force (CITF)
Meanwhile, Perak had been set to reach 60% full inoculation of its adult population in July, and achieve the 100% target in October.
Negeri Sembilan with an adult population of 814,400 and Terengganu (808,400) are both going to reach 60% full inoculation in August, followed by Pulau Pinang (1.37 million) and Pahang (1.18 million) in mid-August 2021. 
According to CITF, the percentage of fully vaccinated adult population as at July 27 stood at 21.1% for Perak, Negeri Sembilan (26.7%),  Terengganu (22.2%), Pulau Pinang (20.0%), and Pahang (19.9%). 
Johor with an adult population of 2.71 million, Kedah (1.54 million), Kelantan (1.24 million), Perak (1.86 million), and Perlis (181,200) are all set to see 60% of their adult population fully vaccinated in September, according to the timeline. 
The percentage of the adult population that had received both doses of the Covid-19 vaccine as at July 27 stood at 15.1% for Johor, Kedah (17.4%), Kelantan (18.9%), Perak (21.1%) and Perlis (39.1%).
 All these states are set to reach 100% full inoculation by October.
However, vaccination registration as at July 27 remains low at 77.9% in Kedah, Kelantan (62.5%), Pahang (77.6%), Perak (78.6%), Terengganu (76.7%), and Sabah (40.5%), according to the  Special Committee for Ensuring Access to Covid-19 Vaccine Supply (JKJAV).
National Covid-19 Immunisation Programme Coordinating Minister Khairy Jamaluddin in his speech in Parliament today said the government has secured access to enough Covid-19 vaccines to cover 130% of the entire population or 41.7 million people. 
The suppliers are the COVAX facility (covering 10% of Malaysia's population), Pfizer BioNTech (70%), AstraZeneca (10%), Sinovac (19.4%), and CanSino (10.9%). 
A further 10% of the country's population will receive vaccines from Russia's Gamaleya National Research Center for Epidemiology and Microbiology, the manufacturer of the two-dose Sputnik V vaccine that is currently awaiting approval from the National Pharmaceutical Regulatory Agency.