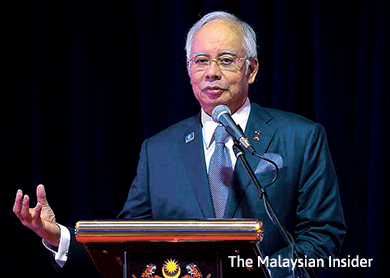 (July 7): Three out of six bank accounts frozen by a special task force yesterday belonged to Datuk Seri Najib Razak, as investigation into the alleged transfer of billions of ringgit into the personal accounts of the prime minister continues.
Sources revealed to The Malaysian Insider that two of the accounts were from Ambank and Affin Bank.
The freeze comes after a report by the Wall Street Journal (WSJ) alleging that US$700 million from companies linked with 1MDB was deposited into Najib's personal bank accounts.
Earlier today, the task force, in a statement, said six bank accounts connected to the allegations had been frozen. The order to freeze the accounts was issued yesterday.
The statement was jointly issued by Attorney-General Tan Sri Abdul Gani Patail, Bank Negara governor Tan Sri Zeti Akhtar Aziz, Inspector-General of Police Tan Sri Khalid Abu Bakar and Malaysian Anti-Corruption Commission chief commissioner Tan Sri Abu Kassim Mohamed.
Apart from freezing the bank accounts, the task force also seized documents linked to 17 bank accounts at two banks for further investigation.
The task force said the freeze and seizures were related to the non-compliance of Bank Negara rules by the said banks.
The authorities' action was believed to be related to reports by business daily Wall Street Journal (WSJ) and whistleblower site Sarawak Report which revealed that investigations into 1MDB had allegedly uncovered billions of ringgit pumped into Najib's personal accounts.
The documents showed that US$700 million (RM2.67 billion) was moved among government agencies, banks and entities linked to 1MDB and finally ending up in the prime minister's personal accounts in five separate deposits, WSJ had said.
Three days ago, Gani reportedly said the task force was going through documents taken from the premises of SRC International Sdn Bhd, Gandingan Mentari Sdn Bhd and Ihsan Perdana Sdn Bhd.
The three companies had also been named by WSJ in its report.
Najib had, so far, refuted the allegations and said it was a political ploy engineered by his opponents, including former prime minister Tun Dr Mahathir Mohamad.
The New York-based publication insisted that their investigation was based on solid documentation. – The Malaysian Insider