This article first appeared in The Edge Financial Daily, on September 3, 2018.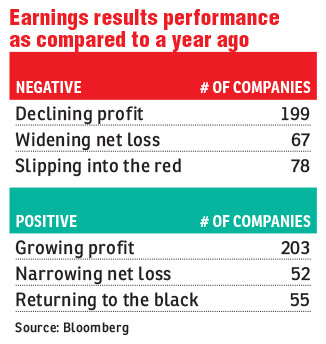 KUALA LUMPUR: The results of the recently concluded reporting season for the second quarter (2Q) ended June were overwhelmingly below expectations despite the run-up in the FBM KLCI, which had risen 9.36% from its lowest close this year in early July to 1,819.66 last Thursday.
Bloomberg data showed that there were more corporates that slipped into the red than those that turned profitable. It is easy to see why some heads of research and market observers were disappointed as more than 50% of the 2Q earnings that were announced from mid-July to end-August underperformed compared with a year ago.
"It was bad. Just at a glance, I think I can say that about two-thirds of the results have been a disappointment," Pong Teng Siew, the head of research of Inter-Pacific Research Sdn Bhd, told The Edge Financial Daily.
Pong explained that the disappointment in earnings was partly a result of uncertainty arising from the 14th general election (GE14) in May.
"Prior to the election in May, corporates had been more cautious in terms of their capital expenditure as they wanted to wait for more clarity. The same was seen in consumer spending, especially on some of the big-ticket items," he said.
Pong added that the historical change in government had also triggered some uncertainties, especially for the construction segment, as seen by the deferral and potential cancellation of some of the mega infrastructure projects.
"Then, there was also the zero-rated GST [goods and services tax], which took place in June. Most consumers waited until after it [zero-rated GST] kicked in before they made their purchase," he said, noting that there could be a spike in June's purchase, but it was only one out of three months of 2Q.
Bloomberg data showed that 78 companies reporting their numbers for the quarter ended June slipped into the red for the period under review. This worked out to 12% of corporates that released their financials during this period.
Rakuten Trade Sdn Bhd vice-president of research Vincent Lau agreed that some of the earnings had not been impressive.
"The results have been a mixed bag so far. We do see some lacklustre performances here and there … I do not think there is a specific sector that has been a let-down," Lau said.
Axiata Group Bhd, Bumi Armada Bhd and YTL Corp Bhd were among those that had recorded a net loss during the quarter, compared to a net profit for the prior year's corresponding quarter.
Axiata was dragged into the red by a one-off non-cash impairment of RM3.38 billion as a result of derecognition and reclassification of Idea Cellular Ltd from being an associate to a simple investment. Even without taking into consideration the impairment, Axiata's normalised profit after tax and minority interest for the second financial quarter ended June 30, 2018 (2QFY18) was 38.2% lower at RM263.7 million on the back of higher depreciation and amortisation charges due to aggressive investment in data over the last two years, higher tax benefits in FY17 and higher investment in digital businesses.
Bumi Armada also saw a net loss of RM585.48 million for 2QFY18, compared to a net profit of RM116.59 million a year ago, on lower revenue as well as an impairment charge of RM478.94 million. The disappointing results led to a huge selldown in its stock as its share price fell by 21.64% or 14.5 sen to 52.5 sen. There was some recovery last Thursday as Bumi Armada closed 5.71% or three sen higher at 55.5 sen.
The impairment charges of RM477.2 million and RM1.7 million were for the Armada Kraken FPSO (floating production storage and offloading unit) and Armada Gema respectively.
Bumi Armada noted that despite the higher oil prices seen at the beginning of the year, oil companies had continued to remain cautious about committing new capital to new projects.
YTL Corp also fell into the red for its 4QFY18 ended June 30, 2018, with a net loss of RM43.36 million compared to a net profit of RM229.33 million for 4QFY17, due to higher losses from the management services and others division.
Its share price fell to RM1.28 last Thursday, its lowest since July 13, before a rebound in the last minute of trading to close at RM1.33.
Better 3Q expected but caution advised
On the sentiment moving forward, Pong said the market had remained cautious as uncertainties on the external front could affect companies that had delivered good earnings so far. For 2Q, most of the counters that have delivered include the tech-related sector, semiconductors and exporters. However, given the uncertainties over US-China trade relations, companies' future earnings could be affected.
He also warned of the expensive valuation pegged to some of the counters that had reported positive earnings growth.
Nevertheless, Pong believes 3Q earnings should see a slight recovery as July and August would have benefited from the zero-rated GST, but the reintroduction of the sales and services tax could have a slight impact on bottom lines.
Lau from Rakuten Trade also foresees an improvement for 3Q.
"The third quarter will be better in terms of earnings. The consumer sentiment index soared to a 21-year high at 132.9 in 2Q this year; breaching the 100-point optimism threshold is good news for the consumer sector and businesses in general. The feel-good factor of the zero-rated GST from June until the end of August would also be beneficial to companies earnings," he said.
While Lau remains cautious about his expectations for the second half of this year, he is optimistic that the worst is over, with some of the short-term pain likely to be removed, especially when there is more clarity from the new government moving forward in the upcoming budget.
Another fund manager of a local asset management firm, speaking on condition of anonymity, agreed with both Pong and Lau in terms of the lacklustre financial performance for 2Q, highlighting that some expectations had run ahead of the companies' fundamentals.
"I think what we have seen so far is expectations running ahead of the earnings recovery. Just look at Bumi Armada and Velesto Energy Bhd. Both companies were back in the red, although for Velesto, the losses were narrowed. These impairments that were largely unexpected were one of the reasons for the disappointment," he said.
He added that corporates with a leaner and stronger balance sheet could have an upper hand moving forward.
"O&G [oil and gas] players like Velesto Energy, which has reduced its debt level, could stand a better chance for a more sustainable recovery. Velesto Energy saw its net debt-to-equity [ratio] reduced to 0.38 times [as of June 30, 2018], compared with 1.55 times a year ago," he said.
Nonetheless, despite some of the disappointments seen this earnings season, the KLCI saw a strong recovery from the post-GE14 selldown, closing at 1,819.66 points last Thursday. It is in fact one of the best performing benchmark equity indices in the region so far this year.
The fund manager added that the rally seen in the KLCI was supported by local institutions, such as the Employees Provident Fund.
"If you just look at the index, I do not think it is a clear reflection of how the market is at the moment. The broader market has been in the red, and it is easy to see why with quite a bit of uncertainty over the country's direction moving forward," he said, noting the underperformance seen for plantation, construction and even property players.
He added that the better earnings seen for financial institutions had been another catalyst for the KLCI.