This article first appeared in The Edge Financial Daily, on July 31, 2019.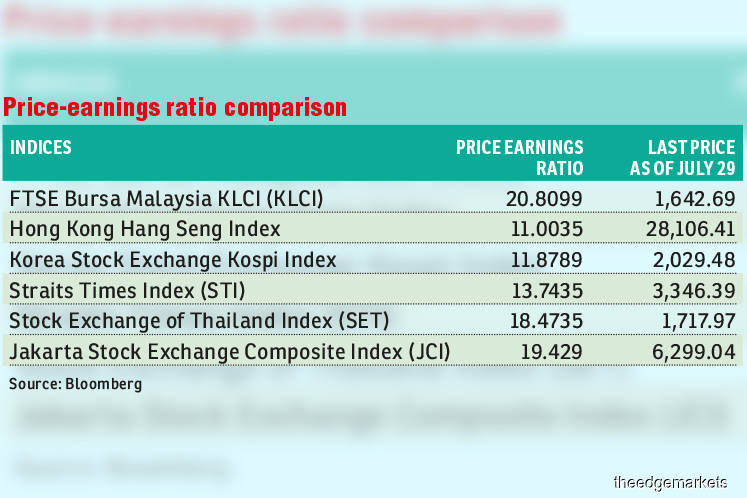 KUALA LUMPUR: A return to robust earnings growth is likely to remain elusive for companies on Bursa Malaysia in the second quarter ended June 30, 2019 (2Q19), analysts said.
They expect corporate results for the quarter just ended to continue to disappoint amid uncertainty caused by the US-China trade war, slowing global economic growth and domestic headwinds.
Areca Capital Sdn Bhd chief executive officer Danny Wong is of the view that corporate earnings performance for 2Q19 could be as bad as 1Q19.
"In general, I won't be surprised corporate earnings growth to be flat on a quarter-on-quarter basis for 2Q19," he told The Edge Financial Daily, adding that performance could be worse on a year-on-year (y-o-y) basis due to the "high base effect".
Still, Danny has a more optimistic outlook about the second half of the year (2H19) due to "several catalysts", including greater clarity from the government on its plans to revive mega infrastructure projects that could spur industries' growth, a cut in the overnight policy rate by Bank Negara Malaysia that would boost disposable income and lift private consumption, and a recovery in commodity prices such as crude palm oil (CPO).
When contacted, RHB head of regional equity research Alexander Chia said he expects weaker top-line growth and "sticky wages" to put pressure on companies' earnings in 2Q19.
"Generally, the underlying tone of corporate earnings [for 2Q19] is likely to remain weak due to weak top-line growth amid soft demand across the board and subdued sentiment as global and local uncertainties continue," he said.
Chia, who is projecting corporate earnings to contract by 5% this year, said companies are also concerned about rising costs following a rise in minimum wage levels to RM1,100 starting this year.
He believes that the worst is not over yet for companies, noting that the market will remain challenging going forward, especially when it comes to lay-offs it can become a "sensitive political issue".
According to Maybank Investment Bank (Maybank IB) head of research Wong Chew Hann, the latest two results reporting seasons saw disappointment as core net profit of its research universe fell 15% y-o-y in 4Q18 and 10% y-o-y in 1Q19.
"In the 1Q19 reporting season, the ratio of stocks with core earnings that missed our forecasts versus that which positively surprised rose to 2.7 times (4Q18: 1.3 times) while just 39% were in-line (4Q18: 47%)," she said in a report on July 1.
She added that earnings risks remain tilted towards the downside and has revised downwards the FBM KLCI stocks' core earnings growth for 2019 to 1.1% from 3.2% estimated early this year.
Valuation of Malaysian stocks still expensive
RHB's Chia said the Malaysian market's valuation remains expensive compared with its regional peers despite the lacklustre earnings growth.
These factors have resulted in the local stock market becoming less appealing to foreign investors.
"In comparison to the regional markets where the price-earnings ratio (PER) is lower and corporate earnings growth is stronger, foreign fund managers will definitely be more attracted to invest in other markets [other] than Malaysia," he said.
Bloomberg data shows that the KLCI was trading at a PER of 20.81 times on Monday, compared with Thailand's SET of 18.47 times, Jakarta's JCI of 19.43 times and Singapore's STI of 13.74 times.
The KLCI closed down 5.27 points or 0.32% to 1,642.69 on Monday. Year-to-date, the benchmark index has fallen 5% from 1,766.23.
Maybank IB's Chew Hann noted that 1H19 has not been kind to Malaysian equities due to external headwinds and a lack of fresh domestic catalysts.
"KLCI was the only benchmark in the region to close 1H in the red (-1.1%) as foreign investors net sold while domestic institutions were cautious," she said.
Chew Hann also said foreign flows in Malaysia equities remained negative at about RM4.8 billion in 1H19, which put Malaysia, the highest among regional peers, on foreign net sell compared with net buyers in Indonesia, Thailand, the Philippines and Vietnam.
She is keeping the KLCI year-end target at 1,680 points, which implies a 16 times of 12-month forward PER.
Maybank IB also listed some key risks to market earnings growth forecasts as lower-than-expected crude oil and CPO prices, margins pressure from higher minimum wage, fuel and utility costs and negative government policies.
"As for 2020, our forecasts are for growth to be higher at 8.6% for our research universe, 6.7% for the KLCI, partly due to the base effect of negative growth in some sectors in 2019," said Chew Hann.
For the sectoral performance in 2Q19, analysts expect sectors such as plantation, downstream oil and gas (O&G), rubber glove and construction to pose downside risk.
Fundsupermart Research analyst Jerry Lee Chee Yeong likes the plantation sector, particularly counters with less diversified business model and a higher operating cost of production due to the weak CPO prices that have dropped more than 15% y-o-y in 2Q19.
According to the Malaysia Palm Oil Board, prices of CPO were mostly trading below RM2,000 per tonne during the April-June period. On Monday, the benchmark palm oil contract for October delivery on the Bursa Malaysia Derivatives Exchange closed down RM6 at RM2,061 per tonne.
Lee also expects export-oriented companies to deliver relatively better earnings in 2Q19, given that the ringgit has depreciated close to 5% y-o-y against the US dollar.
"Although the weak ringgit will translate into higher revenue and earnings for export counters, the impact is likely to be partially offset by the weakening global demand.
"Having said that, we believe that the earnings growth for export counters is likely to remain pretty healthy in 2Q19 as the overall global demand has slightly improved compared with the first quarter of the year," Lee added.
RHB's Chia sees potential downside risk to sectors such as downstream O&G due to weak product pricing, and glove due to timing of costs pass-through following the surprised gas hike where the market needed some time to absorb the excess capacity resulting from recent expansion by glove makers.
Areca Capital's Danny said earnings growth for construction companies will remain under pressure in 2Q19 as they have yet to recognise earnings due to projects being postponed or suspended earlier.
The ringgit closed down 0.18% at 4.127 against the greenback on Monday. The local currency has come under selling pressure after a warning by FTSE Russell on the possible exclusion of Malaysian government debt from its World Government Bond Index in April. Since then, the ringgit has been trending higher against the US dollar to hit a six-month high of 4.192 on May 29.