This article first appeared in The Edge Financial Daily, on June 24, 2019.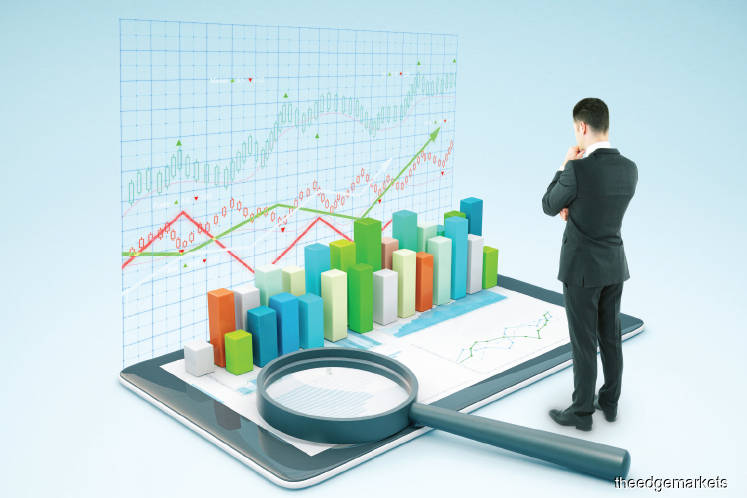 KUALA LUMPUR: As we enter into the second half (2H) of 2019 a week from now, the general expectation is that external factors will continue to dictate the direction of the Malaysian equity market for the rest of the year.
In particular, analysts agreed that a lot depends on whether the current trade tension between the US and China eases or escalates further.
Phillip Capital Management Sdn Bhd chief investment officer Ang Kok Heng said the trade dispute has a wide-ranging impact.
"Corporate earnings are not impressive so far. So it (market direction) will be driven by external factors. If the [US-China] trade talks turn out well, global growth will be better. This will lead to better corporate earnings as well," Ang told The Edge Financial Daily when contacted.
The global economy remains clouded by uncertainties on whether there would be an end to the US-China trade dispute, which began almost a year ago.
The attention now is on the coming meeting between US President Donald Trump and China President Xi Jinping at the Group of 20 (G20) leaders' summit in Osaka at the end of this week.
The outcome of the talks between the leaders of the world's two largest economies would indicate the extent of trade protectionism going forward, which in turn would have a bearing on the market sentiment for the remaining of the year, say analysts.
Earlier talks between the two countries last month broke down, after which Washington raised the tariff rate on US$200 billion (RM830 billion) of Chinese goods to 25% from 10% on May 10, with China retaliating by imposing tariffs on an additional US$60 billion worth of US goods.
In its global outlook report last week, UOB Research looked at the probability of the outcome of the coming Trumph-Xi talks.
The report foresees only a 10% chance of the two reaching a trade truce, which would lead to the eventual removal of most additional tariffs, while there is a 60% probability that uncertainties remain and a breakdown in talks may still occur during the negotiations.
The remaining 30% probability, which UOB calls it the "worst-case scenario", is that the US proceeds with its threat of an additional 25% tariff on US$325 billion worth of Chinese exports and restrictions on technology transfer.
For Affin Hwang Asset Management portfolio manager Lim Chia Wei, there is a 60% chance that the G20 meeting would yield a modest positive outcome.
"It is hard to form a strong view given how fluid development is" Lim said. "Based on our subjective judgement, we think there is a 60% chance that the US and China trade dispute will have a modestly positive outcome."
"Both may hold back from escalating tensions and agree to continue on with trade negotiations after the G20 summit. There is a 40% chance of an escalation in the trade dispute," he said.
'Small caps would do well if there is trade truce'
Fundsupermart.com research analyst Jerry Lee Chee Yeong said a trade truce after the G20 summit will be a strong catalyst for global equities as the risk-on sentiment would help to spur rally in risky assets, including emerging market equities.
"Under this scenario, we expect the local small- to mid-cap sector to outperform the big-cap sector by an even significant margin as the small- to mid-cap companies are, by their very nature, high risk," said Lee.
While the first half of 2019 has seen investor interest largely revolving around small- to mid-cap counters, Phillip Capital's Ang pointed out that it was a recovery after these counters were badly bashed last year.
Year to date (YTD), the FBM Small Cap index has grown some 14%, closing at 12,930.25 points last Friday. Last year, the index suffered its biggest annual decline (in terms of absolute value) since 1997.
During the same period, the FBM KLCI came down 8.35% to close at 1,682.23 last Friday. Last year, the index lost 5.9%. The FBM Emas Index, on the other hand, gained 2.8% YTD to close at 11,849.51 last Friday, after losing 10.9% in 2018.
Areca Capital's Wong opines that over the long run and after an uptrend market, small caps would have a better chance to outperform, especially in emerging markets.
"In the last 12 months we noted that the big caps did badly, mainly due to new leaders being appointed at some government-linked companies, foreign outflows, rich valuation and external factors. Though we might not see these factors again, I expect small caps would still be the better bet," he said.
EquitiesTracker chief executive officer Alvin Yong urges investors to look for stocks that were beaten down previously.
"For example, electronics stocks, which have come down at least 30% from their peaks, are attractive in terms of their valuation. They include Inari Amertron Bhd, Globetronics Technology Bhd and Elsoft Research Bhd," he said.
'Go for bonds and REITs if tensions escalate'
In the event of a trade tension escalation after the G20 meeting, Areca Capital's Wong said fixed-yielding assets like bonds and real estate investment trusts (REITs) would be the right asset class to hold over the next two years.
"This is because US interest rate is likely to go on a downtrend, based on the dovish statement from the Federal Reserve, and this will benefit fixed-yielding products," he said when contacted.
Wong also said investors could consider investing in gold, considering that the metal's price has been bearish for many years.
EquitiesTracker's Yong said electronics and the export-oriented sectors are among the direct beneficiaries, especially those with excess capacity to cater to additional demand.
Yong also foresees that Malaysia, as an investment destination, is poised to benefit from the ongoing trade tension between the two largest economies.
"There will be more Chinese companies keen to relocate to Malaysia amid the trade war. But the spillover effects from the relocation will take about two to three years to materialise as the Chinese investors will need to build their capacity in Malaysia," he said.