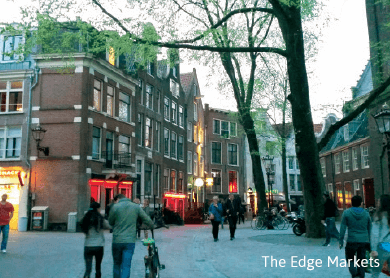 How to experience all that the Dutch capital city has to offer in a day
THE great city of Amsterdam, capital of The Netherlands, is infamously known for its freedom — people are allowed to smoke marijuana out in the open without the fear of repercussions, prostitution is legalised and the biggest, loudest parties often happen in the heart of the city. In reality though, Amsterdam offers so much more than its reputation as the Sin City of Europe — its history and culture date back to over a thousand years, and most of the buildings, churches and canals have survived centuries of floods, wars, fires and the rise and fall of imperialism.
The city itself is small, and you can spend an entire day walking through it to catch a glimpse of everything that makes Amsterdam unique. Here is one way you can savour the essence of what makes this historic city one of the most unforgettable in the world in just 24 hours.
1. Join a walking tour of the city
There are numerous free walking tours that are on offer in Amsterdam; most consist of a group of 10 to 15 people led by a tour guide who may or may not be Dutch, although you can be sure that they have in-depth knowledge of the city's history and architecture. Start the day early by walking through the cobbled, narrow streets of the city, taking in sights like Chinatown, the old Jew district where Rembrandt's home is located, the Dam Square, Nieuwmarkt and Homomonument. Tour guides can also suggest the best restaurants and cafes for you to visit. There are several companies that offer walking tours of Amsterdam — most are free, although a tip at the end is customary — and a quick search on Google will offer up plenty of choices.
2. Tour the infamous red light district
Aside from the day city tours, red light district tours are also popular and usually take place in the evening. Known as De Wallen by the Dutch, Amsterdam's red light district is home to the city's oldest church, Oude Kerk (which means old church) which was built in 1213. Ironic, considering that the church is flanked on all sides by the infamous "windows" — little windowed cubicles where sex workers from all over Europe congregate in the only city where prostitution is legalised and properly controlled by the government. In addition to the windows, there are also a variety of peep shows, burlesque shows and strip bars that line the streets of De Wallen. Tour guides will give an in-depth overview of how the legal system works, and also bring visitors to view a bronze statue called Belle, which was commissioned by a former sex worker, Mariska Majoor, founder of the Prostitution Information Center which seeks to educate people about the sex industry in Amsterdam.
3. Have delicious pancakes
Amsterdam is quite surprisingly famous for pancakes. Two pancake restaurants, in particular, have gained cult-following status thanks to their irresistible offerings — Pancakes! and The Pancake Bakery. Serving an array of sweet and savoury pancakes, these two delightful restaurants are situated next to lovely canals, where you can dine while watching the boats row by. Famous stars, such as Alicia Keys, Paris Hilton and Miley Cyrus, have been spotted at The Pancake Bakery, and their photos appear on the restaurant's Wall of Fame.
Pancakes! is located in Berenstraat 38, 1016GH Amsterdam and opening hours are from 10am to 7pm daily. For inquiries, call +31 20 528 9797.
The Pancake Bakery is located in Prinsengracht 191, 1015DS Amsterdam and opening hours are from 9am to 9.30pm daily. For inquiries, call +31 20 625 1333.
4. Check out the Bloemenmarkt flower market
Do you have a green thumb and love planting flowers in your garden? You will thoroughly enjoy Amsterdam's Bloemenmarkt along Singel, a street right by a canal that offers a dizzying variety of flowers — most commonly, tulips. From flower bulbs, seeds, bouquets to gift items like balloons and magnets, Bloemenmarkt has them all. Although most of the stalls offer much of the same items, their prices do vary, so it pays to walk through the entire street to look for the best deals. Keep in mind that most of the flower bulbs sold here do not grow in tropical weather, so before purchasing anything, speak to one of the shop assistants, so that they can help you pick something suitable for Malaysian weather. Even then, it is still a lovely idea to bring some tulips home — they are quite long-lasting.
5. Try a plate of hearty Stamppot, a traditional Dutch staple
What looks deceivingly like a plain dish of mashed potatoes is actually so much more — while the Dutch agree that Stamppot is undeniably a traditional dish, they have differing ideas as to the exact ingredients that make up this dish. In its most basic form, Stamppot is made from boiled potatoes mashed with vegetables, such as sauerkraut, kale, spinach, turnip, carrots and onions. Sometimes, bacon is also added. On top of the mash of potatoes and vegetables is often a smoked sausage or meatball. Usually, the entire dish is covered in delicious gravy. One of the most famous restaurants in Amsterdam to serve Stamppot is Haesje Claes, located in Spuistraat 275, 1012VR Amsterdam. For inquiries, call +31 20 624 9998.
6. Have lunch or dinner at Michelin-starred Bridges
Bridges is located at the lovely Sofitel Legend The Grand Amsterdam hotel, a historical building that dates back to 1411. The hotel's rich history spans centuries, and highlights include the stay of French emperor Napoleon's brother Louis, then king of Holland in 1808 and the wedding ceremony of the former Dutch queen, Princess Beatrix in 1966. Bridges, a one-Michelin Star fine dining establishment that calls this place home, was inspired by Ron Blaauw and is currently headed by Chef de Cuisine, Bobby Rust. The restaurant specialises in seafood cuisine and is open for lunch and dinner. The service here is second to none — there are enough waitstaff for every patron, and their in-depth knowledge of the menu and all its ingredients is impeccable. Bridges is located in Oudzijds Voorburgwal 197, 1012EX Amsterdam. For reservations, call +31 20 555 3560 or visit www.bridgesrestaurant.nl.
7. Visit the Anne Frank House
Last but certainly not least, a visit to the Anne Frank House is a must for anyone visiting Amsterdam. Born to a Jewish family in Frankfurt, Germany, Anne Frank and her family fled to Amsterdam in the 1930s, after the Nazis' rise to power. Unfortunately, The Netherlands was not spared from German occupation during the Second World War, and the entire family was forced to go into hiding in the Achterhuis, a secret annexe in an office building located along one of Amsterdam's many canals. Anne, who wrote religiously in her diary became famous after her death, when her father, Otto, the only member of the family to survive the war, had her writings published in what is today known as The Diary of Anne Frank. Her insights and account of living life in hiding of the prosecution of Jews and more simply, the hopes and dreams of a young girl touched many hearts and minds around the world, and soon her diary became the second most widely-translated book in history, after the Bible.
The building in which Anne and her family hid during the war has been converted into a museum, and every day, throngs of visitors line up for hours to visit the secret rooms, where they spent two years of their lives. Take a fascinating tour of video footage, archives and selected pages of the original diary on display. A limited number of tickets can be pre-purchased online via www.annefrank.org. The Anne Frank House is located in Pinsengracht 263-267, 1016GV Amsterdam.
This article first appeared in The Edge Financial Daily, on May 14, 2015.