This article first appeared in The Edge Financial Daily, on April 15, 2020.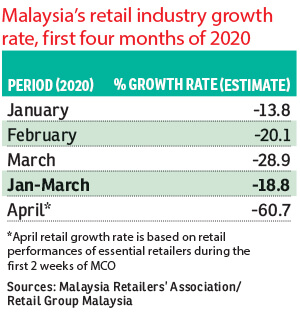 KUALA LUMPUR: Malaysia's retailers are expected to bring in RM10.9 billion less in sales this year after the industry cut its forecast to a 5.5% contraction, from a 4.6% growth projection in December 2019. This will be the first time the industry has contracted since the Asian financial crisis in 1998.
At -5.5% growth, total retail sales — ranging from jewellery to furniture and grocery and beauty products — for 2020 are expected to be RM101.6 billion, compared with RM112.5 billion under the earlier projection. In 2019, retail sales grew 3.7% to RM107.5 billion.
The new projections were made by Retail Group Malaysia (RGM) in a special report in the wake of the Covid-19 pandemic. RGM tabulates retail data on behalf of the Malaysia Retailers' Association. They do not tabulate big-ticket items like cars and houses.
The revised figure comes after the government further extended its movement control order (MCO) to fight the spread of Covid-19, to April 28. All stores, except those offering essential services, have been shut since March 18.
The six-week closure has put a strain on retailers who have to continue to pay rent and wages although no sales are registered. According to RGM, the retailers will have to bear RM20.48 billion in operational and staff costs during the six weeks.
This burden will be borne mostly by non-essential retailers as their stores remain closed. An estimated RM14.31 billion of the costs is retail operating cost, including items like rent of premises, head office expenses, insurances, advertising and promotional expenses, and repair and maintenance.
Another RM6.18 billion is expected to be staff costs, comprising salaries and wages, allowances, and contributions to the Employees Provident Fund and Social Security Organisation.
The MCO has resulted in the closure of 209,000 retail stores (including 90% of stalls and markets). These stores account for 61% of total retail outlets and 63.3% of total retail sales in the country.
Those who can remain open are 126,000 retailers (including 10% of stalls and markets) and this group accounts for 35.4% of the total retail turnover in the country. These include grocery stores such as supermarkets, hypermarkets, mini markets, convenience stores and pharmacies.
Even before the MCO, retailers were already hit by lower consumer spend. RGM's preliminary report estimated that in the January–March period, sales contracted by 18.8%. This was attributed to a sales decline of 13.8% in January due to slow sales during Chinese New Year and a drop in tourist arrivals from China. China makes up the third-highest arrivals and second-biggest spenders in Malaysia. In 2018, they spent RM12.3 billion in Malaysia, more than a third of which went towards shopping.
As the spread of the virus worsened and Malaysia saw fewer tourist arrivals in February, sales growth fell 20.1%. As March began, RGM managing director Tan Hai Hsin said the fear of the pandemic had begun to affect consumer spending and by March 18, the first phase of MCO went into force causing non-essential retailers clocking in zero sales. Sales for the month plunged by 28.9%.
In the April-June quarter, sales are expected to contract by 9.3% with the biggest single month contraction in history recorded in April at 60.7%. This comes as 28 days in April are under the MCO. RGM expects Hari Raya sales during the quarter to be slow.