This article first appeared in The Edge Financial Daily, on February 27, 2020.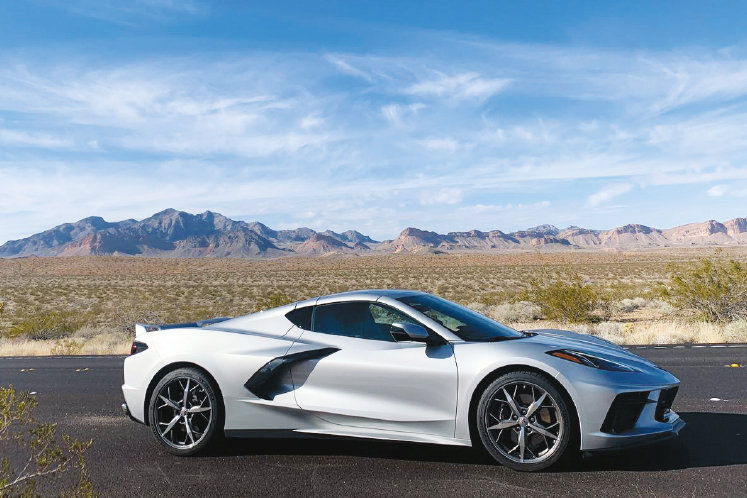 The 2020 C8 Corvette is all-new in body design and mechanics, with a 495hp, dry-sump aluminium, 6.2-litre, naturally aspirated V8 engine and a top speed of nearly 200mph. (Photos by Bloomberg)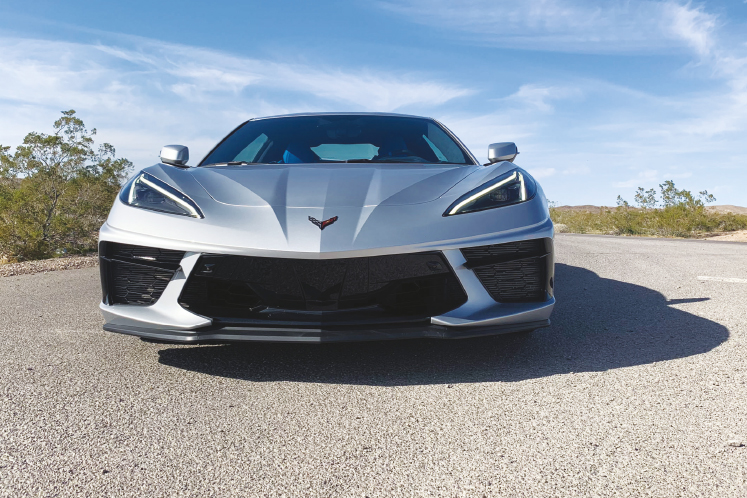 The base Corvette Stingray model comes with nice things, such as a removable targa hardtop, traction and launch control, a drive mode selector, a high-definition rear vision camera and a Bose 10-speaker audio system.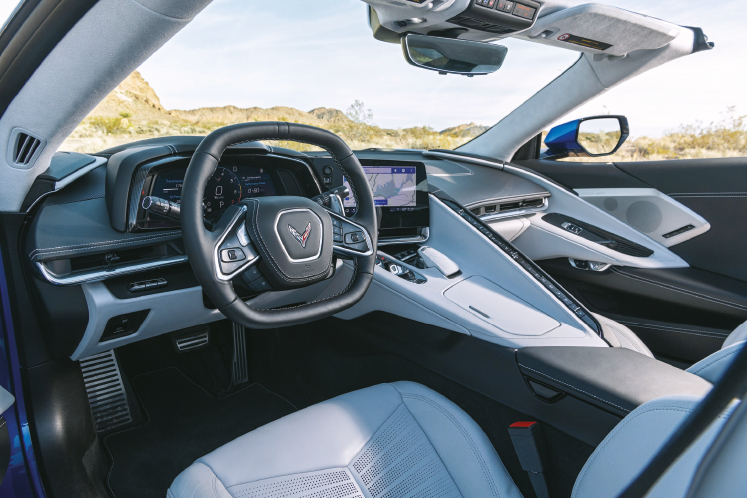 Everything in the cabin is oriented towards making the driver's life grand, from the tilt of the touchscreens to the placement of controls and the long divider running through.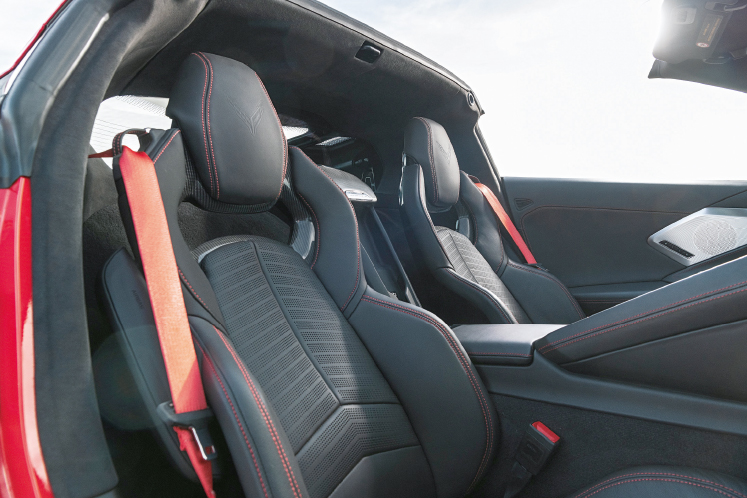 Three versions of seating are available: GT, GT2 and Competition, the smallest and stiffest of the three.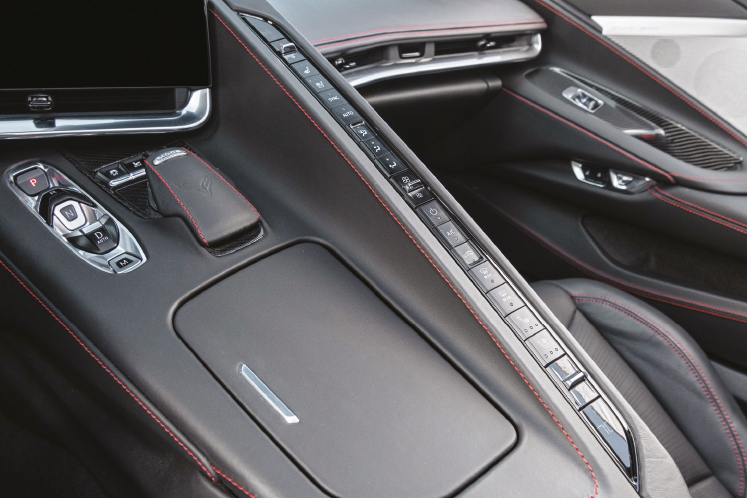 The interior cabin is divided by a long wall of buttons.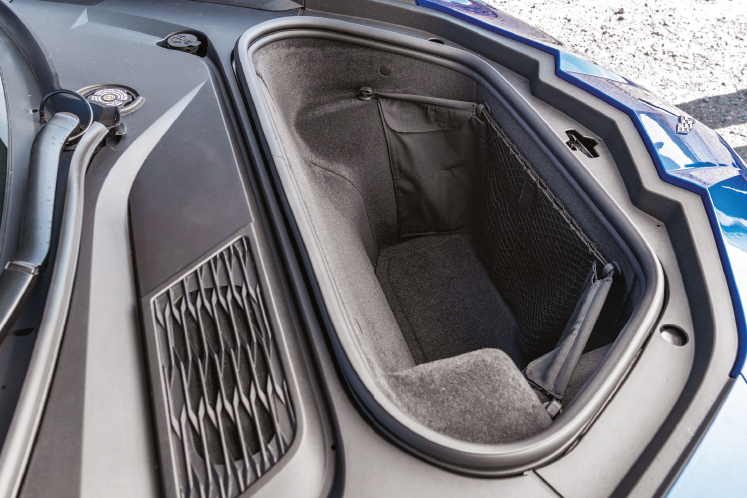 The front storage space will hold one overnight bag. The rear is the size of two stacked golf bags.
I had planned to start this with an anecdote about how less than 30 seconds after picking up the 2020 Chevrolet Corvette in Las Vegas, two men pulled up next to the car and (unaware I was inside) congratulated my male co-pilot, noting enthusiastically: "That'll get some [women]!"
At which point, I leaned over and waved. We all had a good laugh.
But that would be too easy a caricature of the longest continually running production sports car in history. We all know that red-blooded patriots, many of them stereotypical older-aged white guys, respect the Corvette. And for good reason: With its signature short-block V8 engine and blazing performance, the Corvette has proven the worth of down-home American car design by dominating drag strips and track days since 1953. I am not telling you anything you do not already know.  
Still, the new, for 2020, Corvette deserves a more nuanced portrait. With Chevy's first-ever mid-engine placement for the car's 495-horsepower (hp) V8 (more than last year's base model), a vastly improved interior and an astonishingly affordable price tag, it is an infinitely more nuanced car.
If you are considering something from Ferrari or McLaren, make sure you drive this one too. The important thing is to go in with an open mind.
New era at Corvette
The 2020 Chevrolet Corvette is born of a refreshed mindset at Chevy that is palpable if you speak with any young member of its engineering, marketing or design teams. They say the new spirit comes from the very top: General Motors Co chair Mary Barra.
The best argument in favour of the new mindset at Chevy is the car itself. The "mid-engine" configuration finally aligns it with the top sports cars of Europe and, critically, earns it a renewed right of consideration from any buyers predisposed to overlook it in favour of the historically more beautiful, capable, well-built and expensive offerings from Ferrari, Lamborghini and McLaren.
Corvette's mid-engine placement is a very big deal because it offers several benefits. First, it more evenly distributes the car's weight than when the engine is in the rear, making it more balanced to drive. (More weight on the wheels driving the car always improves performance.) Second, its configuration puts the driver closer to the front axle of the car, therefore improving visibility over the hood. Last, it forces the car's centre of gravity to the driver's hip, making it feel as if it turns right around the driver — giving the Corvette an immediate turn response and a nimbleness on a par with cars from Ferrari and McLaren.
I felt it in a big way at Spring Mountain Motorsports Ranch, a six-mile (9.66km) track in the desert an hour from Las Vegas, where a few journalists test-drove the newest four-wheeled slice of Americana pie. As we did lap after lap, following professional drivers into hairy turns and abrupt declines, the Corvette stuck to the asphalt with an unfaltering grip — no slippery fishtailing or out-of-control waffling. I executed some sloppy turns that I knew would put a 488 or Huracan into a slide, but I stuck to the surface like a gymnast nailing a dismount. The memorable, thrilling contact with the road offered by the new Corvette constitutes the biggest improvement over the previous-generation C7 Corvette. I felt that the car was making me a better driver than I am.
That enhanced excellence around corners and in tight spots helps answer a standard criticism of the Corvette: That it is great in a straight line but horrible whenever you need to turn. The improvement is bolstered by the four standard driving modes and two modes that can combine driving styles in a blend of responses across the steering, chassis, acceleration and braking — customised by quick pushes of a few buttons to suit whoever is driving. Plus, the new eight-speed, dual-clutch automatic transmission is faster than any human can shift manually — though a manual mode with paddle shifting is available. (No stick-shifting is offered.)
Caveats apply. This is the kind of car that demands you add a line item to your budget for inadvertent speeding tickets. With a zero to 60mph (96.56kph) sprint of 2.9 seconds and a top speed of 194mph, the Corvette matches speeds once reserved for Lamborghini, Ferrari, McLaren and even Bugatti. Driving it last week in Nevada's Valley of Fire and near Death Valley, I hit triple digits without trying as I emerged after five hours behind the wheel, I said a little, thankful prayer that I had not gotten any speeding tickets. The new Corvette is the type of car that becomes the smiling little angel in your ear, whispering: "Faster! Faster!" It is a difficult chant to resist. (I said an even bigger prayer of thanks for how great I felt stepping out. I felt no soreness in my legs or numbness in my bottom from poorly made and/or racing-style cage-like seats, though you can buy a set of the latter if you want them.)
Another caveat that is more serious: The mid-engine means reduced visibility along the shoulder line of the car; it acted like a big black wall as I darted through traffic in Vegas after a day in the desert. This is not different from other mid-engine sports cars — which are notorious for terrible rear visibility — but it should be said.
Further, the engine does not sound quite the same inside the car as it did in previous generations. The interior is quieter, a change that I welcome, as it begs to be driven on longer grand-touring drives, rather than used just for drag racing on Friday nights. But if you have always favoured that loud, barking engine note right in your eardrums, from behind the driver's seat, you will miss the beating.  
Exterior extremes
Engine aside, the most obvious improvement in the new Corvette is how it looks, both inside and out. First, out: Some say the new Corvette looks like the love child of a Ferrari, a McLaren and an Acura, conceived during a crazy night in Detroit. Does that sound like the best possible combination of all worlds or the leftover parts bin in a forgotten garage? It will depend on whom you ask. Before you judge too harshly, keep in mind that the car looks better — subtler and more refined — in person than in photographs.
It is true that the C8 holds onto long-time signature touches that any brand aficionado will love — the curved-arrowhead nose, the flared wheel wells and the tall, flat tail lights. But now it has the chiselled sides of a McLaren 570, the side angles of an Acura NSX and — if you squint a bit — a rear end evocative of a Ferrari Testarossa, about 1985, especially if the one you are seeing is red.
To me, this new design hits a happy medium — still recognisable as a Corvette, but sleeker and more evolved than previous generations. While recent versions have looked as if they were brutally hacked out of a block with a battle axe, this body suggests the results of a scalpel used in the hand of a master. It is still more square and abrupt than Ferrari's sexy curves, but it would not embarrass you when parked next to one.  
The universe inside
Inside the car, we find the best improvements. While the interior components in previous generations felt plastic and cheap to touch, like random parts borrowed from Chevy, the leather here feels soft and supple like, well, actual leather. Eight-way power bucket seats were comfortable and supportive without feeling harsh; comforts such as dual-zone air conditioning, air filtration, heated and cooled seats, and suede microfibre trim done well were unheard of in Corvettes until now. An eight-inch (20.32cm) touchscreen with front and rear parking cameras, voice recognition, Bluetooth, Bose premium surround sound as well as ample storage space for cups, cell phones and other appliances all make the Corvette liveable for days on end, which I wanted to do after driving it.
But the interior is also the car's most polarising aspect. When I first slid into the passenger seat, I was accosted by the closed-off nature of the driving compartment: The control console divides the entire cabin down the middle, with a wall of buttons and knobs; screens are oriented towards the driver, tilted away from the passenger. It is by far the most driver-oriented cabin in recent history, which can make the passenger feel isolated, even confined in a little pod.
Some of my co-drivers told me they did not mind the separated Corvette cabin at all. They relished the generous legroom and headroom. Some said they loved the layered, segmented dashboard (like the one in the BMW i8) and square steering wheel, while some online commenters called them "grotesque" and "visible from outer space". Much like the car itself, these are matters of personal preference; you will either love it or hate it.
Polarising muscle car though it be, the pricing is what makes the new Corvette so intriguing. It starts at less than US$60,000 (RM254,400) and even the best, most upgraded, fastest variant such as the silver Z51 version I drove costs less than US$84,000 — a third of what you would pay at Ferrari or McLaren. Even the Lotus Evora costs US$20,000 more. (It is a charming British sports car, but it lacks the interior refinement and masterful, deafening horsepower. To someone considering buying any of those other cars, that is about the same amount of money you would spend on upgrades.)
The 2020 Chevrolet Corvette is a lot of car for the money. It punches far above its weight in performance and furnishings. Make it a point to drive one. You may find yourself pleasantly surprised. — Bloomberg