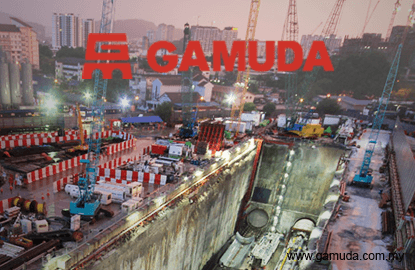 This article first appeared in The Edge Financial Daily, on March 15, 2016.
Gamuda Bhd
(March 14, RM4.70)
Maintain add with a higher target price (TP) of RM5.55: Findings from our latest round of channel checks paint a bullish outlook for the sector's award phase in the short to medium term. We conclude that the second line of mass rapid transit (MRT 2) awards are likely to be accelerated as at least three bids for major civil work packages are close to being finalised, including the international Swiss Challenge for MRT 2's underground scope. Our channel checks also confirmed a recent article suggesting that the total cost of MRT 2 has risen to around RM30 billion against RM28 billion as per the 11th Malaysia Plan (11MP).
New information also suggests that MRT awards could commence one or two months ahead of the initial timeline of May to June. What is more appealing is that the MMC-Gamuda joint venture could be in the running to clinch an even larger underground package from MRT 2, worth up to RM15 billion (original value: RM10 billion to RM12 billion) given the official revised scope (up 40%). Revival of the MRT story in the short term strengthens Gamuda Bhd's tender prospects, which comprise several other sizeable jobs too. We calculate an estimated tender book of RM9 billion comprising MRT 2, Pan Borneo Highway, light rail transit 3 and Gemas-Johor Baru double track projects. This exceeds our RM5 billion assumed wins for financial year 2016 (FY16). Securing a RM7.5 billion MRT package would raise our FY17 to FY18F (forecast) earnings per share (EPS) by 2% to 3% and TP by less than 2%. A best-case RM9 billion win would bump up our EPS by 6% to 7% and TP by up to 5%.
The potential revival of construction plays in months ahead and investors' preference for big-cap infrastructure laggards could trigger a recovery in Gamuda's foreign shareholding, which stands at a low of 21%.The stock trades at a 9% discount to its 2015 high of RM5.13, which is unjustified given the improved visibility of its job replenishment prospects.
Gamuda remains our top pick among the big-caps given its biggest exposure to MRT 2 and the largest proxy to rail jobs. 2016 looks likely to be an eventful year, bringing its order book to a new all-time high of at least RM8 billion. The RM10 billion Penang Transport Master Plan should drive its longer-term prospects. We raise our TP (from RM5.43), based on a 10% discount to revised net asset value (RNAV), as we update for the new warrant proceeds and new land bank (10% RNAV discount). We reiterate "add".
Uncertainties of the impact of the steep decline in oil prices on Budget 2016's and 11MP's development expenditure, and in turn, the implications to the planned government-led rail infrastructure projects were a big overhang on the share prices of major contractors since late 2015. However, concerns over major delays and risks of job cancellation were largely addressed when the revised Budget 2016 in January 2016 reiterated the government's commitment to pump-prime and execute big-ticket projects including MRT 2 and Pan Borneo Highway.
We believe Gamuda's share price is  a laggard and has not fully reflected the potential recovery in sector catalysts and the renewed outlook for job flows. The potential revival of construction plays and investors' preference for big-cap infrastructure laggards could trigger a recovery in Gamuda's foreign shareholding, which stands at a low of 21%, in comparison to 45% to 50% when the group secured its first MRT underground package in 2012. Current levels present a good opportunity to accumulate, in our view. — CIMB Investment Bank, March 11