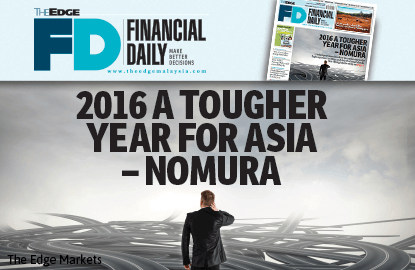 This article first appeared in The Edge Financial Daily, on January 8, 2016.
KUALA LUMPUR: The year 2016 could be a more challenging year for Asia than 2015 due to the region's high exposure to China and potential for external shocks — from the US Federal Reserve to geopolitics and oil prices, Nomura observed in a media conference call yesterday.
Nomura said that the ratio of private credit to gross domestic product is the single-best early warning indicator of a financial crisis.
This ratio has risen to more than 100% in Thailand, Malaysia and Singapore, to over 150% in Taiwan and South Korea, and to around 200% or higher in China and Hong Kong.
The brokerage house sees that risk of financial crisis is increasing in Asia on a continued growth slowdown, rising debt-servicing ratios and China's investment-led slowdown, which is hurting the rest of Asia's economies more than other regions, due to stronger trade and financial linkages than elsewhere.
"Amid the US rate hike cycle, which commenced on Dec 16, 2015, China's credit cycle will further unfold and is likely to result in rising bank's non-performing loans, various credit defaults and closure of 'zombie' companies," said Wendy Liu, the head of China Equity Research and China strategist at Nomura.
"While this may raise risk aversion, it is the very reform that the market has been waiting for. We do not see systemic risk in China despite continued moderating growth and slightly higher unemployment, thanks to its sufficient liquidity buffers to avert systemic financial risk," she added.
"For Chinese equities, we advocate selling on rallies in the first half of 2016 and buying on dips in the second half. We anticipate 2016 to be less volatile than 2015 in terms of return on Chinese equities and still delivering positive returns, primarily on risk normalisation, plus prospects of listed names benefiting from the exit of excess capacity by the second half."
The Japanese financial service firm recommends three broad structural investment themes: the rise of mass-market consumption of goods and services, manufacturing upgrades and innovation, and consolidation of market share in fragmented or overcapacity sectors.
For the first investment theme, Nomura expects mass consumption of goods and services to be resilient, driven by high single-digit growth in real income per capita. Chinese consumers are spending more on healthier foods, more convenient ways of transportation and communication, cosmetics, entertainment, travel and sports.
Since the global financial crisis in 2008, China has ramped up on research and development (R&D) spending, which accounted for 20% of the world's total R&D spending in 2013. Thus, Nomura advises investors to invest in Chinese R&D leaders in the Internet, technology, healthcare and pharmaceutical industries.
The third theme is the rising market share concentration and supply side reforms i.e. business closures and combinations, which are likely to take place between 2016 and 2018. According to Nomura, property, capital goods, materials and transportation are where significant overcapacity exists.
On the volatility in Chinese stocks over the last few days, Liu said she agreed with views that the circuit breaker on the Shanghai and Shenzhen stock exchanges at 5% and 7% could be too narrow.
"The Chinese regulators are learning fast and we can all turn mistakes into learning opportunities," she added.
Starting Monday, when the market falls 5%, trade will be suspended for 15 minutes and for the whole day when it falls 7%.
On Monday, concern about the contraction in China's manufacturing sector sent the Shanghai Shenzhen CSI 300 Index down 7.2%, halting trading about 90 minutes before closing time.
Then yesterday, China's stock market fell and trading was suspended 30 minutes after the opening as the circuit breaker was triggered for the second time this week.
The plunge was attributed to expectations that the yuan will depreciate further after China's central bank set the daily yuan reference-exchange rate against the US dollar 0.5% weaker compared with the previous day's level, marking the largest adjustment in almost six years.