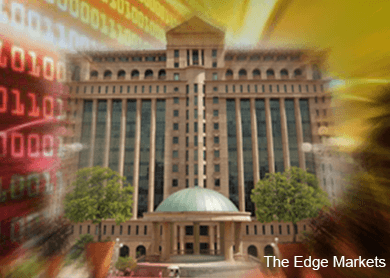 KUALA LUMPUR (Sept 2): CIMB Investment Bank Bhd and Hong Leong Investment Bank Bhd expect Malaysian companies to report earnings contraction of up to 1.6%, as the goods and services tax and weakening ringgit curb second quarter (2Q15) financials.
CIMB research head Terence Wong said the research firm expects 2015 earnings per share (EPS) to register a 1.4% contraction, after the recently-concluded 2Q15 financial reporting season. This compares to a 2.6% EPS growth forecast earlier.
"This poor performance is not entirely a surprise, in view of the implementation of GST and could in fact get worse, due to the more recent headwinds, including the steep ringgit depreciation and global stock market rout.
"In view of the earnings cuts, our end-2015 KLCI target has been lowered from 1,800 points to 1,700 points, based on an unchanged 15.5 times PER target. "We introduce our end-2016 KLCI target of 1,850 times, based on the same target basis. Our preferred sectors remain the construction and utilities sector and selective smaller-cap stocks," Wong wrote in a note today.
Meanwhile, Hong Leong research head Low Yee Huap said the 2Q15 reporting season was disappointing with 54% of companies under coverage falling short of expectations while only 9% surprised on the upside.
In a note today, Low said Hong Leong anticipated Malaysian firms to see a 1.6% EPS decline in 2015, after conclusion of the 2Q15 reporting season.
"Post reporting season earnings revisions, 2015 EPS is now expected to contract by 1.6% (versus a growth of 2.6%), second consecutive year of contraction. However, due to lower base, 2016 earnings per share EPS growth has been revised higher to 8.3%.
"With contraction in 2015 EPS, as well as lingering external and internal uncertainties, FBM  KLCI year-end  target has been  lowered to 1,710, based on lowered 15x 2016 earnings.
TA Securities Holdings Bhd is more optimistic. In a note today, TA said it downgraded its 2015 and 2016 earnings forecast by 3.8% and 3.2% respectively.
According to TA, major downgrades are seen in the automotive, oil and gas (O&G) and plantation industries.
"With the revisions, we now expect CY15 earnings to grow by only 2.0% YoY. CY16 earnings are projected to grow by 12.3% YoY, mostly on the assumption that economic cycle and commodity prices will gradually recover, benefiting sectors such as banking, O&G and plantation.
"Post conclusion of 2Q15 results reporting season, we cut our end-2015 FBMKLCI target to 1,710, from 1,810," TA said.