This article first appeared in The Edge Financial Daily, on July 26, 2018.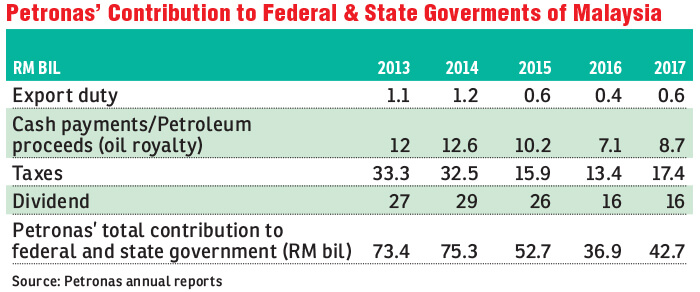 KUALA LUMPUR: The new government's promise to raise the royalty paid to oil-producing states to 20% will only be
implemented after the Petroleum Development Act 1974 (PDA) is amended, said Economic Affairs Minister Datuk Seri Azmin Ali.
Azmin said the amendment is needed for the 20% royalty to be calculated based on Petroliam
Nasional Bhd's (Petronas) net profit.
Currently, the oil royalty is paid based on the gross value per barrel of production.
"If the [20%] royalty is paid based on gross value, there would be huge implications on Petronas' financials," Azmin said when replying to questions on the topic in the Dewan Rakyat yesterday.
He added that there is no time frame to implement the 20% royalty.
"When we drew up [Pakatan Harapan's 14th general] election manifesto, we said there should be distributive justice, hence our suggestion for the 20% based on profit after tax and not gross production.
"We did a cost structure analysis on Petronas' production with scant data but this plan (the 20% royalty) cannot be expedited as it goes against the PDA stating the current calculation is based on gross value, and not net profit," he explained.
Azmin said his ministry is discussing the issue with Petronas, as well as with the finance and international trade and industry ministries to ensure the oil royalty allocations are fair and transparent.
He added that his ministry is also fine-tuning the payment mechanism and would further discuss with the state governments of Sabah and Sarawak, which have an existing agreement with Petronas, to reach a consensus on the matter.
Besides Sabah and Sarawak, the other oil-producing states are Terengganu and Kelantan.