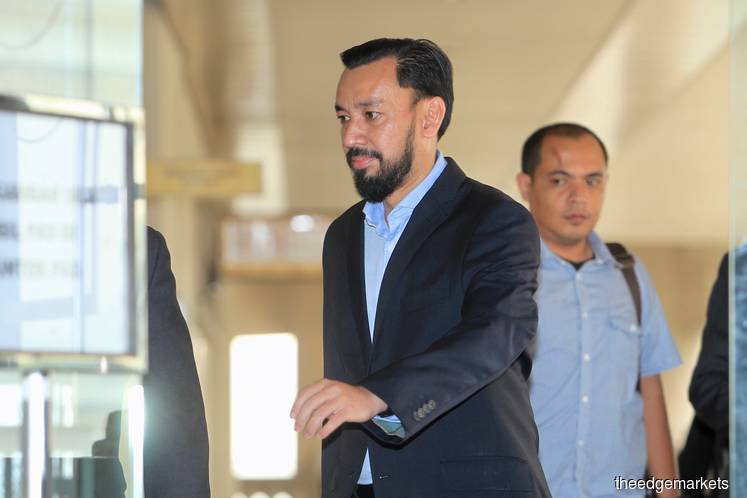 KUALA LUMPUR (Sept 10): Datuk Amhari Efendi Nazaruddin, who participated in Low Taek Jho's top-secret 1Malaysia Development Bhd (1MDB) meetings over the years, told the High Court today that he had in 2018 deleted his emails which contained information on the meeting agendas.
Amhari, who is testifying against Datuk Seri Najib Razak in the 1MDB-Tanore trial, revealed this during his cross-examination by Najib's lawyer Tan Sri Muhammad Shafee Abdullah this afternoon.
Surprisingly, the former special officer to Najib said he did not consult the Malaysian Anti-Corruption Commission (MACC) when he deleted the emails earlier this year.
It should be noted that Amhari was arrested by the MACC in mid-2018, and is currently on police bail.
"I delete my emails annually so that my email [address] will have the capacity to receive more emails," said Amhari.
"But you are not arrested annually. Are you arrested annually?" responded Shafee sarcastically.
Amhari later also clarified that he "didn't know" whether he deleted email exchanges prior to 2018, despite his earlier claim that it is normal practice for him to clear his inbox at the start of each year.
Previously, Amhari testified that he frequently received emails and printed documents from Low, who is better known as Jho Low, in relation with 1MDB's action plans.
This is because Jho Low, Amhari as well as his late superior-cum-Najib's chief private secretary Datuk Azlin Alias had frequent top-secret meetings on 1MDB that was allegedly sanctioned by Najib since the state-owned fund was first formed.
In his witness statement, Amhari said he had shredded most of the physical documents that he received from Jho Low, aside from a few that he may have forgotten to destroy.
Those unshredded physical documents were given to the MACC after his arrest, as well as the password to his email address which Jho Low sent the digital documents to.
Amhari also testified that he and Azlin each received a BlackBerry phone from Jho Low for the purpose of their communication.
A year after Azlin's passing in 2015, Amhari was hand-picked by Najib to facilitate 1MDB bailout deals with China in mid-2016 — a year after international media reported that RM2.6 billion may have been siphoned out of the state-owned fund.
Najib is currently facing 25 counts of money-laundering and abuse of power in relation to the misappropriation of billions of ringgit worth of 1MDB monies.
The trial will continue at 9.30am tomorrow.
The Edge is reporting the proceedings of the 1MDB-Tanore trial live.
Users of The Edge Markets app may tap here to access the live report.