This article first appeared in The Edge Malaysia Weekly, on September 2, 2019 - September 08, 2019.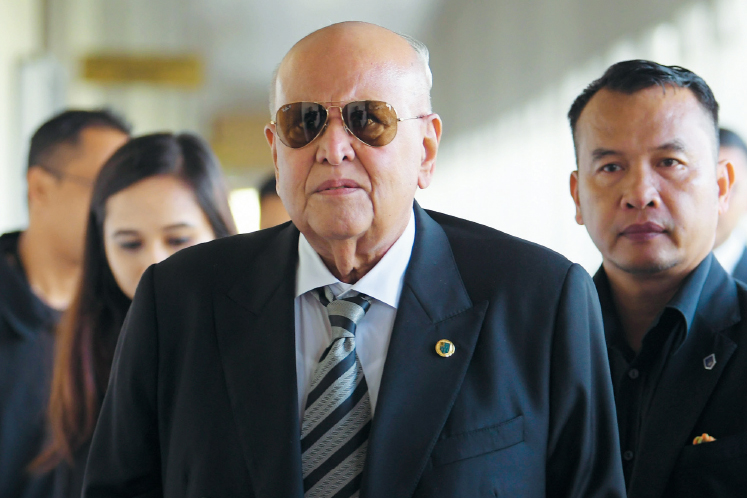 AS the 1Malaysia Development Bhd (1MDB) trial of Datuk Seri Najib Razak kicked off last Wednesday, his lawyer suggested questions surrounding Datuk Seri Gopal Sri Ram's appointment as the senior deputy public prosecutor could come back to haunt the prosecution.
Before the trial commenced, Tan Sri Muhammad Shafee Abdullah raised the issue of Sri Ram's appointment following a decision by the Court of Appeal last Monday to grant Najib leave to challenge the appointment of Sri Ram, a former Federal Court judge, as the senior deputy public prosecutor in the trial.
Shafee, who himself is facing charges of evading taxes and money laundering of RM9.5 million, was also granted similar leave by the appeals court.
He warned that the prosecution risked the 1MDB trial being nullified or declared a mistrial, requiring the prosecution to restart, or even in the acquittal of Najib should the High Court decide against Sri Ram's appointment by Attorney-General Tommy Thomas. The merits of their challenge against Sri Ram's appointment has been fixed before Kuala Lumpur High Court judge Datuk Seri Mariana Yahya, with case management set for Oct 3. Previously, Najib had challenged Sri Ram's leading of the prosecution team, but the presiding judge on the 1MDB case, High Court judge Collin Lawrence Sequerah, denied the challenge on the appointment, citing possible bias, on March 2.
His decision was upheld by the Court of Appeal on May 7. Subsequently on Aug 7, a seven-member Federal Court bench, led by Chief Justice Datuk Seri Tengku Maimun Tuan Mat, affirmed the Court of Appeal's decision. But the apex court ordered the prosecution to produce Sri Ram's letter of appointment by Thomas, leading to the decision by the appeals court last Monday.
On Wednesday, Shafee said the ball is in the prosecution's court whether to begin the 1MDB trial. In response, Sri Ram said another team in the Attorney-General's Chambers is dealing with legal challenges put up by Najib and Shafee.
"As the defence claims the ball is in the prosecution's court, the fact is the ball is actually up in the air [as only leave permission is granted for the merits to be heard]. We will pass through that when the time comes," he said.
Shafee, 67, has a long rivalry with 76-year-old Sri Ram. As a judge in Court of Appeal, Sri Ram had written a damning judgment in the Metramac case, implicating former finance minister Tun Daim Zainuddin.
Shafee was hired by Daim to expunge that portion of the judgment in the Federal Court, which the Barisan Nasional and Umno-linked lawyer succeeded in doing.