This article first appeared in The Edge Malaysia Weekly, on September 7, 2020 - September 13, 2020.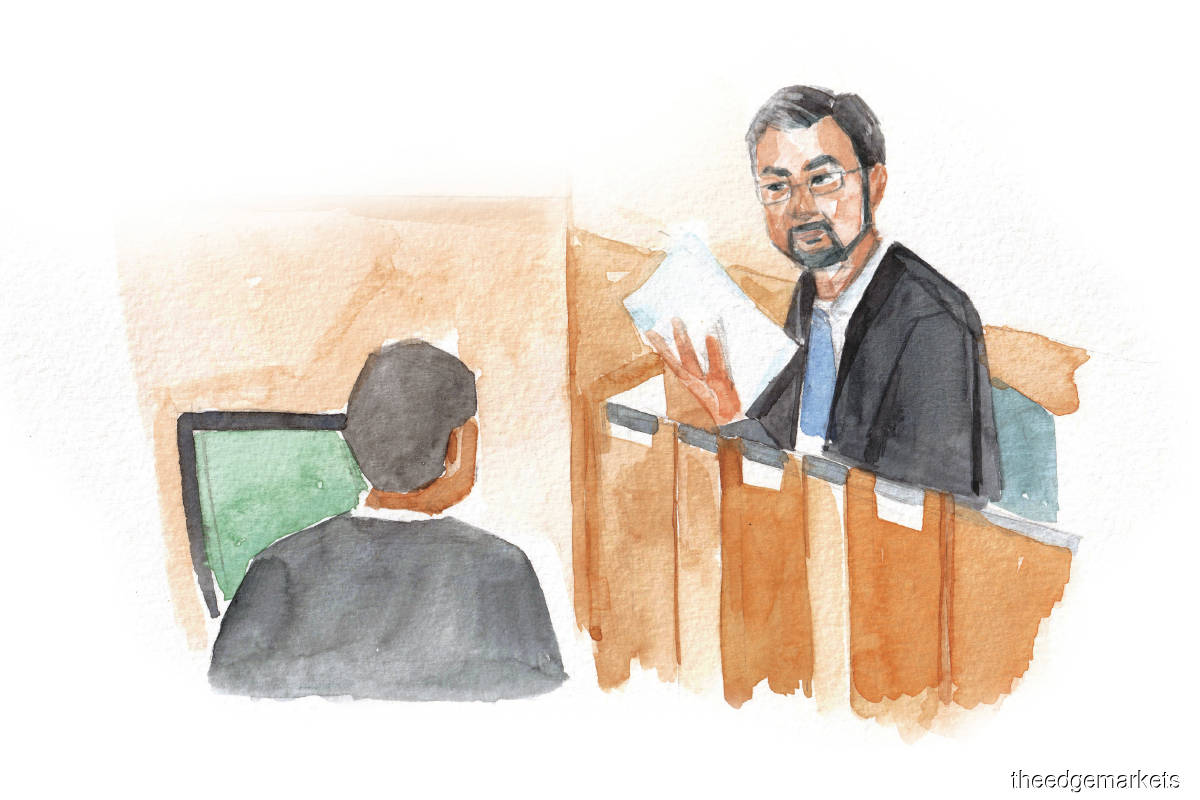 DID Datuk Shahrol Azral Ibrahim Halmi help facilitate the egregious theft of billions of dollars from 1Malaysia Development Bhd (1MDB) or was he a convenient fall guy in the mega heist?
Whatever the public's perception, the former CEO of the state-owned fund from 2009 to 2013 will find it difficult to deny culpability in the grand theft of billions of ringgit from under his nose, even though he contends he was essentially following the lead of former prime minister Datuk Seri Najib Razak, who called the shots.
In his testimony last week, for instance, Shahrol admitted he had inked a US$2 billion refinancing agreement with Deutsche Bank in 2014, in the mistaken belief that it was for US$1 billion. While he had signed the document in his capacity as a director of 1MDB, there were many other instances over the four years when he was CEO of the state-owned investment fund that he had taken his eye off the ball.
Najib's lawyers last week questioned why Shahrol was not charged with criminal breach of trust given the telling revelations in court so far. Shahrol himself has spent nearly 40 days on the witness stand as a prosecution witness.
A US Ivy League university graduate, the 50-year-old was picked by businessman Low Taek Jho from Accenture Malaysia to helm Terengganu Investment Authority (TIA), the predecessor of 1MDB.
Shahrol presided over the fund from 2009 to early 2013 — a period when billions were illegally funnelled out of 1MDB even as it accumulated billions in debt — before he was replaced by Mohd Hazem Abdul Rahman, ostensibly because he started to ask too many questions.
Paid a salary of RM80,000 a month, he repeatedly maintained that 1MDB's financial adviser Goldman Sachs and other 1MDB executives — Casey Tang, Terence Geh and Jasmine Loo — had handled the questionable loans and joint ventures and that he did not "micro-manage" his team members.
In any event, the 1MDB board and Najib were so impressed with Shahrol's performance that they awarded him a bonus in excess of RM1 million in 2012. His last drawn monthly salary was RM99,000.
Scams aplenty at PetroSaudi
But even in the early days when Shahrol was with TIA, he had incurred the displeasure of the Terengganu royal family, which asked for his removal because he had pushed through a RM5 billion Islamic Medium Term Notes issuance by AmBank in May 2009, even though the state government and the royals had insisted that the issuance be aborted as they were not happy with its terms.
Fortunately for Shahrol, the federal government through the Ministry of Finance took over TIA, which was transformed into 1MDB, and he retained his position.
One of the first deals 1MDB made was with PetroSaudi International Ltd (PSI), a company formed only in 2005 and was not owned by the Saudi royal family as portrayed but by an individual named Tarek Obaid. Obaid has now been charged with criminal conspiracy in the embezzlement of 1MDB funds.
PSI proposed a joint venture (JV) company with 1MDB called 1MDB PetroSaudi Ltd, in which 1MDB would have a 40% stake and PSI 60%.
Of the US$1 billion that 1MDB invested in the JV, only US$300 million was transferred to 1MDB PetroSaudi Ltd while US$700 million was channelled to Good Star Ltd, a company controlled by Jho Low.
Shahrol conceded that nobody in 1MDB had checked on Good Star's ownership despite receiving a query from RBS Coutts Bank Ltd — Good Star's bank — on whether the transfer to the company was correct.
Similarly, he blindly accepted a valuation by PSI's valuer, Edward L Morse, as to the value of assets PSI would transfer to the JV company, when PSI did not own these assets (oilfields).
When the JV failed, he agreed to exchange 1MDB's investment for essentially worthless murabaha notes, which were used to acquire a 49% stake in yet another PSI unit — ­PetroSaudi Oil Services Ltd (PSOSL).
Even then, more money was siphoned from PSOSL to Brazen Sky Ltd, another company set up by Jho Low.
Shahrol said he was told by Jho Low that Najib had agreed to the PSI deals, which were a government-to-government (G2G) initiative, and had helped rush the transactions through.
Lack of diligence
The same urgency — and total lack of due diligence — was present in 1MDB's other mega ventures.
Cross-examined by Najib's lawyer Wan Aizuddin Wan Mohammed, Shahrol agreed in hindsight that 1MDB's acquisition of several independent power producer companies had been at over-inflated prices and had benefited Goldman Sachs, Jho Low and other co-conspirators.
"I had trusted my officers at the time and if they said it's okay, then I would not question it," he said, insisting that he had not been in cahoots with the international financial institution to receive kickbacks.
1MDB through its subsidiary, 1MDB Energy (Langat) Ltd, had purchased Mastika Lagenda Sdn Bhd for RM2.75 billion. Mastika held a 75% controlling stake in Genting Sanyen Power Sdn Bhd, which owned the Genting Sanyen Kuala Langat Power Station.
The acquisition was executed not long after 1MDB acquired Tanjong Energy Holdings Sdn Bhd (TEHSB), which also owned several energy assets, for RM10.64 billion.
Already tottering under the weight of its borrowings, the energy acquisitions burdened 1MDB with even more debt.
It was also under Shahrol's watch that more than US$575 million was transferred as security deposits to Aabar Investments PJS Ltd (BVI), a fake company set up by Jho Low's co-conspirators purportedly as part of a G2G initiative between Malaysia and UAE in 2013 to jointly develop the Tun Razak Exchange (TRX).
Under the initiative, Abu Dhabi Malaysia Investment Company (Admic) Ltd — a 50:50 JV company between 1MDB and Aabar Investments PJS Ltd (Aabar BVI), a company incorporated in the British Virgin Islands — was formed.
For the purpose of the TRX JV, Abu Dhabi's International Petroleum International Co (IPIC) was to guarantee Aabar BVI's US$3 billion investment, while Malaysia's Ministry of Finance guaranteed 1MDB's investment by way of a letter of support. A loan of US$3 billion was raised by 1MDB, with Goldman Sachs taking the role of lead arranger.
On March 14, 2013, Najib signed a letter of support for 1MDB's US$3 billion bond issue. Five days later, a sum of US$2.721 billion was disbursed into the account of its subsidiary, 1MDB Global Investment Ltd, at BSI Bank in Lugano, Switzerland.
After a series of transactions, US$681 million from the funds was alleged to have ended up in Najib's personal bank account, which is the subject of the former premier's money laundering charges.
Shahrol testified last month that he had no personal knowledge of what happened to the US$3 billion that was raised by the Ministry of Finance, as he had stepped down as CEO on March 16, 2013.
But he confirmed that Aabar BVI never injected the promised US$3 billion into the JV company and that it was disbanded in 2014.
Shahrol, who finished giving his testimony last Thursday, denied benefiting financially from the slew of rash deals and illegal transactions even though Najib's lead counsel Tan Sri Muhammad Shafee Abdullah insisted that he and Jho Low — described by Shafee as the shadow director of 1MDB and not Najib — were to blame.
The next witness in the trial that resumes on Monday before judge Collin Lawrence Sequerah is Mohd Hazem.
'Protect the PM at all costs'
By Timothy Achariam
In 2015, when the 1Malaysia Development Bhd (1MDB) scandal began to unravel, making international headlines, many — including those who had made millions and billions of ringgit illegally from the now-defunct state investment arm — scrambled to protect then prime minister Datuk Seri Najib Razak's name from being dragged through the mud.
According to former 1MDB CEO Datuk Shahrol Azral Ibrahim Halmi, Najib, who was one of those who profited from the theft of billions of ringgit from 1MDB, was to be shielded at all costs, even if Shahrol had to be the fall guy.
A key witness in the 1MDB-Tanore trial in which Najib is charged with misappropriating RM2.28 billion from the company, Shahrol testified last week that, although the mantra of "protect the prime minister at all costs" had emanated from businessman Low Taek Jho, Najib's avid supporters also took up the cudgels to ensure his name was not tarnished.
"Everybody, pretty much [everybody], not only Jho, but the officers in the PMO (Prime Minister's Office) I had interacted with, the BN (Barisan Nasional) members of the PAC (Public Accounts Committee) I had interacted with ... Even from the beginning, I remember one or two occasions that the civil servants we dealt with in MoF (Ministry of Finance) used that phrase — 'must protect the PM'," he told the High Court last week.
However, lead defence lawyer Tan Sri Shafee Abdullah accused Shahrol of criminal breach of trust, of not carrying out his duty as CEO of the company.
Shafee pointed out, during his cross-examination of Shahrol, that "1MDB could have easily sued you. In fact, many board members could be charged. You could have been sued by 1MDB".
Shafee also alleged that Shahrol had gained monetary benefit from Low and 1MDB.
Shahrol vehemently denied the allegations.
Given an opportunity by lead prosecutor Datuk Gopal Sri Ram to explain himself, Shahrol listed out those he thought had benefited.
Sri Ram: In hindsight, who benefited from these transactions?
Shahrol: In hindsight, based on documents [produced] in court and during the investigation, the beneficiaries were Jho Low, Casey [Tang], Jasmine [Loo], Tarek Obaid, Khadem [Al-Qubaisi], Patrick [Mahony], [Mohamed Badawy] Al-Husseiny as well as Najib.
Low, Tang and Loo are now fugitives from the law.
Shahrol shared with the court how officers in the PMO, Najib's then communication adviser Datuk Seri Ahmad Farid Ridzuan and Datuk Amhari Efendi Nazarudin, who was Najib's former special officer, had all banded together, and that a discussion on "protecting the prime minister" was even held at Farid's house with a few influential BN politicians in attendance.
Chief among the politicians was former PAC chairman Datuk Seri Hasan Arifin, said Shahrol. He declined to name the other politicians.
Najib's former media adviser Paul Stadlen also stressed the need to protect him, Shahrol said, recounting an occasion on which they had met in Putrajaya. Stadlen acted as Najib's spin doctor for nine years before BN was defeated in the 2018 general election. Stadlen is believed to be hiding in Israel after fleeing Malaysia and the UK, as he is wanted in Malaysia on two counts of money laundering.

Fake companies galore
By Emir Zainul
Numerous companies appear to have been set up to siphon money from 1Malaysia Development Bhd, the High Court heard last week. In some instances, large amounts of funds were even transferred to these companies without the approval of 1MDB's board of directors.
In 2013, 1MDB, through its investment vehicle 1MDB Global Investment Ltd (1MDB GIL), raised US$3 billion through the issuance of bonds to be pumped into a purported joint venture (JV) company between 1MDB and Abu Dhabi's International Petroleum International Co (IPIC) subsidiary Aabar Investment PJS.
At the time, 1MDB had proposed to enter into a JV with Aabar to develop the Tun Razak Exchange (TRX) — a deal that was portrayed as a government-to-government (Malaysia-Abu Dhabi) initiative.
After deducting fees to Goldman Sachs as the arranger of the bond issuance, a sum of US$2.721 billion was disbursed into the account of 1MDB GIL. From this, a sum of US$1.06 billion was paid into the account of two fiduciary funds, namely Devonshire Funds Ltd and Enterprise Emerging Markets Fund (EEMF). These two companies were incorporated in the British Virgin Islands (BVI) and their names resemble those of well-established firms.
The monies were then transferred to several other entities until they ended up at Tanore Finance, a company controlled by fugitive Eric Tan Kim Loong, a figure identified by the prosecution as a close associate of businessman Low Taek Jho, better known as Jho Low — alleged by the prosecution to be the mastermind behind the 1MDB scam.
The prosecution contends that Tanore Finance on-transferred a sum of US$681 million to Datuk Seri Najib Razak's account — monies the former prime minister insisted he had received from Saudi royals as a "donation".
Prosecution witness Datuk Shahrol Azral Ibrahim Halmi testified that the board never discussed these transactions, but he could not confirm whether Najib had any knowledge of them. At that point in 2013, Shahrol was no longer 1MDB CEO but still a director of the company.
Then, there were the fake Aabar companies, both named Aabar Investments PJS Ltd, with one incorporated in the BVI and the other in Seychelles.
Both fake companies were used by Low and his fellow conspirators to funnel even more money out of 1MDB as IPIC and its subsidiary Aabar (it does not have "Ltd" in its name) were made out to be interested in engaging in business ventures with 1MDB.
In court last week, it was revealed that Aabar Seychelles received a total of US$699.32 million from 1MDB Energy Holdings Ltd, in two tranches in 2014.
The money was allegedly part of the US$975 million loan that 1MDB Energy obtained from Deutsche Bank that year.
The loan sum was intended to be paid to the real Aabar for the redemption of options given to it as part consideration for IPIC's guarantee of 1MDB's US$3 billion bond issue — part of funds raised in 2013 for the TRX project.
For the record, the US$975 million loan from Deutsche Bank in 2014 was never used to repay the Aabar options. However, according to minutes of a board meeting produced during the trial, then 1MDB CEO Mohd Hazem Abdul Rahman had represented to the board that the funds were utilised to pay back the Aabar options.
When shown bank documents, Shahrol agreed that 1MDB Energy had sent two payments to Aabar Seychelles' UBS bank account in Singapore: US$223.33 million on Sept 3, 2014 and US$457.984 million on Sept 30, 2014.
The prosecution contends that part of these funds also ended up in Najib's bank account in 2014, in two separate transfers in pound sterling that amounted to RM4.09 million and RM45.83 million respectively.
Shahrol claimed that 1MDB's board of directors was not briefed on the monetary transfers to the fake Aabar Seychelles' account. ­Moreover, 1MDB's management had not sought the board's approval for the transactions.
Shahrol said in hindsight, he now realised that the two fake Aabar companies were operated by two rogue officers from IPIC: IPIC managing director Khadem Al-Qubaisi and Aabar Investments PJS's (real Aabar) CEO Mohamed Badawy Al-Husseiny. Both men have also run afoul of the law.
The defence claims that the two individuals had conspired with Jho Low to defraud 1MDB, and that Najib was an unwitting victim.