This article first appeared in The Edge Malaysia Weekly, on September 2, 2019 - September 08, 2019.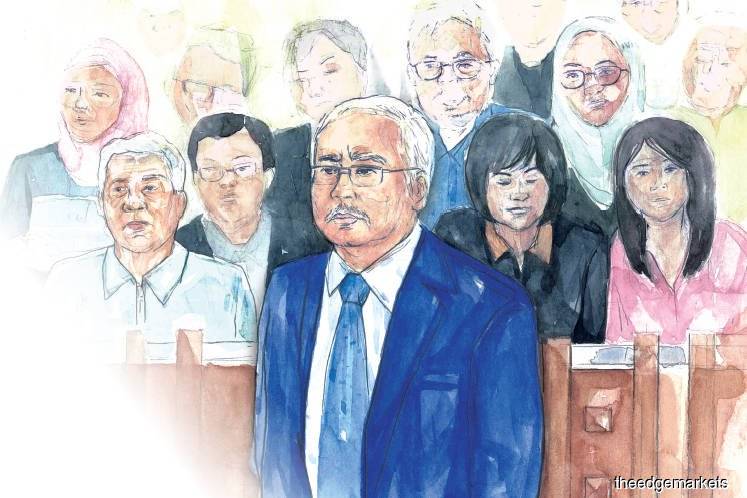 LONG before the proposed listing of 1Malaysia Development Bhd's (1MDB) power assets in 2015 to raise billions of ringgit, Datuk Seri Najib Razak appeared to have a game plan to control the companies held under Edra Global Energy Bhd.
Court documents in the 1MDB-Tanore trial show that lieutenants linked to the former prime minister and Low Taek Jho — described by the prosecution as Najib's "mirror image" — were appointed to the board of several power companies under Edra just months after they were acquired.
The appointees included Najib's former special officer Datuk Wan Ahmad Shihab Wan Ismail, Terence Geh Choh Heng — a former 1MDB finance executive director who was a known associate of Low's — and 1MDB CEO Shahrol Azral Ibrahim Halmi. And from 2010 to 2013, numerous dubious deals were entered into by the state-owned fund.
The appointments were revealed from company documents related to 1MDB identified by Companies Commission of Malaysia officer Rafidah Yahya, the seventh prosecution witness in Najib's 1MDB trial.
Company documents identified by Rafidah last week covered 1MDB's former energy companies, including Tanjong Energy Holdings Sdn Bhd (later renamed Powertek Energy Sdn Bhd), Mastika Lagenda Sdn Bhd and 1MDB Energy (Langat) Sdn Bhd (later renamed Merpati Energy (Langat) Sdn Bhd).
Tanjong Energy was acquired for RM8.5 billion from T Ananda Krishnan's Tanjong Plc in March 2012.
About two months later, Wan Ahmad Shihab, Geh and Shahrol were appointed "with immediate effect" to the board of Tanjong Energy.
Wan Ahmad Shihab was also among four trustees of Yayasan Rakyat 1Malaysia (YR1M), which received a donation of RM230 million from Genting Group and another RM210 million from 1MDB. In the SRC International Sdn Bhd trial, it was revealed that some of YR1M's funds had ended up in Najib's AmBank accounts.
Wan Ahmad Shihab was also made a director of 1MDB Energy, which subsequently acquired Mastika Lagenda, which owned 75% of Genting Sanyen Sdn Bhd.
At the time of his appointment to the Tanjong Energy board, Geh was then the deputy chief financial officer of 1MDB. He was subsequently promoted to executive director of finance.
Interestingly, Geh exited the country on May 8 last year, a day before the 14th general election and his whereabouts remain unknown.
On Dec 4 last year, he was charged in absentia with criminal breach of trust in respect of US$125 million of 1MDB's property.
It is understood that Shahrol will testify as a prosecution witness in the current trial. The 1MDB CEO until 2013, Shahrol had a stint with the Performance Management and Delivery Unit under the Prime Minister's Department after leaving the state-owned fund. And up to June last year, he was president and CEO of Malaysia Petroleum Resources Corporation.
Prior to Edra, Najib had ensured his control of 1MDB. Court documents show that he acted just six months after his appointment as the prime minister on April 3, 2009.
1MDB was originally Terengganu Investment Authority Bhd (TIA) — a fund set up by the Terengganu government on Feb 27, 2009, to boost the state's economic development. TIA had a federal government guarantee of RM5 billion.
Five months later, on July 31, the federal government, via Minister of Finance Inc (MoF Inc), took over TIA.
On Sept 2, 2009, MoF Inc, as the ultimate shareholder, moved a resolution to include Article 117 in TIA's Articles of Association. Under Article 117, Najib alone — as prime minister and finance minister — was given the final say in all of the company's investment decisions. Moreover, he could overrule board decisions.
On Sept 4, 2009, in his capacity as finance minister, Najib signed a letter stating MoF Inc had passed a resolution for TIA's name to be changed to 1MDB. The name change was effected on Sept 25, 2009.
Again, he appointed associates he could trust to the 1MDB board of directors within about four months. They were Tan Sri Lodin Wok Kamaruddin (chairman), Shahrol Azral and Tan Sri Ong Gim Huat (a family friend of Low's).
Together with non-executive director Tan Sri Ismee Ismail — and Ashvin Valiram, who joined on Feb 2, 2010 — the directors sat on the 1MDB board when the company drastically overpaid for power assets purchased over the next few years.
During Najib's SRC trial earlier this year, Ismee — a prosecution witness — told the High Court of a similar insertion of Article 117 in SRC's Articles of Association to give Najib similar control over the former unit of 1MDB.
Edra was a key part to the 1MDB scheme as Powertek owned and operated eight power plants and had investments in five others in Malaysia, Bangladesh, Pakistan, Sri Lanka, Egypt and the United Arab Emirates. Its total generating capacity was 3,951mw.
Mastika Lagenda, via Genting Sanyen, owned a 75% stake in a 720mw gas-fired combined-cycle power plant in Kuala Langat.
Powertek and Mastika Lagenda were among 13 power assets parked under Edra, which was to raise RM5.99 billion to RM7.03 billion in an initial public offering. Following negative reports of the alleged theft of billions of ringgit belonging to 1MDB, the IPO was scrapped.
The entire stake in Edra was eventually sold to China General Nuclear Power Corp for RM9.83 billion in 2016. In the SRC trial, the then finance minister II Datuk Seri Ahmad Husni Hanadzlah testified that under 1MDB's original debt rationalisation plan, 1MDB was to retain 30% of Edra.