This article first appeared in The Edge Malaysia Weekly, on September 16, 2019 - September 22, 2019.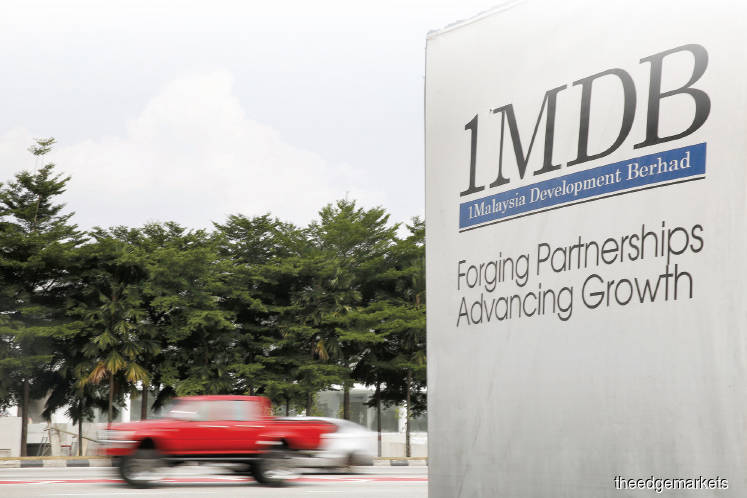 Two months after TIA was taken over by the Ministry of Finance, its name was changed to 1MDB. Photo by Reuters
IN September 2009, when the Terengganu Investment Authority morphed into 1Malaysia Development Bhd (1MDB) — a mere seven months after TIA was established — no explanation was given for the move.
As the trial of former prime minister Datuk Seri Najib Razak for the embezzlement of billions of ringgit in 1MDB unfolds, some clues have emerged as to why the fund's original shareholder — the Terengganu state government — eventually went cold on the fund and opted out in its early days of inception.
Terengganu appears to have made a hasty retreat when it realised it had little control over the fund, which carried its name and was ostensibly set up for development purposes.
Indeed, Najib, who is facing multiple criminal charges over the embezzlement of 1MDB monies, appears to have had designs on TIA as early as 2008, when he was still deputy prime minister as he knew he was soon to lead the country.
In October 2008, the then prime minister Tun Abdullah Ahmad Badawi announced that he would step down by March 2009, following Barisan Nasional's poor performance in the 12th general election on March 8, 2008.
Najib was a shoo-in to replace him and his takeover of the Umno presidency in November 2008, was  a given. In fact, he won the party post unchallenged and on April 3, 2009, he was duly sworn in as the sixth prime minister of Malaysia.
According to the witness testimony of Najib's former special officer Datuk Amhari Efendi Nazaruddin in the 1MDB-Tanore trial, fugitive businessman and Najib's alleged co-conspirator Low Taek Jho — better known as Jho Low — described TIA as "Najib's baby and directive".
Najib wanted TIA to become a special vehicle for strategic investments overseas where Low would act as the director, Amhari said.
He added that Low was appointed special adviser to the chairman of the TIA advisory panel.
Datuk Abdul Aziz Mohd Akhir was appointed a special adviser to TIA, according to a Public Accounts Committee audit report on 1MDB last year. Amhari, in his testimony, recalled one "Datuk Aziz", who was a brother-in-law of Sultan of Terengganu Sultan Mizan Zainal Abidin.
Putting more of his lieutenants in place, Low pushed for Amhari to be appointed to TIA's secretariat ahead of the first meeting on April 23, 2009.
Amhari said Low, who was Najib's confidant, had contacted him towards the end of 2008, informing him that he (Low) had "got approval/blessing from DS Najib for you (Amhari) to join meeting for TIA".
He said Low subsequently briefed him on TIA's working structure on a whiteboard in Low's kitchen even before the first TIA meeting, implying that Low knew the proposed workings of the fund then.
At the first meeting, Amhari said, Low also claimed to be an adviser to Sultan Mizan, who was the then Yang di-Pertuan Agong, serving from December 2006 to December 2011.
Sultan Mizan's aide, however, denied that Low was the monarch's adviser, contrary to what the businessman claimed, Najib's lawyer, Tan Sri Muhammad Shafee Abdullah, revealed in the trial.
By May 2009, the relationship appeared to have soured beyond repair after TIA CEO Datuk Shahrol Azral Ibrahim Halmi bulldozed the issuance of a 30-year, RM5 billion Islamic medium-term notes (IMTNs) at exorbitant interest rates, even though the board had insisted that TIA was not to proceed with the facility, given that the terms for the state's approval, including for the ownership of TIA be transferred to the state, was not met.
The discontent was evident at a TIA meeting held sometime in May.
Said Amhari, "The conclusion I could draw from the meeting was that the Terengganu state government was dissatisfied with the structure of TIA as there was no representative from the state government to represent its interest in making any decision in TIA."
About two months later at the end of July,  TIA was taken over by the Ministry of Finance, and its name was changed to 1Malaysia Development Bhd on Sept 25, 2009.
The infamous Article 117, which states that any financial commitments, restructuring or anything to do with the government guarantee — for the interest of the company, country or government policy — must obtain the prime minister's written approval, was inserted on Sept 2, 2009.
By then, Terengganu was long out of the picture.
Breaking up over expensive papers
On Feb 27, 2009, the Terengganu Investment Authority (TIA) was formed by Menteri Besar Incorporated Terengganu (MBI Terengganu), about a year into Datuk Seri Ahmad Said's tenure as Terengganu menteri besar.
At the time, as Terengganu was owed RM6 billion in oil royalties by the federal government, TIA planned to use the sum plus another RM5 billion that it planned to raise via a bond issuance as seed money for development purposes in the state.
On April 1, 2009, the federal government agreed to guarantee the principal and interest of the proposed Islamic medium-term notes (IMTNs) for a 30-year period. The joke was on taxpayers as the notes' effective rate was 6.68% per annum — which was exorbitant, as they were government-guaranteed.
From then on, a tussle appeared to have emerged between the state government and Putrajaya.
In May 2009, TIA CEO Datuk Shahrol Azral Ibrahim Halmi signed an agreement with AmInvestment Bank Bhd for the latter to act as the lead arranger, lead manager and facility agent for the IMTNs.
On May 22, MBI Terengganu, however, suspended the exercise as the agreement was signed without its approval. It also said the federal government guarantee did not follow its terms.
On May 25, Shahrol bulldozed the issuance.
On May 27, he was sacked by the board as CEO, but on the very same day, managed — with the help of fellow director Tan Sri Ismee Ismail — to push through a resolution reinstating him.
On July 31, TIA was taken over by the Ministry of Finance .
On Sept 25, TIA's name was changed to 1Malaysia Development Bhd (1MDB).
Later that year, Shahrol claimed that the IMTNs were issued to fund a joint development project on Pulau Bidong, Terengganu, with the United Arab Emirates' Mubadala Investment Co — with the recommendation of 1MDB's "special adviser".
According to the witness testimony by former prime minister Datuk Seri Najib Razak's special officer Datuk Amhari Efendi Nazaruddin, Low Taek Jho — better known as Jho Low — was TIA's special adviser to the chairman of the TIA advisory panel, who was Najib.
In September 2009, 1MDB, after just eight days of deliberation, stumped up US$1 billion (RM3.465 billion) - raised from the TIA bonds - for a 40:60 joint venture with PetroSaudi Holdings (Cayman) Ltd, dubbed 1MDB PetroSaudi Ltd — and now the subject matter of the 1MDB-Tanore trial.
As for the Mubadala-Pulau Bidong project, not only did Mubadala deny it was involved in the project, but there was no mention of it in the  National Audit Department's 2018 audit report of 1MDB.
MBI Terengganu had reason to be shocked at AmBank's recommendation for the IMTNs, which were issued at a 12.08% discount to ensure full subscription (even though there was hardly any risk of it, given that it was government-guaranteed), resulting in TIA receiving RM4.385 billion from the full value of RM5 billion — or a shortfall of RM615 million.
Further, the interest rate on the coupon was 5.75% — meaning that the effective return to bondholders amounted to 6.68% per annum.
In total, 1MDB would have to fork out RM13.625 billion to repay the notes — RM5 billion in principal and RM8.625 billion in profit payments.