This article first appeared in The Edge Malaysia Weekly, on July 20, 2020 - July 26, 2020.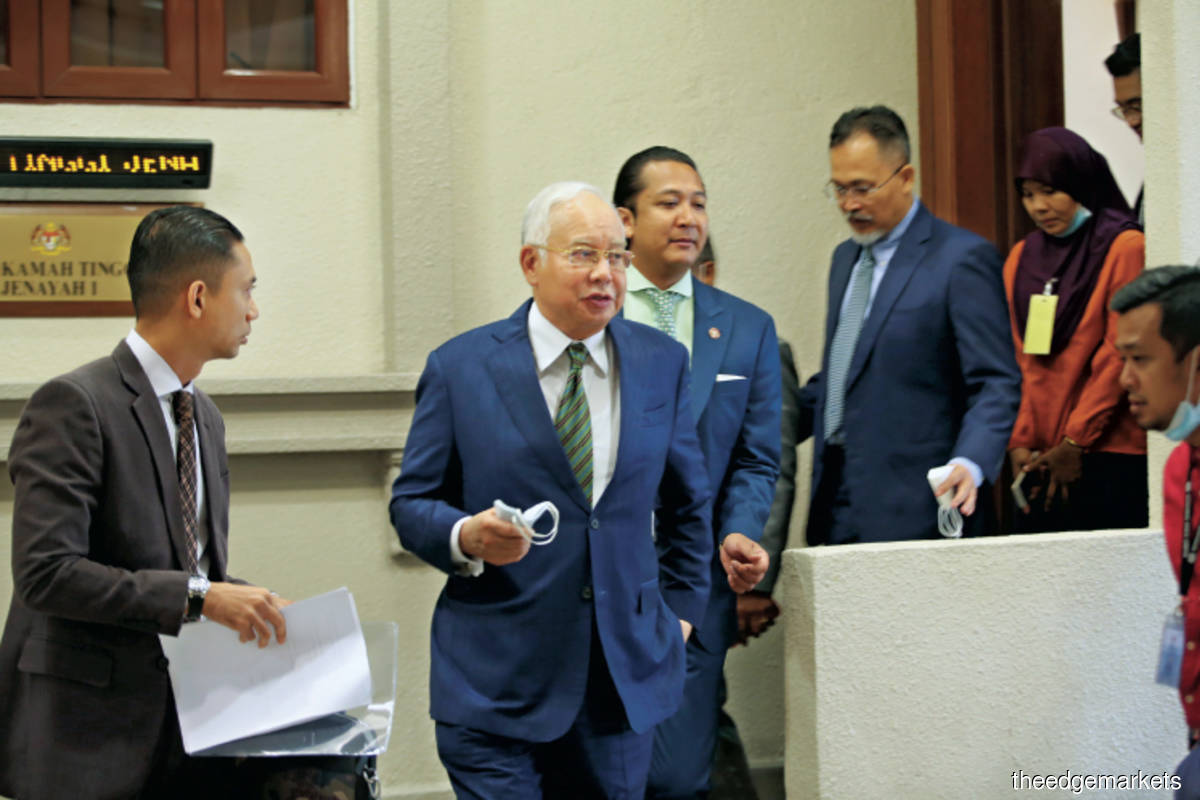 The charges:
4 counts of abuse of power for using his position as PM, finance minister & 1MDB board of advisers chairman to receive gratification worth:  
•     RM60.63 million on Feb 24 & June 14, 2011
•     RM90.9 million on Oct 31-Nov 12, 2012
•     RM2.08 billion on March 22 & April 10, 2013
•     RM49.93 million on June 23 & Dec 19, 2014
21 counts of money laundering involving over RM4.3 billion
•     1st-9th count (March 22-April 10, 2013) RM2.08 billion from Tanore Finance Corp to his bank account
•     10th count (Aug 2, 2013) RM652.6 million from his bank account to Tanore Finance Corp
•    11th & 12th count (Aug 2 & 7, 2013) RM20 million to Umno via cheque; RM100,000 to Umno Batu Kawan via cheque
•     13th count (Aug 7, 2013) RM246,000 to Tan Sri Lim Soon Peng via cheque
•     14th count (Aug 12, 2013) RM2 million to ORB Solutions Sdn Bhd via cheque
•     15th count (Aug 14, 2013) RM303,000 to Semarak Konsortium Satu Sdn Bhd via cheque
•     16th-19th count (Aug 15-23, 2013) RM1.38 million from his bank account to Tanore Finance Corp
•     20th and 21st count (Aug 27 & 30, 2013) RM162.44 million from one of his AmIslamic Bank accounts to another
SO comfortable was 1Malaysia Development Bhd with Goldman Sachs that the government-owned strategic investment company gave the US investment bank seeming carte blanche to structure its acquisition of energy assets amounting to billions of dollars as well as the requisite funding arrangements, Datuk Shahrol Azral Ibrahim Halmi, 1MDB's former CEO, said last week at the graft trial of former prime minister Datuk Seri Najib Razak.
The cosy relationship benefited Goldman immensely. In the acquisition of Tanjong Energy Holdings Sdn Bhd for instance, 1MDB agreed to pay its banker a "success fee" of 0.5% of the asset value — incredibly, based on Goldman's own valuations.
Goldman could do no wrong in the eyes of 1MDB over 2009 to 2013 when the US investment bank was working with the government-owned strategic investment company to acquire billions of dollars' worth of energy assets and the requisite funding, Shahrol indicated in court last week.
In his testimony, he provided insight on Goldman's role in 1MDB and how one of its key operatives, investment banking head in Southeast Asia Tim Leissner, leveraged Goldman's name to secure kickbacks for himself, his close friend and now fugitive Low Taek Jho, and other co-conspirators.
Inroads into 1MDB
According to Shahrol, Goldman was already holed up in 1MDB offices working on proposals for 1MDB to purchase Tanjong Energy months before the board had formally appointed the bank as its financial adviser.
Eventually, Goldman became "bookrunner, underwriter and arranger" for the acquisition funding process apart from being its official financial adviser.
"As I recall, Jho Low said, 'Why don't we get Goldman to do everything relating to the funding?'" Shahrol said.
Goldman and the 1MDB investment team, led by chief investment officer Vincent Koh, had done the due diligence to acquire Tanjong Energy since December 2011, even though Goldman was officially appointed 1MDB's adviser only in February 2012.
Shahrol confirmed Goldman as adviser before the board meeting, as the bank had gone "above and beyond" in carrying out the due diligence, and it was to present to the board its pitch on the Tanjong Energy acquisition.
"They worked very hard and even on public holidays. It's not uncommon that advisers or banks that are going to sign or to advise come on board to help before they sign on to become advisers, as had happened with Goldman. Although they signed on to be advisers in February, they already began their work in December," he said, adding that the board had been enamoured of Leissner, who was a major factor in getting the board to agree with the appointment of Goldman.
'Exemplary Goldman' pitches Tanjong Energy to the board
On Feb 8, 2012, the proposed acquisition of Tanjong Energy was presented to the board by Leissner and, at that meeting, Shahrol told the board that the submission deadline to bid was a mere two days later.
In the meeting minutes, Goldman was to be given a "success fee" of 0.5% of the bid price for the deal. A board member, Ashvin   Jethanand Valiram, pointed out that this would net Goldman about RM53 million, which he said "was on the high side".
Koh and Shahrol defended the fee, as Goldman had initially sought 1%, arguing that 0.5% "was in line with their in-depth scope of work".
Goldman's network with various government departments and international investors impressed 1MDB, and Shahrol said that, given the tight deadline for the submission of the acquisition, 1MDB would not have been able to put the deal together on its own.
Shahrol had even put on record that Goldman and Leissner had been "exemplary" and should be considered for future acquisitions.
Valuation of Tanjong Energy highly inflated
Goldman's valuation of Tanjong Energy at RM10.64 billion was RM2.1 billion more than the National Audit Department's valuation of the asset at RM8.5 billion.
Shahrol conceded, however, that the board was only informed "that the price of the acquisition would be up to RM10.6 billion and possibly lower".
1MDB subsequently paid RM10.6 billion for Tanjong Energy. Asked by defence counsel Wan Aizuddin whether Goldman had breached its fiduciary duty as a financial adviser to 1MDB in getting the deal, Shahrol replied: "Agree."
Collusion in siphoning US$577 mil to 'fake Aabar'
Goldman then advised 1MDB to take on RM11.4 billion of debt to fund the purchase of the energy assets, namely a RM6.17 billion loan from Maybank and RHB Bank, and by issuing US$1.75 billion of bonds through 1MDB's Labuan-based offshore company 1MDB Energy Ltd (1MEL) that were guaranteed by Abu Dhabi's International Petroleum Investment Company (IPIC).
For the US$1.75 billion bonds, 1MEL had given Aabar Investments PJS Limited a call option, where it had the right to take up a 49% stake in the former.
However, US$577 million was paid to IPIC's purported subsidiary Aabar Investments PJS Limited as a "security deposit" for the deal. But the British Virgin Islands-registered company called Aabar Investments PJS Limited was not the same as Aabar Investments PJS, which was the actual Abu Dhabi unit of IPIC.
Leissner is alleged, together with Jho Low, to have embezzled the money, as the fake Aabar was said to have been set up by Jho Low.
Proposed purchase of Genting Sanyen
On June 21, 2012, the 1MDB board approved yet another proposal to take over an independent power producer — the purchase of a 100% stake in Mastika Lagenda Sdn Bhd, which held a 75% stake in Genting Sanyen Power Sdn Bhd, which owns the Genting Sanyen Kuala Langat Power Station.
1MDB's board approved the buying of Mastika Lagenda at RM2.75 billion and to again raise funds by borrowing more money.
In August 2012, Najib, as finance minister, personally approved 1MDB's borrowing of another RM1 billion and the issuance of another US$1.75 billion of bonds.
The deal was completed expediently without a board meeting to approve it, as the 13th general election loomed and Najib feared a caretaker government would not be able to green-light the deal.
"Jho Low had told me that Najib wanted the deal expedited before the election because the premier was worried that when the [parliament] was dissolved, it would be hard to get government approval for the project," Shahrol said, adding that the instructions came from Jho Low.
Goldman quoted US$4 million to undertake due diligence for Mastika Lagenda.
The trial continues on Aug 3 before judge Collin Lawrence Sequerah.
Not a minute sooner, judge says of attempts to shorten proceedings
Irritated by the numerous requests by the defence for adjournments, High Court judge Collin Lawrence Sequerah was in no mood to play ball last week.
On Wednesday, he denied the request by former prime minister Datuk Seri Najib Razak and his lawyers to adjourn proceedings on Thursday so that the Pekan member of parliament could attend parliamentary proceedings, as he deemed the notice "too last minute".
Lead defence lawyer Tan Sri Muhammad Shafee Abdullah then sought to impress upon Sequerah the importance of Najib's attendance in parliament as a lawmaker.
He argued that preventing an MP from carrying out his duties may be tantamount to contempt of parliament.
In a tetchy retort, Sequerah asked: "Are you saying I will be held in contempt of parliament if I don't allow this?"
The judge rejected the application, stating that while Najib is duty-bound to parliament, he too is duty-bound to the court. He affirmed the trial would proceed the full-day.
The following day, defence counsel Wan Aizuddin Wan Mohamad raised a letter to the court, ostensibly from newly appointed Speaker of the Dewan Rakyat, Datuk Azhar Azizan Harun.
Sequerah said, however, that he had not seen it and ordered the trial to go on for a full day.
After the court broke for lunch and the judge had gone into his chambers, he re-entered the court room and said the trial would continue until 3.15pm to allow Najib to attend parliament.
He warned, however, that future applications should be made well in advance, or he would not entertain them.
"I don't know why I wasn't informed earlier. Unless I'm informed well in advance in the future, I won't allow this. I don't want to debate and waste more time."
When Wan Aizuddin attempted to call time on his cross-examination at 3pm, Sequerah was in no mood to allow it.
"We will go on till 3.15pm and not a minute sooner!"
The 'Pasar Borong' trial
This is not the first time that Sequerah has had a heated exchange of words with Shafee and his team.
Soon after lockdown restrictions were lifted, he refused Shafee's request to have more lawyers during the proceedings because of strict Covid-19 standard operating procedures.
Shafee reiterated that it was paramount that his team was present in the courtroom during the proceedings.
"Then why don't we adjourn to Pasar Borong Selayang (Selayang Wholesale Market) and have our hearing there? How many lawyers do you want in the court?" Sequerah retorted.
A frustrated Shafee replied, "I cannot function; I have not spoken to my client. I may need to discharge myself." — By Timothy Achariam