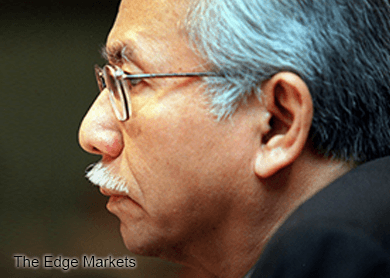 KUALA LUMPUR (Feb 10): Malaysia's former Finance Minister Tun Daim Zainuddin said 1Malaysia Development Bhd's (1MDB) debt was one of the factors causing the weakening of the ringgit.
Daim said government-owned 1MDB's debt had caused uncertainty in the domestic economy.
"It is difficult to say when exactly the ringgit will stabilise, as its (fluctuation) is tied to many things. 1MDB is one of the factors that causes uncertainty (in the economy) as its (debts) are big.
"Its (estimated debt) is at (some) RM40 billion," Daim told reporters today after delivering his keynote address at the Affin Hwang Capital Conference here.
The ringgit was traded at 3.5805 against the US dollar at about noon today. This compared to 3.1415 in August 2014.
Today, Daim also reiterated his stance that the government should be more transparent on 1MDB's operations and financials.
He said Malaysians wanted to know the reasons behind 1MDB's debt obligations.  
 
"There are so many confusing statements on 1MDB and (the status of its finances). If it is doing well, why isn't it paying its debts?
"Why is so much money borrowed? The rakyat wants to know (the answers to these questions), and I think there is no harm to being truthful. Let us be honest, the more you try to hide, the more people become suspicious," he said.
The Edge Financial Daily (Edge FD), quoting sources, reported last Friday (Feb 6), that based on feedback given to Bank Negara Malaysia, the RM2 billion loan extended to 1MDB by several banks, was likely to be categorised as a non-performing loan (NPL) by the lenders.
Malayan Banking Bhd and RHB Capital Bhd are the lead lenders with 58.99% and 32.41% respectively of the RM2 billion loan. The other lenders are Alliance Investment Bank Bhd (4.06%), Malaysia Building Society Bhd (3.24%) and HwangDBS Investment Bhd (1.29%), Edge FD reported.
Edge FD reported that the lenders were expected to revert on whether to officially declare the loan a default by this February 18.
Today, Daim said 1MDB's loan should be categorised as an NPL.
"I think it is time the loan be recognised as an NPL, as they (1MDB) have been given extensions by the banks for the loan, and it is difficult to understand why they cannot settle the loan as they have already redeemed the funds (from the Cayman Islands)," said Daim.
However, according to a recent news report by Singapore Business Times, 1MDB executive director Arul Kanda Kandasamy said 1MDB had no plans to repatriate the US$1.103 billion (RM3.95 billion) redeemed from its investments in the Cayman Islands.
Arul Kanda said the money would be used to service interest payments on 1MDB's US dollar-denominated debts.