This article first appeared in The Edge Malaysia Weekly, on May 20, 2019 - May 26, 2019.
Besides the handbags, 401 watches valued at RM74 million, 11,990 pieces of jewellery worth hundreds of millions and RM114 million cash in various currencies were seized from apartment B-45-02, Tower 2 of Pavilion Residences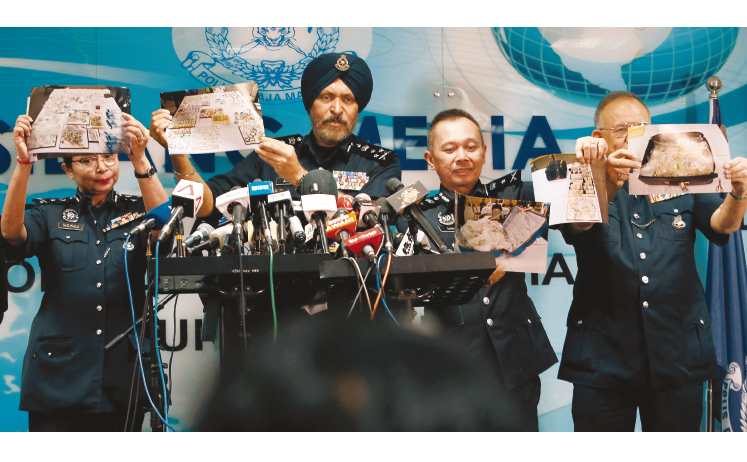 Bukit Aman Commercial Crime Investigation Department chief Datuk Seri Amar Singh showing photos of items seized in a raid during a news conference in Kuala Lumpur on June 27 last year. Photo by Reuters
Click / Tap image to enlarge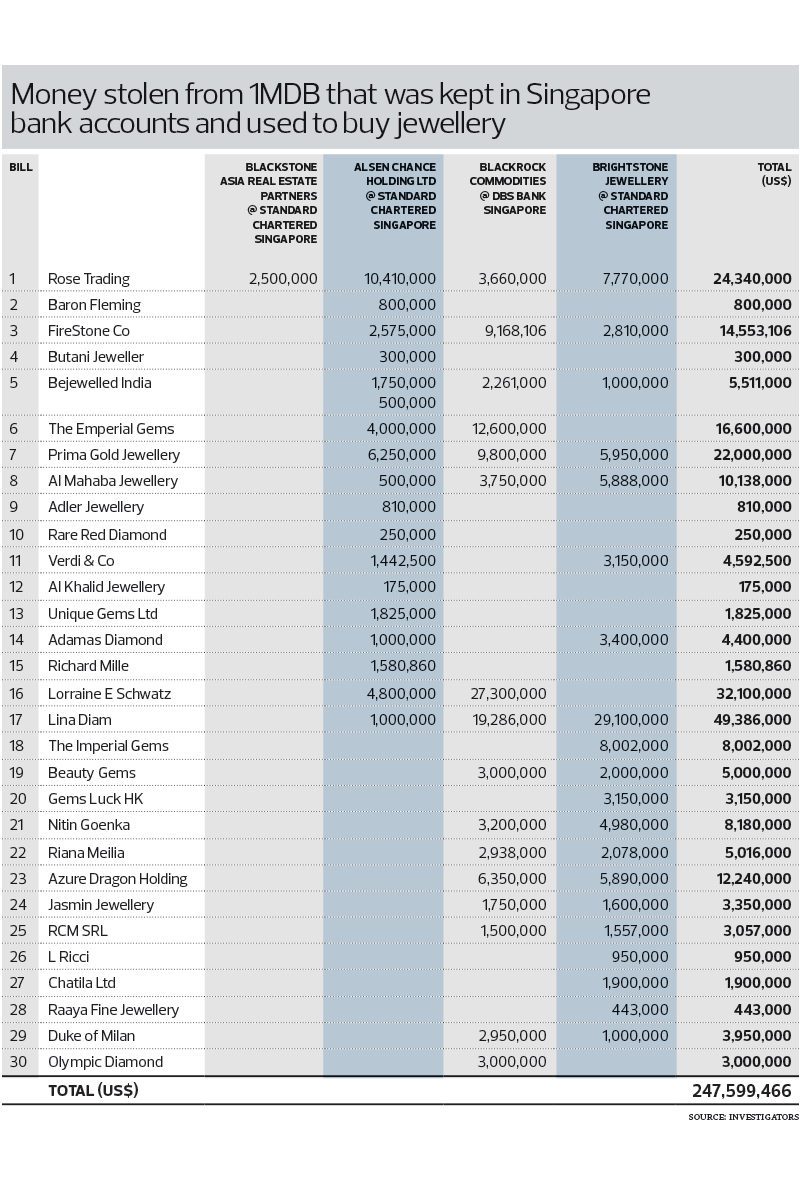 TWO hundred and twelve Hermès handbags valued at an estimated RM47 million were among the 306 handbags found at a luxury condominium last year. They are  now part of a multimillion-ringgit forfeiture suit filed by the government against 18 individuals and organisations.
Besides the handbags, 401 watches valued at RM74 million, 11,990 pieces of jewellery worth hundreds of millions and RM114 million cash in various currencies were discovered at apartment B-45-02, Tower 2 of Pavilion Residences in Kuala Lumpur.
Police had seized all these assets and the Attorney-General's Chambers (AGC) had on May 8 this year sought a court order to forfeit them. It is not clear if anyone will step forward to challenge the forfeiture.
Apartment B-45-02 is owned by Obyu Holding Sdn Bhd, whose controlling shareholder is Sarawak tycoon Tan Sri Bustari Yusuf — a close friend and golf buddy of former prime minister Datuk Seri Najib Razak. The AGC is also seeking to seize the 7,174 sq ft apartment, which was purchased for RM6.82 million.
Obyu Holding has issued a statement saying that it was only the landlord and did not own the items in the apartment. It did not identify the tenant but the unit was used by Najib's family.
Last May, just days after Barisan Nasional was ousted at the 14th general election, police raided two apartments at Pavilion Residences that were being used by Najib's family as part of 1MDB-related investigations under the Anti-Money Laundering, Anti-Terrorism Financing and Proceeds of Unlawful Activities Act 2001.
Although 306 luxury handbags and 401 watches is a staggering number to be owned by one family, the 11,990 pieces of expensive jewellery is even more shocking.
Many of these jewellery were bought with money that originated from 1MDB, according to investigators who have obtained the documentary evidence to back their claim.
Their investigations found that hundreds of millions of dollars that originated from 1MDB had flowed into the accounts of four companies in Singapore. They were the accounts at Standard Chartered Singapore that belonged to Blackstone Real Estate Partners, Alsence Chance Holdings Ltd and Brightstone Jewellery. The fourth account was that of Blackrock Commodities at DBS.
The four companies are owned by the right-hand man of Jho Low, Eric Tan Kim Loong, who investigators say managed the bank accounts that Jho Low had opened in Singapore and Switzerland to launder stolen 1MDB money. Both men are now in hiding.
According to investigators, these four companies had spent US$247.59 milllion (RM1.03 billion) to buy jewellery from 30 jewellers around the world (see table) and many of these items are part of those found in the apartment at Pavilion Residences.
As for the RM114 million cash in various currencies, investigators found the largest foreign denomination was Singapore dollars (S$9.8 million, or equivalent to RM30 million).
The stash found at the two apartments are only part of an estimated RM680 million that the government wants to seize. Luxury watches and cash were also taken from Najib's family residence in Bukit Tunku and a house in Putrajaya.
Named in the suit are Najib, his wife Datin Rosmah Mansor, their children Nor Ashman, Nooryana Najwa and Riza Aziz, who is Rosmah's son from a previous marriage.
But it is not just Najib's family that are targeted.
Jho Low's mother and associates
Others include money in bank accounts belonging to Jho Low's mother Goh Gaik Ewe totalling RM795,000 and their family home in Penang worth an estimated RM5 million. Investigators say Goh left the country last April.
A company called Rembulan Kebara Sdn Bhd is also a target. Rembulan, which was previously called Goldfin Group Sdn Bhd, had a bank account in Penang and the registered shareholder was Jho Low's father, Low Hock Peng. A director of the company is Koay Lean Kooi, while the senior Low is the sole signatory of the account. Investigators revealed that in April 2012, a sum of US$20 million was transferred from the account of Abu Dhabi Kuwait Malaysia Investment Corp (ADKMIC) at BSI Singapore to a Malaysian bank account of Goldfin. ADKMIC had received money that originated from 1MDB, according to both US and Singapore investigators.
 But what is now left in the Goldfin/Rembulan account is a mere RM35,510 as many transfers have been made over the last few years. Investigators found out that Koay passed away on Nov 21 last year.
Jho Low's associates Kee Kok Thiam, Tan Vern Tact and Geh Choh Hun also had the money in their bank accounts seized. All three were directors of Javace Sdn Bhd, UBG Bhd and Majestic Masterpiece Sdn Bhd, which were companies controlled by Jho Low. The Edge had in our June 8, 2015, issue reported that as much as US$260 million (RM805 million then) of 1MDB money was funnelled to Javace Sdn Bhd for it to take over all the shares of UBG Bhd with concerted parties in September 2010 (see flashback). In that same year, UBG was to pay a hefty dividend to shareholders, including RM658 million to Majestic Masterpiece Sdn Bhd.
Investigators and the AGC are now acting to seize the cash from Kee, Tan and Geh as money that they obtained from unlawful activities linked to 1MDB. The sums to be seized from various bank accounts are RM3.3 million (Kee), Tan (RM13 million) and Geh (RM90,000).
According to investigators, the three men left Malaysia on April 16 last year (three weeks before the general election) and have not returned. The Edge had, in our June 11, 2018, issue, identified Kee, Tan and Geh as part of Jho Low's web of operators (see flashback).
Yayasan Rakyat 1Malaysia
The AGC is also seizing around RM6.9 million from the bank accounts of Yayasan Rakyat 1Malaysia (YR1M), a charitable organisation started by Najib. He is a trustee, along with former 1MDB chairman Tan Sri Lodin Wok Kamaruddin and Najib's special officer, Datuk Wan Shihab Wan Ismail.
According to investigators, between March and May 2013, US$105 million (RM420 million) was transferred to a Malaysian bank account of YR1M from a bank account of 1MDB Global Investments at BSI, Switzerland. That US$105 million was part of the US$2.72 billion net proceeds raised by 1MDB via a US$3.0 billion bond with the help of Goldman Sachs in 2013 to develop the Tun Razak Exchange.
The AGC has also seized a total of RM1.88 million held in the Malaysian bank accounts of ex-Goldman Sachs banker Roger Ng Chong Hwa and his wife Lim Hwee Bin, who are both Malaysians. Investigators found out that in 2017 alone, Ng had received around RM9.4 million in his Malaysian bank accounts from overseas.
Ng is facing charges linked to 1MDB in Malaysia and was extradited to the US on May 3, where he pleaded not guilty to various charges in a New York court. Tim Leissner, Ng's immediate boss at Goldman Sachs who led the team in raising a total of US$6.5 billlion for 1MDB, has pleaded guilty to various charges and is awaiting sentencing.
Last week at Najib's SRC trial, Ihsan Perdana Sdn Bhd managing director Datuk Dr Shamsul Anwar Sulaiman testified that he had transferred a total of RM42 million from the account of the company meant for charity to Najib's bank account in 2014 and 2015 on the instruction of YR1M CEO Ung Su Ling.
Shamsul said he had not been aware that the account belonged to the former prime minister because Ung refused to tell him who owned it. He added that he would not have transferred the money if he had known the account at AmIslamic Bank belonged to Najib.
YR1M had given money to Ihsan for the purpose of undertaking charity work. Investigators say money stolen from 1MDB and SRC was laundered through YR1M and Ihsan to reach Najib.
Last June, The Edge identified Ung and her deputy, Dennis See, as being part of Jho Low's web of operatives in Malaysia.