This article first appeared in The Edge Financial Daily, on June 23, 2017.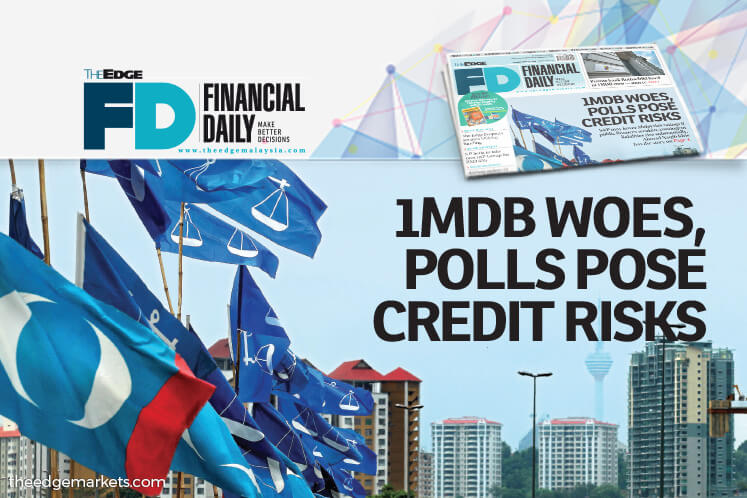 KUALA LUMPUR: Ongoing political challenges in relation to allegations of corruption against 1Malaysia Development Bhd (1MDB), coupled with the upcoming general election, pose potential risks to Malaysia's sovereign rating over the near- to medium-term, said rating agency Standard & Poor's Global Ratings (S&P).
"Those challenges could manifest themselves via a rise in the cost of refinancing Malaysia's sizeable gross external financing needs, or via non-resident outflows from Malaysia's deep local-currency government bond market," it said in a statement yesterday.
It pointed out Malaysia will face credit rating downgrades if its public finances or institutional settings weakened.
"We may also lower the ratings if contingent liabilities increase substantially or crystallise on the general government's own balance sheet," S&P said.
According to the rating agency, these contingent risks include guarantees on debts and letters of support including the US$3 billion letter of support for 1MDB, which it regards as a direct financial obligation of the government.
"A reported settlement made between 1MDB and Abu Dhabi sovereign wealth fund, International Petroleum Investment Co, should lower the risk of these contingent liabilities crystallising in the near future. However, uncertainties surrounding 1MDB will continue to pose some risk to the sovereign," it said.
Still, S&P doesn't expect such contingent liabilities to materialise significantly within its forecast horizon as the government's debt guarantees — while sizeable at 15% of gross domestic product (GDP) — have stabilised at this level.
"However, the consolidated finances of Malaysia's non-financial public companies reflect a deficit equivalent to 4.1% of GDP last year, following a shortfall of 4.9% in 2015.
"This suggests the potential for some quasi-fiscal activity at state-owned firms, which could give rise to elevated contingent risks in the future," it said.
S&P kept Malaysia's long-term foreign currency sovereign credit rating at A- and retained a stable outlook, stating the current rating reflects its belief that these challenges will not materially impede the country's policy flexibility and responsiveness.
"In our view, the sovereign's credit strengths are reinforced by the economy's resilience in the face of a terms-of-trade shock beginning in late-2014. Authorities at that time introduced new taxes, and cut subsidies to offset the effect of lower energy receipts on budgetary performance," it said.
Even though Malaysia's current account surplus had considerably diminished to 2.4% of GDP last year from 10% of GDP in 2011, S&P is of the view that Malaysia's external position remains solid.
It noted most of Malaysia's external liabilities are denominated in the domestic currency, while external assets, both official foreign exchange reserves and other claims on non-residents, are denominated in foreign currencies. "For this reason, any depreciation of the ringgit benefits the country's external position."
Nevertheless, S&P is forecasting the Malaysian economy's external liquidity requirements to be considerable, and hence potentially vulnerable to external market volatility, which could lead to non-residents reducing their holdings of local currency government debt. It estimates that non-residents held 23% of the total stock as of the first quarter of 2017.
S&P also deems Malaysia's goal of a near-balanced budget by 2020 as "ambitious".
"This is particularly given that, even in the case of a significant and sustained recovery in oil prices, spending would likely rise in tandem with revenues," it said.
It believes the country's debt burden likely peaked in 2015, and forecasts that net general government debt will fall to 47.4% of GDP in 2017 from 49.4% in 2015.
S&P Malaysia sees Malaysia well-positioned to benefit from a recovery in the global economy. It projects GDP per capita to be about US$9,200 (RM39,473) by end-2017, lower than that of most peers in the same rating category.
"We expect the local currency, along with GDP per capita, will stabilise over the forecast period, and note that Malaysia's competitiveness is somewhat enhanced due to the weaker ringgit," it said.
It projects Malaysia's average real per capita GDP to grow 2.8% a year from 2017 to 2020, driven by exports of manufactured goods and growth in private consumption and investments.
S&P said it may raise its ratings on Malaysia if stronger economic growth, combined with the government's fiscal efforts, lead the government to reduce the level of public debt to GDP substantially.