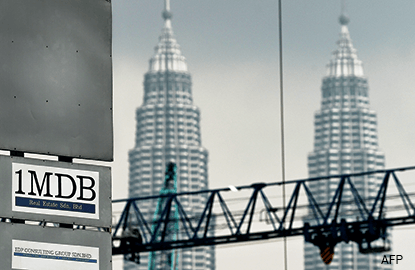 KUALA LUMPUR (March 28): 1Malaysia Development Bhd (1MDB) has hit out at PKR secretary-general Rafizi Ramli for allegedly revealing a classified document on the troubled sovereign fund.
In a statement today, it asked the authorities to investigate the matter and take action if any wrongdoing is established.
At the Parliament lobby earlier today, Rafizi exposed what he claimed was an excerpt from the Auditor-General (AG)'s Report on 1MDB to the Public Accounts Committee (PAC). The report is classified under the Official Secrets Act (OSA).
1MDB said the Pandan member of parliament had shown "not only a blatant disregard for the law but also unveiled contempt for the ongoing investigations by the PAC".
"YB Rafizi cannot claim he is a 'whistle blower' or is acting in the public interest, given that the PAC, a lawful authority with five opposition members, already has access to, and is presently reviewing, the AG's Report on 1MDB," it added.
1MDB accused Rafizi of deliberately creating a lie by linking the state fund to the delay in the Armed Forces Fund Board (LTAT)'s gratuity payments to non-pensionable veteran soldiers.
While acknowledging that it had previously confirmed that it suffered from a cash-flow mismatch in 2015, 1MDB reiterated that all payments to LTAT's wholly-owned subsidiary Perbadanan Perwira Hartanah Malaysia (PPHM) are current and there are no amounts outstanding.
The payments are under a contract to relocate eight air bases from Sungai Besi to Bandar Malaysia.
"Accordingly, 1MDB strongly denies that it is the cause of any payment delays to members of the armed forces," the statement read.
1MDB said LTAT was expected to provide clarifications that will "conclusively debunk" the alleged link between 1MDB's contract with PPHM and LTAT's payments to members of the armed forces.
"This so-called link is a lie deliberately concocted by YB Rafizi, who has shamelessly tried to pass it off as fact," it said.
1MDB called on the relevant authorities and Parliament to further investigate Rafizi's decision to "publicly share a document classified under the OSA".
"If any wrongdoing is found to have taken place, we trust that action will be taken under the law," it added.