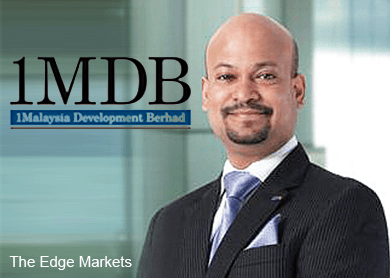 KUALA LUMPUR (June 8): Debt-laden 1Malaysia Development Bhd (1MDB) said today that it has repaid a US$975 million (RM3.6 billion) loan to a syndicate of international banks led by Deutsche Bank AG, which was reported to be due end-August.
"Today, we are pleased to confirm that the loan has been fully repaid. This RM3.6 billion repayment reflects 1MDB's commitment to reducing its debt levels, in line with the rationalisation plan approved by cabinet," 1MDB president and group executive director Arul Kanda Kandasamy said in a statement this evening.
However, the statement did not deny news of jittery bondholders wanting their money back earlier than the original deadline, after doubts surfaced over the loan's collateral.
Earlier, Second Finance Minister Datuk Seri Ahmad Husni Hanadzlah had on May 29, 2015 said the International Petroleum Investment Co (IPIC) and its subsidiary Aabar Investments PJS will be forking out US$1 billion for 1MDB to settle its US$975 million syndicated loan from a consortium led by Deutsche Bank.
The payment is part of a larger agreement that 1MDB, which is wholly-owned by the Ministry of Finance (MoF), had entered into with IPIC and Aabar.
Ahmad Husni said this will "include further measures to comprehensively address the various financial asset and liability transactions between the parties, further details of which will be announced in due course".
Singapore's Business Times had on May 13, 2015 reported that a consortium of banks led by Deutsche Bank, had asked for their US$975 million loan to be repaid by the troubled 1MDB, less than four months earlier than its due date.
According to the report, the money from the US$975 million loan was used by 1MDB to pay Abu Dhabi's IPIC to terminate an option to subscribe for the future listing of 1MDB's power asset, Edra Global Energy Bhd.
Edra Global Energy was said to have an enterprise value of between RM16 billion and RM18 billion.
The loan, which was syndicated to five Gulf banks including Abu Dhabi Commercial Bank, is guaranteed by the Malaysian Government.
The US$975 million loan was secured via US$1.103 billion that 1MDB said was being held by its Brazen Sky unit in BSI Singapore, originally from a tranche of offshore deposits it previously kept in the Cayman Islands.
The Singapore's Business Times report said lenders turned jittery, when news emerged that the US$1.103 billion bank balance was in "units" rather than cash.
That the BSI Singapore account only had "units — the true value of which cannot be determined", and not "cash" as was first reported by whistle-blower website Sarawak Report on April 22, 2015.
 
Should the lenders call a default on the loan, 1MDB could be faced with a situation of a cross default on the rest of its debts of RM42 billion.
The report also said the parties involved in the loan are believed to be locked in intense negotiations, to avert such a crisis involving the loan.