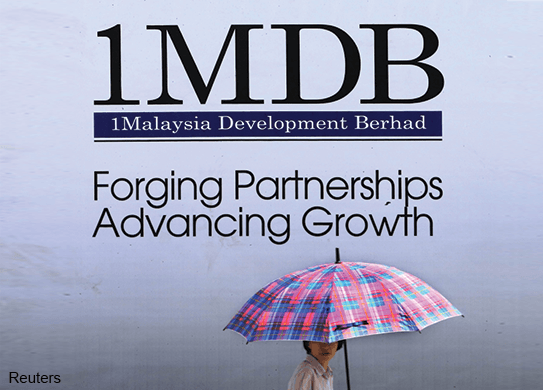 PETALING JAYA (June 30): 1Malaysia Development Bhd (1MDB) has lashed out at one of its harshest critics, former Prime Minister Tun Dr Mahathir Mohammad, for the latter's latest posting on his chedet.cc blog titled "Just Justo", saying that his allegations "significantly impacts" 1MDB's ability to conduct its business and causes damage to the wider economy.
In two media statements today, the beleaguered state-owned strategic investment fund said the questions raised by Dr Mahathir in his June 29 blog post was nothing new, and that it has already answered many of the questions the former premier raised.
"Such allegations and misleading statements by Tun Mahathir and certain opposition politicians, significantly impacts the ability of 1MDB, a 100% government-owned company, to conduct its ongoing business and causes damage to the wider economy.
"Furthermore, such allegations negatively impact the implementation of the 1MDB rationalisation plan announced on May 29, 2015, which is intended to reduce the company's debt levels and ensure that maximum value is generated for our 100% ultimate shareholder, the Government of Malaysia," it added.
It reiterated that 1MDB is the subject of ongoing enquiries by the Public Accounts Committee (PAC) — a bi-partisan committee of Parliament.
"The PAC is a lawful authority to verify whether RM42 billion has 'disappeared' from 1MDB, as they have access to all information," said 1MDB.
Among the issues raised by Dr Mahathir which 1MDB refuted and said they had answered before included the "US$1.9 billion loan to a subsidiary of PetroSaudi International Limited (PSI) to reduce risk of equity holding".
In his blog, Dr Mahathir wrote:
"Giving a loan to a joint-venture partner who was found unsuitable as a JV partner would increase the risk, not reduce it. When the JV was dissolved after only 6 months of its formation, it must be because 1MDB realised that the venture was bad.
"What it should do is to demand the equity and the loan amounting to US$1.9 billion be returned. Instead it was converted into a loan (murabaha). Having given this US$1.9 billion loan, where is the money now?
"The Government has not clarified. Is it in Cayman Islands, or in Singapore or where? That amount of money cannot be shifted around without being recorded by the banks involved. Surely Najib knows. Yet the money has not returned."
Below is a reproduction of 1MDB's second media statement today in which the fund rebutted Dr M's allegations:
Media statement 1Malaysia Development Berhad
Issued on 30 June 2015
Facts in response to Just Justo
1. Tun Dr. Mahathir Mohamad continues to allege that "vast amounts of money have disappeared", but provides no justification or facts to back this claim. He first claimed that RM42 billion was missing. Then, when 1MDB provided a summary of how the RM42 billion was spent, he started saying some of the RM42 billion is missing. Now, Tun Mahathir has resorted to saying that "vast amounts of money have disappeared".  As we have stated before, this continuous shift in numbers and allegations is perplexing.
2. Tun Mahathir is repeating the same old questions about 1MDB's dealings with PetroSaudi, a business relationship that ended in 2012, despite the fact that we have responded to this in detail on a number of occasions.  With respect to the "US$1.9 billion loan" Tun Mahathir has referred to, the facts are as follows:
- Further to an earlier joint venture arrangement in 2009, 1MDB invested US$1.83 billion cash in murabaha notes issued by JV Co, a company that, by then, was 100% owned by PetroSaudi following the termination of the joint venture in March 2010.
- In June 2012, this entire amount was repaid by way of conversion into shares of Petrosaudi Oil Services Limited for a value of US$2.22 billion.
- Subsequently, in September 2012, 1MDB sold its shares in PetroSaudi Oil Services Limited for US$2.318 billion and received fund units in a Cayman registered fund. These fund units were owned by 1MDB via its 100% subsidiary, Brazen Sky, and held through BSI Bank Singapore as custodian.
- Accordingly, 1MDB invested a total of US$1.83 billion with PetroSaudi as murabaha notes, and ultimately received US$2.318 billion of fund units, representing a gain over time of US$488 million.
The information referred to above can be found in the notes to 1MDB's financial statements. Accordingly, contrary to Tun Mahathir's claim, 1MDB has clearly provided detailed information on this — as above — on a number of occasions, including most recently on June 16, 2015 in a direct response to a previous allegation raised by him.
It is also important to highlight that:
a) the murabaha notes were guaranteed by PetroSaudi (thereby having a lower risk profile than equity); and
b) 1MDB had an option to convert the murabaha notes into equity. Accordingly, 1MDB exercised caution by reducing its risk profile from equity to debt, thereby benefiting from a fixed rate of return above its cost of capital whilst having the right to participate in future equity upside through the conversion option.
3. Tun Mahathir has also repeated his claim that 1MDB overpaid for its IPPs. As we have stated before, like any business, 1MDB only acquires assets when we are convinced that they represent compelling long term value. In this particular case, 1MDB purchased power plants from the original private sector owners ie first generation IPP investors, who were granted lucrative, long term, fixed price contracts during the time Tun Mahathir was Prime Minister.
The values paid for the acquired assets were based on independent advice from financial, legal, accounting, tax and technical advisors. In addition, 1MDB took a long-term view and considered the social and economic impact on the country in arriving at a final valuation.
In particular, it is important to note that we acquired our first energy assets in 2012, and have built this into the second largest independent power producer in Malaysia with a strong presence in international markets within three years. In total, 1MDB has successfully consolidated three independent companies with 13 power plants and 5594MW of net generating capacity.
As such, we believe that the value we paid — which may have involved a premium in certain instances, as is common when acquiring another business — is commensurate with their future potential and overall benefit to the nation.  
4. Having responded yesterday to misleading statements by YB Tony Pua, an opposition politician, in relation to the IPIC transaction, we now note that Tun Mahathir has raised many of the same questions.
Commercial negotiations are ongoing between 1MDB and IPIC to reach a definitive agreement post execution of a binding term sheet. This will include discussions on which assets 1MDB transfers over to IPIC as part of this deal, and we fully intend to share further information once a final agreement is reached between the parties.
With respect to how 1MDB intends to substantially reduce its RM42 billion debt, the binding term sheet executed with IPIC is a key component of the 1MDB rationalisation plan as announced by the Ministry of Finance on May 29, 2015. A definitive agreement with IPIC will ultimately result in a debt reduction of approximately RM16 billion.
Further to the strategic review announced on 18 February, and as confirmed in the rationalisation plan announced on 29 May:
- 1MDB announced on June 12, 2015 an RFP (request for proposal) process for the Bandar Malaysia development, to seek development partners for the 486-acre project in Sungai Besi.
- 1MDB announced on June 30, 2015 an intention to appoint an independent real estate consultant to help review expressions of interest received for the company's land parcels in Air Itam and Pulau Indah.
- 1MDB is actively pursuing various options with respect to the monetisation of Edra Energy and, as has been reported in the media, has received significant interest from potential investors in both Malaysia and abroad.
Combined, these actions will allow us to reduce 1MDB's debt significantly, and ensure that maximum value is generated for the 100% ultimate shareholder, the Government of Malaysia.