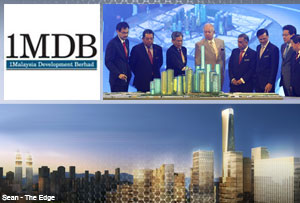 KUALA LUMPUR (Oct 9): Prime Minister Datuk Seri Najib Razak has assured that the two subsidiaries of 1Malaysia Development Bhd (1MDB) — 1MDB Energy (Langat) Sdn Bhd and 1MDB Real Estate Sdn Bhd (1MDB RE) — will file their audited 2013 financial year accounts at the end of this month.
"The statement and financial accounts of 1MDB Energy and 1MDB RE for the year ended March 31, 2013, will be filed along with their financial accounts for the year ended March 31, 2014, at the end of October, 2014," said Najib in a written reply to Tony Pua (DAP — Petaling Jaya Utara) at the Dewan Rakyat on Wednesday.
Najib, who is also the Finance Minister, was asked to give reasons as to why both the subsidiaries of 1MDB have yet to file their financial accounts for the financial year ended March 31, 2013.
Pua had asked the minister as to when will these companies submit their financial accounts for both financial years,  FY13 and FY14.
At the Parliament today, Pua told reporters he was shocked with the short response from the minister, seeing the severity of the issue.
"I actually asked Parliament yesterday (Wednesday), but the question came back with no answer. The government said they will file soon, but did not explain [as to] why the accounts was not filed for the past one year. It is one of the shortest answers I have received for a Parliament question," he ticked off the minister.
Pua noted that both 1MDB Energy and 1MDB RE are 12 months late in filing their March 2013 financial statements with the Companies Commission of Malaysia.