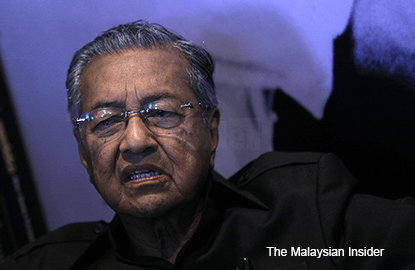 (Dec 3): Former prime minister Tun Dr Mahathir Mohamad today said 1Malaysia Development Berhad (1MDB) was still misleading the public, citing the strategies the debt-laden state investment arm used to raise funds.
The statesman said 1MDB made money from selling off assets that it bought from the government at a low price, while purchasing businesses at a higher market price.
"Now may I explain why you are still misleading the readers in my blog and others.
"You said 1MDB is a strategic investment company. When you sell assets which you acquired at a very low price from the government and pocket the difference is that what is called strategic investments?
"Buying business at higher than market price is that what you regard as strategic investment?" Dr Mahathir said in a blog post today.
He brought up 1MDB's decision to sell 40% of former government land at Sungai Besi, which it had acquired at below market price.
He said this sounded more like selling Approved Permits (APs) than strategic investment, since APs were free from the government.
Dr Mahathir said 1MDB was also "forcing" citizens to pay off its debts, by selling land to government-linked companies which collected funds from the people.
He also urged 1MDB to explain how much of its RM42 billion debt was borrowed in ringgit, adding that repaying the debt in local currency would cost more due to its depreciated value.
"Each US dollar equivalent will be one less ringgit. The banks will carry this loss. Yes, this is a strategic investment borrowing except when you did not know the ringgit would devalue so much.
"If you borrow in US dollars, explain how much and from whom," Dr Mahathir said.
He said 1MDB must also explain, with documentary proof, whether it paid a 10% commission to US investment banking firm Goldman Sachs.
He said if true, this would mean it would be paying the 5.9% interest on 100% of the loans but getting only 90% of the total loan.
"If you had borrowed US dollars, the value of each would have been RM3.20 per dollar. Now, you would have to pay back at RM4.20 per dollar. How much dollar investments have you made?
"Despite the US$2 billion you say you have earned, you seem unable to pay the interest on your loans. Please give documentary proof of your profits, how it was made and from whom.
"You are not a private company. You are a government company and any loss you make will be borne by the public. They have a right to know," said Dr Mahathir.
On Sunday, 1MDB claimed it was under "sustained and misleading attacks" from Dr Mahathir and the opposition.
The strategic investment firm said it "broke even" on its investment through the sale of Edra Global Energy Bhd and its subsidiaries as well as the dividends it received throughout its ownership of the power assets.
The firm, the brainchild of Prime Minister Datuk Seri Najib Razak who is under attack by Dr Mahathir, said it regretted the former prime minister's persistence in "issuing misleading and wrong statements on 1MDB", calling the attacks political in nature. – The Malaysian Insider