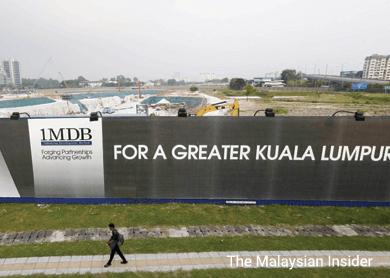 KUALA LUMPUR (June 16): 1Malaysia Development Bhd (1MDB) said it had paid RM230 million to acquire a 70-acre (3.05 million sq ft) tract along Jalan Tun Razak here from the government and not RM320 million as claimed by former Prime Minister Tun Dr Mahathir Mohamad.
In a statement today, 1MDB, which is wholly-owned by the Malaysian government, said although the price psf was lower than market rates, the deal was ultimately within the confine of the government's internal transactions.
 
"It is important to note that 1MDB is ultimately 100% owned by the Government of Malaysia. Accordingly, any transfer of land to 1MDB and any subsequent benefit in land value increase is ultimately 100% for the Government of Malaysia," 1MDB said.
1MDB's statement was in response to Dr Mahathir's claim that the government had sold the land to 1MDB for RM320 million. He argued that 1MDB should have paid at least RM3,000 to RM4,000 psf as tracts nearby were transacted at RM7,000 psf.
1MDB contended that the RM230 million purchase price was justified as the cost of the infrastructure that 1MDB was obligated to deliver within the proposed Tun Razak Exchange was at least RM1,500 psf.
 
"1MDB is the master developer and has an obligation to fund infrastructure and strategic assets on the land. The cost of this infrastructure that 1MDB is contractually obligated to deliver in TRX is at least RM1,500 psf.
"This is a direct benefit to any land buyer and forms part of the purchase price paid," 1MDB said.
1MDB also refuted Dr Mahathir's claim that the government's RM5 billion guarantee for 1MDB had not obtained the Cabinet's approval.
Dr Mahathir claimed that "there is no evidence that the Cabinet paper was prepared and presented for approval despite the amount being unusually big".
On this, 1MDB said a Cabinet paper on this matter was prepared and approved by the Cabinet, in line with the standard practice and as required for all government guarantees.
"Furthermore, the government guarantee is not "off budget" as claimed, it is a clear and acknowledged liability of the federal government, which is ultimately the 100% shareholder of 1MDB," said the firm.