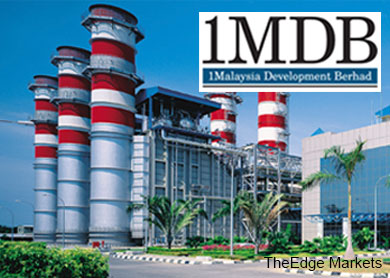 (Nov 17):1Malaysia Development Bhd., the state investment fund, submitted an application for an initial public offering of its energy assets that could raise about $4 billion, people with knowledge of the matter said.
The fund's power business could list on the Kuala Lumpur exchange as early as in April, said the people, who asked not to be identified as the process is private. 1MDB plans to use the proceeds for working capital and to reduce debt, they said.
1MDB's debt climbed to 41.9 billion ringgit ($12.5 billion) at the end of March from 36.2 billion ringgit a year earlier, according a Nov. 6 statement from the fund. Rising financing costs drove Kuala Lumpur-based 1MDB to a loss of 665.3 million ringgit for the 12 months to March 31.
1MDB, whose advisory board is headed by Prime Minister Najib Razak, has 3,080 megawatts of local generating capacity and 2,490MW overseas, its website shows. The fund won a bid in March to build an 11 billion-ringgit coal-fired power plant in Malaysia together with Japan's Mitsui Co., according to its latest annual report.
It also won a 2,000MW power-plant order in Malacca state, south of Kuala Lumpur via direct negotiation, local newspaper The Star reported on Oct. 15, citing Energy, Green Technology and Water Minister Maximus Ongkili.
Deutsche Bank AG and Malayan Banking Bhd., known as Maybank, are the joint global coordinators for the IPO while Maybank, AMMB Holdings Bhd. and Goldman Sachs Group Inc. were appointed as advisers, 1MDB said in July.
Robert Ho, 1MDB's head of corporate communications, couldn't immediately be reached for comment by telephone and e- mail.