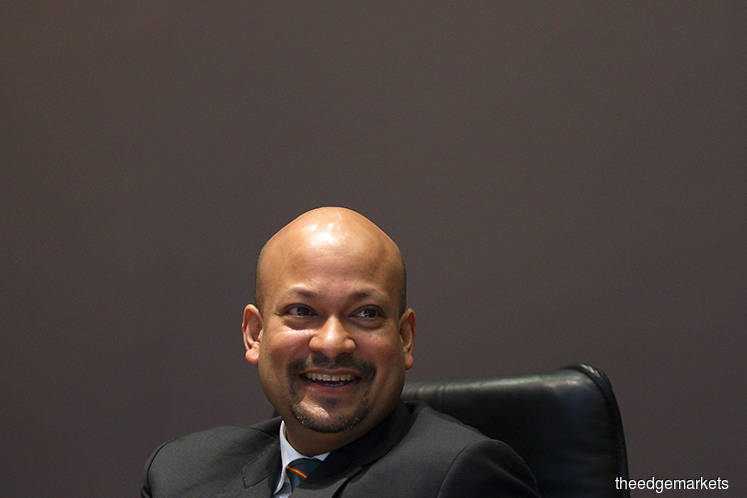 KUALA LUMPUR (June 29): 1Malaysia Development Bhd has sacked its president and chief executive officer Arul Kanda Kandasamy, two days before the end of his garden leave on June 30, on grounds of dereliction of duties.
According to sources, the termination letter was hand delivered to Arul Kanda on Thursday (June 28).
Last December, Arul Kanda was given a six-month extension with 1MDB from Jan 1. Sources said Arul was paid RM2.5 million for the extension, with another RM2.5 million to be paid on June 30. With the sacking, 1MDB would also claim back the RM2.5 million that was already paid to Arul Kanda.
Arul Kanda had toured the country prior to the 14th general election (GE14) to explain that all was well at scandal-ridden 1MDB via a series of 'You Ask, We Answer' sessions. 
After the election, which saw the previous Barisan Nasional-led administration's surprise defeat, Arul Kanda was lambasted by new Finance Minister Lim Guan Eng after he claimed ignorance when questioned about the fund's financial status during a meeting with the minister, saying he was on garden leave till the end of his contract in June. 1MDB is a strategic investment fund owned by the Minister of Finance (Inc).
Arul Kanda joined 1MDB in January 2015 to turn around the cash-strapped state investment fund that was laden with a whopping debt of some RM45 billion at the time. He was 38 then. The third CEO of 1MDB, Arul Kanda's appointment at the time had raised alarm bells as it was seen by some that businessman Low Taek Jho (Jho Low) and Abu Dhabi were strengthening their hold on 1MDB.
Prior to joining 1MDB, he was executive vice-president, head of investment banking group and head of corporate finance in Abu Dhabi Commercial Bank PJSC, a post he held from July 2008.
He also sat on the board of RHB Capital Bhd from July 2009 to May, 2011, as a non-independent non-executive director representing Abu Dhabi Commercial Bank, which bought a 25% in RHB Capital from the Employees Provident Fund in May 2008. The bank later sold the block to a related entity, Aabar Investments PJS.
At the time, it was well known that Jho Low brokered the deal for Abu Dhabi Commercial Bank to buy into RHB Capital, and subsequently for Abu Dhabi Commercial Bank to sell the block to Aabar Investments.
Once in 1MDB, Arul started a series of divestment to raise fresh funds to meet 1MDB's mounting debt obligation, including with the sale of 1MDB's power assets that was housed under Edra Global Energy Bhd to China General Nuclear Power Corp for RM9.83 billion. 
He also clinched a deal with Iskandar Waterfront Holdings Sdn Bhd (IWH) -- which is controlled by tycoon Tan Sri Lim Kang Ho -- and state-owned China Railway Engineering Corp (M) Sdn Bhd (CREC) to divest a 60% stake in 1MDB's Bandar Malaysia project for RM7.41 billion. However, the deal fell through in May last year on grounds that the IWH-CREC joint venture did not make its payment on time. 
Another notable deal Arul helped broker during his tenure in 1MDB is the settlement agreement with International Petroleum Investment Co PJSC (IPIC) over a dispute involving some US$3.5 billion which 1MDB claims to have paid to British Virgin Island-registered Aabar Investments PJS Ltd, a company which IPIC later denied was its unit. 
Under the agreement, the Finance Ministry assumed IPIC's guarantee to 1MDB's US$3.5 billion bonds.