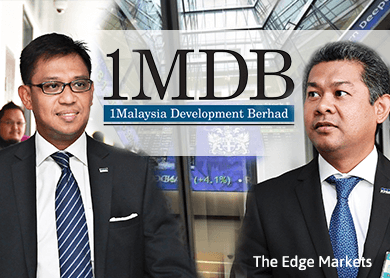 KUALA LUMPUR: 1Malaysia Development Bhd (1MDB), which was formed in 2009, has so far sacked two external auditors, first Ernst & Young (EY) followed by KPMG, according to the Public Accounts Committee (PAC).
EY was terminated before it completed the audit on 1MDB's accounts for the financial year ended March 2010 (FY10). KPMG, which took over in September 2010, was alleged to have had to rush the auditing job. The former auditor signed off the FY10 accounts one month after it was appointed.
KPMG was dismissed in December 2013, PAC chairman Datuk Nur Jazlan Mohd told reporters after chairing the PAC probe into 1MDB, with officials from KPMG yesterday.
Nur Jazlan said the committee wanted to know the reason behind the termination of KPMG as an auditor, during the period when most major investments were made by 1MDB, including deals with PetroSaudi International Ltd and Brazen Sky Ltd. Brazen Sky is a subsidiary of 1MDB.
"We found out that KPMG was appointed as the auditor in 2010, taking over from EY. But they (KPMG) told us that they were terminated in December 2013," he added.
Nur Jazlan said although it was the prerogative of 1MDB to terminate KPMG as its auditor, it was just like how EY was terminated before KPMG took over the accounts. KPMG was not able to give an answer.
On allegations KPMG had rushed signing off the FY10 accounts after taking over from EY, Nur Jazlan said it is too early to make any assumptions and that the PAC is still investigating the matter.
KMPG, who served 1MDB between 2010 and 2013, faced the probe yesterday.
KPMG managing partner Datuk Johan Idris, who is also Malaysian Institute of Accountants president, was present with three other KPMG officials to face the PAC's probe into 1MDB that was scheduled yesterday morning. Also present was KPMG partner Ahmad Nasri Abdul Wahab, who signed off the controversial accounts of 1MDB for FY10.
1MDB has had three auditors since 2009. The frequent change of external auditors has raised many eyebrows. Deloitte is the fund's current auditor.
This article first appeared in The Edge Financial Daily, on June 18, 2015.