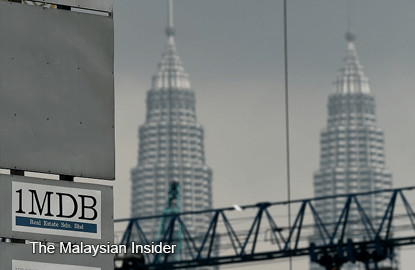 KUALA LUMPUR (Feb 19): 1Malaysia Development Bhd (1MDB) has dismissed allegations by the Wall Street Journal (WSJ) that it had paid funds to the personal accounts of Prime Minister Datuk Seri Najib Razak, saying they are "baseless and unproven".
"1MDB has consistently maintained that it has not paid any funds to the personal accounts of the prime minister," the strategic development fund said in a statement today.
"This has been reiterated by multiple lawful authorities including the Malaysian Anti-Corruption Commission, the Attorney-General and various reputable international publications, which have confirmed that these funds came from Saudi Arabia," it added.
1MDB also said for WSJ to suggest the latter's "reporting on this matter has never been called into question, is not only disingenuous, but an outright lie".
WSJ finance editor Ken Brown told Australia's ABC News that the RM2.6 billion that went into the personal account of Najib was not from the Saudi royal family, but companies related to 1MDB. The interview was uploaded onto ABC News on Feb 12.
Brown said the paper had evidence to back this up, and that ongoing international investigations into 1MDB would likely lead authorities to Najib.
In July 2015, WSJ and the Sarawak Report reported that SRC International Sdn Bhd, a former wholly-owned subsidiary of 1MDB, had transferred RM42 million into Najib's personal bank accounts.
The sums were transferred between December 2014 and February 2015 through SRC's subsidiaries, Gandingan Mentari Sdn Bhd and a separate company, Ihsan Perdana Sdn Bhd — a private company set up to manage 1MDB's corporate social responsibility contributions.
Najib had threatened to sue WSJ after the report was published, but until today, the prime minister's lawyer has yet to file any suit in court.
 
However, MACC and Attorney-General Tan Sri Mohamed Apandi Ali had found that the RM2.6 billion was a donation from the Saudi royal family. Apandi also cleared Najib from any criminal offence in January.