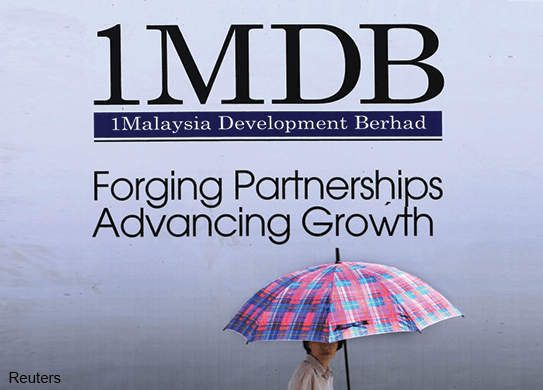 (May 16): Prime Minister Datuk Seri Najib Razak today insisted that state fund 1Malaysia Development Bhd's (1MDB) RM42 billion was not lost, saying that the money was now part of the Tun Razak Exchange (TRX) and Bandar Malaysia land bank.
Najib, in trying to put the controversy surrounding 1MDB to rest, said if he was rich, he would have bought the land in the two areas.
"The RM42 billion is not lost. There, the 70 acres TRX and 500 acres Bandar Malaysia lands," said Najib, in front of hundreds of Umno Selangor members in Klang today.
"If I am a rich man, I would buy a land at the prime area because I know the value (of the land) in 20 years," he added.
Najib was responding to critics the likes of former prime minister Tun Dr Mahathir Mohamad demanding answers on the fund and explanation of the whereabouts of the RM42 billion debt racked up by 1MDB.
Sabah speaker Datuk Seri Salleh Said Keruak today also highlighted the need to put the controversy to rest by allowing the Public Accounts Committee (PAC) to uncover if the money was lost and where it went.
Salleh, who is also Sabah Umno deputy liaison chief, said this was the only way to pacify Malaysians on the issue.
Najib said today that since the Auditor-General had said that it would reveal the probe into 1MDB's accounts next month, everyone should wait for the outcome.
He promised that action would be taken against those responsible if the reports uncovered any wrongdoing.
Najib also defended the purchase of the TRX land by Lembaga Tabung Haji, describing it as a proper investment plan and not a bailout.
"It was not a bailout. Tabung Haji became a victim. It only bought the land. It bought the land for development and for the benefit of the depositors. It is not taking over 1MDB's debts.
"If it (Tabung Haji) decided to sell off the land through open bidding, it will gain an extra RM6 million," said Najib.
He said he would let Tabung Haji board of directors to decide what to do next on the land issue.
"Now I heard they want to fight to retain it, but I leave the decision to them," said Najib.
Tabung Haji's decision to pay 1MDB RM188.5 million, or RM2,774 psf, for the 0.64 ha land for the purpose of building a residential tower has created uproar among its depositors.
Opposition politicians were quick to note that Tabung Haji was paying far more psf than what 1MDB had paid at RM64 psf when it first bought the land from the government, leading some to call the deal a "bailout" given 1MDB's massive debts.
The pilgrims' fund later announced it was selling the land following the public outcry over the transaction.
It was widely reported that 1MDB had purchased the entire 70 acres from the government-owned entity for a mere RM194.1 million. – The Malaysian Insider