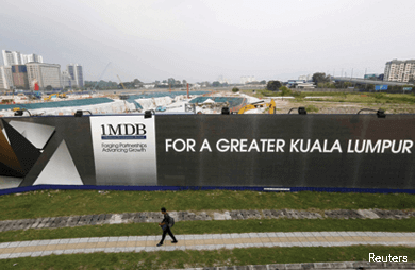 KUALA LUMPUR (March 25): 1Malaysia Development Bhd (1MDB) said its subsidiary Edra Energy (Langat) Sdn Bhd had repaid a RM700 million syndicated loan obtained from a consortium of local banks.
In a statement today, Malaysian Government-owned 1MDB said it had taken the loan to finance the purchase of its energy assets.
"The loan was first drawn in 2012 to partially finance 1MDB's acquisition of its energy assets.
"This debt repayment and overall debt reduction is a tangible result of 1MDB's successful rationalisation plan," 1MDB said.
1MDB's statement today followed the completion of the sale of all its energy assets to China General Nuclear Power Corp.
Last Wednesday, 1MDB said in a statement China General Nuclear had acquired 100% of 1MDB's energy assets comprising Edra Solar Sdn Bhd, Edra Energy Sdn Bhd, Powertek Energy Sdn Bhd, Jimah Teknik Sdn Bhd, Jimah O&M Sdn Bhd, Mastika Lagenda Sdn Bhd and Tiara Tanah Sdn Bhd.
According to 1MDB, China General Nuclear also assumed the debt and cash of the companies.