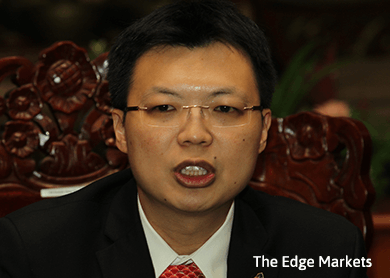 (June 16): Debt-ridden 1Malaysia Development Berhad (1MDB) received a RM540 million loan from the Finance Ministry-owned Export-Import Bank (Exim Bank) after receiving backing from Putrajaya in the form of a support letter, said Deputy Finance Minister Datuk Chua Tee Yong.
He did not divulge more about the deal, saying all terms and conditions of the agreement were between the government and Exim Bank.
"Exim Bank had evaluated all the risk acceptance criteria for this loan," Chua told Parliament yesterday, while denying that the loan was to aid 1MDB to pay for a land it had purchased from Tadmax Resources in Pulau Indah.
"The land purchase from Tadmax was made in February 2014, while 1MDB's rationalisation plan was not announced until February 2015," he said.
"The land was purchased according to market price," he added, after claims that the RM262 million purchase was overpriced.
Chua was responding to questions posed by Tony Pua (DAP-Petaling Jaya Utara) during his adjournment speech early this morning, during which Pua questioned the US$150 million loan, which was alleged by Sarawak Report earlier this year.
The Dewan Rakyat had extended its sitting by two hours and completed proceedings by 1.30am today.
Pua said that Exim's mandate meant that it could offer loans for overseas trade and transactions alone.
He also said that the government's letter of support was meant to aid 1MDB with its cash flow as it is saddled with a RM42 billion debt.
1MDB previously received letters of support from the government for RM11 billion of bonds it raised through Goldman Sachs in 2012 and 2013.
Putrajaya had also explicitly guaranteed a RM5.8 billion loan for 1MDB previously. – The Malaysian Insider