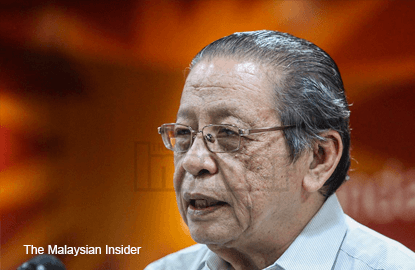 KUALA LUMPUR: The 15 "hard questions" posed by Akmal Saufi Mohamed Khaled, the son of Johor's menteri besar, to Prime Minister Datuk Seri Najib Razak asking for further explanations on the US$700 million (RM2.6 billion) in his personal accounts, is proof that the future is not totally lost, says DAP.
Its parliamentary leader, Lim Kit Siang, said this indicated that the younger generation was questioning the statement by the Malaysian Anti-Corruption Commission (MACC) on Monday that no funds from state investor 1Malaysia Development Bhd (1MDB) had been channelled into the prime minister's personal accounts and that the US$700 million had come from donors instead.
"The many other questions posed by Akmal are the very ones making the rounds in the country, as all Malaysians are asking them since the MACC's statement yesterday (Monday) — proving that Malaysians are not such a supine and unthinking lot," he said in a statement yesterday.
Akmal Saufi's questions were posted on the Apanama blog and followed a statement from his father Datuk Seri Khaled Nordin earlier that Umno must not allow itself to be "used" as a party to protect the "interests of a few".
Referring to the MACC's announcement that the funds were actually from donors, Lim yesterday said it raised more questions than answers. — The Malaysian Insider
This article first appeared in digitaledge Daily, on August 5, 2015.